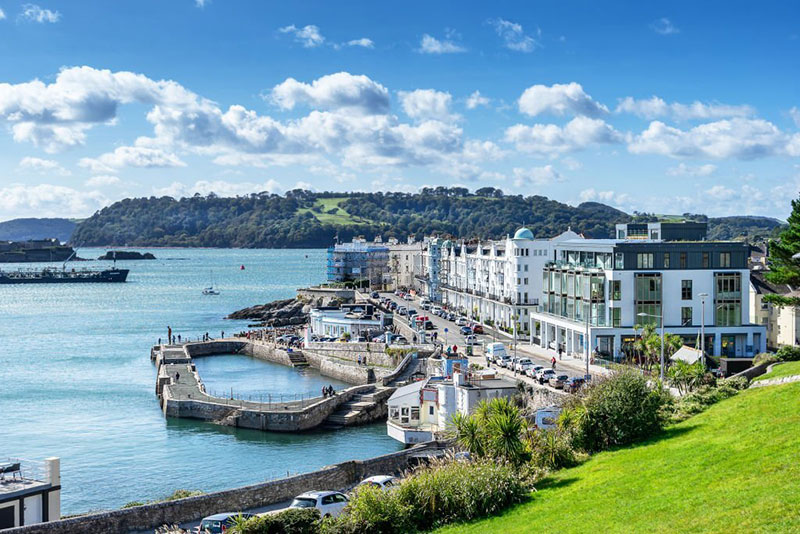 Places To Go Out In Plymouth: It goes without saying that Britain's Ocean City has a lot to offer as far as nightlife goes, especially during term time when the streets are crammed full of excitable students looking to have the best night of the year.  Each night of the week has something different to offer, from Oceana Mondays to SU Fridays. But which one is the best?
This is the perfect guide to the top 5 bars and clubs at Plymouth University, to ensure that you don't miss out on a series of the greatest nights out as a student.
5. Number 5 on the list has to be the up and coming bar, The Dairy. Situated on the Barbican, this unique venue has a great atmosphere along with a variety of 2-for-1 cocktails being served in milk bottles, i.e. 'The one with beer' or 'the one with skittles vodka'. These random concoctions rarely disappoint, and usually end with everyone dancing the rest of the night away. This is a great place to go if you fancy a bit of a different and much classier night out.
4. Next is Bac Bar. This is a great place to go before pretty much anywhere on any night of the week. It sells the likes of lethal kryptonites, which are tasty drinks which disguise the amount of alcohol they contain. Also downstairs is Rum Bar, which sells glasses (or bottles!) of a variety of flavoured rums, e.g. banana, coconut, butterscotch etc. This is definitely not a bar to be missed.
3. Plymouth's biggest club is next on the list, the infamous Oceana. This club has a lot to offer, with 3 different dance floors: 'the cheesy room' (in other words great 90's songs that will have everyone singing along), 'the ice room' which is the largest dance floor with 2 bars and finally 'the other room' that has largely more chilled reggae songs, again with another bar. These different rooms make it extremely likely that you will see many lost individuals wandering around looking for their friends, also possibly getting frustrated by the lack of signal in the whole club.  But, on the other hand, probably making 'friends for life' along the way.
Oceana is also great for seeing a range of live acts, such as Labyrinth, The Venga Boys and even S-club 7 (well a couple of them). These nights are extremely popular among students, and so it's best to prepare for a lot of sweating and little room to move. The best nights to visit are either a Monday for Fuzzy Logic, or if you fancy the chance of bumping into Tom Daley then probably a Saturday.
2. Ranking second on the list is Cuba. Located on North Hill it is certainly an unforgettable experience. At the weekend it is rare to see this bar without a queue to the end of the road. With cheap entry of normally £1 or £2 and drinks of roughly the same price it is easy to see why this is a popular student spot.
The first floor of Cuba is lined with standing bars, where students spend their night dancing (which can possibly lead to a free drink…). Although this is probably quite dangerous, it's a lot of fun and there are always the poles to hang onto! Upstairs is another bar and dance floor. This floor can only be described as a sweat box, and the idea of any personal space goes out the window. However the DJ plays popular dance classics and it's generally a friendly atmosphere.
Finally the number one spot goes to the best club in Plymouth; The SU! Loved by everyone, it's a great place to both meet new people and see familiar faces. The best nights for the SU are undoubtedly at the weekend. And although it is easy to be put off by the size of the queue, it normally moves relatively quickly. Entry before 12 is only £1, but after increases to £4 – which seems like a lot but is normally worth it. The SU has one main dance floor, plus a slightly smaller one and a lounge area which is a lot more chilled. The combination of sticky floors, amazingly cheap drinks and a room packed full of entirely students results in the best night Plymouth has to offer.
So as a student these venues are definitely not to be missed – although there is a range of great bars and clubs in Plymouth, and I would recommend visiting them all. One last point, after a night out it is essential to end up in either Caffeine Club or Goodbody's… to at least try and improve the hangover the next day!
Samantha Bell is a student at Plymouth University, and writes for GBKC to get published and add work experience to her CV. Share your view on "Top 5 Places To Go Out In Plymouth" in the comment section below.