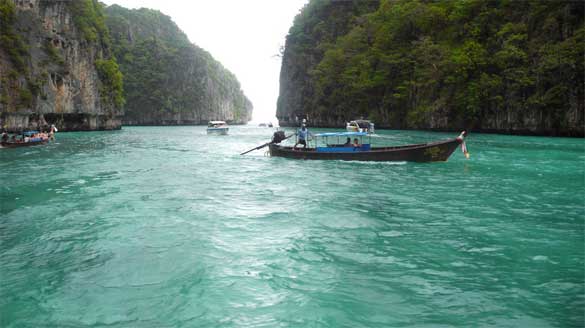 Phuket Trip – James Bond Island – Photo Credit: Ericson Lau
When you're in Phuket, there are probably 101 things you want to do during your vacation. Phuket is best known for its spectacular scenery, one-of-a-kind attractions and of course, the wild, vibrant nightlife the city is best known for. Phuket caters to all ages and there's always something to do for everybody. To help you manage your time efficiently in Phuket, here are some of the attractions that you may or may not know about!
Exciting Nightlife
Phuket is best known for its wild nights from the colorful (and sexy) neon signs to loud beats thumping through glass doors. There's a handful of bars, clubs and even discotheques to satisfy your after dark experiences. If you're planning on heading to the heart of the action, Patong is the best place to go. Along Bangla Road, you can find a handful of bars, clubs and dance floors to start your nightly adventures. If sitting down and drinking isn't your thing, don't worry; the road is also jam-packed with newly-renovated clubs with killer dance floors. It's not a dance floor until the DJs drop the beats.
In addition to crazy clubs and pubs, there's elaborate cabarets to cultural shows that should not be missed. The Simon Cabaret, Simon Star Show and Aphrodite Cabaret Show are names of the famous shows in Phuket. There's nothing better than watching talented performers in glitzy costumes and dancing to amazing musical pieces to dazzle audiences. The shows are performed by multi-talented ladyboys that know their stuff and dare to show it all on stage via singing and dancing under the spotlight.
Riding the Waves
It's not living the beach life until you've surfed at Phuket's top beaches. From April to November, the waters around Phuket's west coast get choppy which is ideal for surfers. The best beaches to catch the waves are: NaiHarn Beach, Kata Beach, Surin Beach, Kalim Beach and Kamala Beach. Keep in mind that many of these beaches house sharp corals close to shore as well as powerful currents. While surfing, always keep in mind the dangers that lurk beneath the waves.
Volunteering
Vacations usually don't come with volunteering activities but this is one place that is worth visiting; the Soi Dog Foundation in Phuket. Soi Dog is non-profit organization that rescues street dogs and cats from the worse conditions possible. Many of the dogs and cats that arrive in the shelter are strays and some of them are removed from terrible homely conditions. The foundation is always looking for volunteers to care for them. If you have some time in your jam-packed schedule, slot out a day to visit these humble dogs and cats that want nothing more than your love and a forever home.
Unmissable Kid's Activities
Phuket is not only for adults but for children as well! Diving is a must-do activity in Phuket and many places encourage family diving. To scuba dive with your child, it must be noted that they may require lessons first before they're ready to hit the open ocean. Once you go on a family dive, nothing is ever the same! But if diving into the big unknown may scare the kids, then opt for snorkeling by the shore instead!
If you'd rather stay on dry land, there's taking part in elephant rides sponsored by the Siam Safari Elephant Conservation Project. Sit on these majestic creatures and trek through lush jungles and witness panoramic views over Chalong Bay. This is Phuket's best elephant tour as well as doing your part in elephant conservation.
However, if your kids want more fun in the sun, then try spending a day Zorbing (running inside a huge plastic ball)at Kalim Beach. It's fun for the entire family where you can get inside an oversized massive ball and run down the hill. Think of it as a human-sized hamster ball! To participate, your child must be six years or older to play. Another fun suggestion for the kids is creating a splashing mess at the Splash Jungle Water Park. What makes the water park stand out is its unique design which incorporates themes from around the world; Asia, Turkey, Africa, Inca Mayas and the North Pole.This massive water park stretches over 6,400 sqm of land and is located inside the West Sands Resort on Mai Khao Beach.
This is just a fraction of what you and your family can do in Phuket. To visit this amazing location, don't forget to choose the best hotels for your quality sleep and comfort. Without a doubt, there's a handful of amazing hotels at Phuket to choose from, according to the location you prefer. Some hotels, like the Mercure Phuket Patong are offering up some amazing deals, for example. There are many deals available which you can get for a great discount if you so happen to have membership cards. You can earn more than what you pay for, depending on the type of promotion you choose.