Forget booking the church, the band and the reception hall – destination beach weddings are all the rage. It simplifies the daunting planning part of the wedding and allows you to indulge in a vacation – a total two-for-one kind of deal. Plus, who wouldn't like to kick off their shoes and put their feet in the sand? Aside from keeping your guest list small, it also allows you to experience an exotic culture and have a multitude of memories from the single-most important day of your life.
Yet, selecting the best venue can be a bit tricky. Here, I've highlighted the top 10 go-to wedding friendly beaches from around the world – and brides, believe me in saying that many of the hotspots can be quite budget friendly as well.
1. Cabo San Lucas, Mexico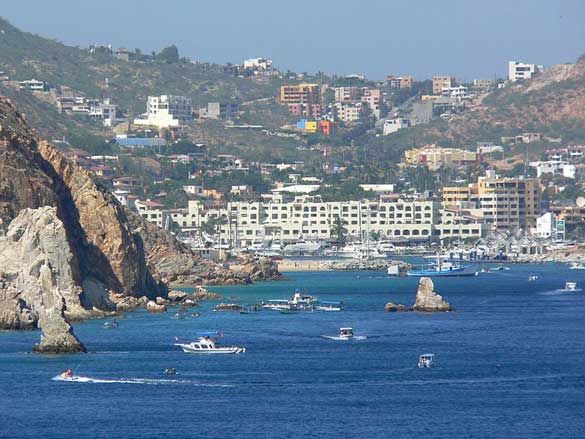 Image Source Wikipedia
The great part about going to Cabo is that a wedding here is legal for Americans who want to get hitched – without all that pesky passport stuff to get in the way. The paperwork is relatively easy, most people speak English and most places in Cabo accept American dollars. There is also a variety of hotels in the area, which will be great to everyone's budgets.
According toAway.com, guests should consider the Capella Pedregal, which offers 66 guestrooms that feature their own private plunge pool. The shores of Playa Grande, however, are absolutely pretty. Couples may have surprise guests on site, including humpback whales. The location is filled with lots of fun activities, including golf, jet skiing, surfing, hiking, snorkeling, whale-watching and more.
If Cabo isn't your style, the Hispanic nation offers many resort cities, including Cancun and Puerto Vallarta. The sizzling nightlife and tasty cuisine will suite weddings with a flare. Bueno!
2. Big Island, Hawaii, United States
For Americans, Hawaii is a top pick for a destination wedding, and it comes with a lot of convenience. Hotels will offer wedding packages on any budget. Many, according to CNN, start at a few hundred dollars for the basics and average up to $2,000. Not bad, considering the blue waters and sunny skies that comes with it.
Big Island has a lot of swank for you and your guests, and a prime-time spot is the Fairmont Orchide in Mauna Lani on the Big Island. Many Hawaiian destinations will offer photo, food, cake and other essentials for your walk down the aisle… or should I say isle? It's one of Hawaii's most beautiful beaches. The shore is defended by a coral reef nearby, which in effect keeps the surf pretty calm. The water is always a wonderful deep green and postcard-perfect.
3. Le Saint Géran and White Sand Beaches, Mauritius, Indian Ocean
Just 500 miles east of Madagascar, About.com ranks this as a celebrity hotspot, including British royalty, actors and sport stars. Mauritis has an incredibly eclectic culture, with both Asian and African influences of the islands. Many dub this as a fun, exotic African-safari honeymoon spot.
Its many five-star resorts will offer you a lot for style and luxury, and these sites are incredibly boastful for wedding accommodations. Who knows, maybe your barefoot walk in your wedding gown will include a celebrity guest or two – talk about memorable!
4. Lizard Island, Australia
The land Down Under will be especially memorable for your nuptials, and the people down in Australia are among the friendliest – can we say stress-free and fabulous? The Great Barrier Reef is one of the most beautiful sights in the world, and it'll only bring out the best for the peachy bride. Lizard Island is a little more remote that most areas – yes, a smidge more muss and fuss involved, but the exclusivity gives this the it-factor for you and our partner.
Here, it's home to more than 40 villas and 24 beaches – a place Kate Hudson dubbed "the most romantic place on Earth." Depending on the size of your party, the island can offer you a variety of glamorous ceremony sites, from the Sunset Beach to Anchor Bay to a Pavilion overlooking the Coral Sea. Packages are a little pricier, starting at $3,500, but that includes accommodations, celebrant fee, license, a cake for two, bouquet, champagne and a beach dinner. Again, with this site, you'll get the exclusivity of a private destination wedding and the intimacy you and your partner desire.
5. Half Moon, Jamaica
The white sand beach and resort has been a highly sought after spot at Montego Bay for years. Half Moon will marry you among its many historic sites, like a centuries-old waterwheel, a natural waterfall, among the tropical gardens or on a private villa pool, according to CNN.
Private beach weddings come with a reception of cocktails, hors d'oeuvres, a four-course dinner, wedding cake, champagne and open bar. The Half Moon site, however, does require you to have 30 guests at $475 per person. A pretty penny indeed but luxury and style nobody can forget.
6. Pink Sands Beach, Harbour Island, Bahamas
Powdery pink sand will glisten in your wedding picture on the Harbour Island. The stunning three-miles-long beach will give you and your guests gorgeous panoramic views, and a bit of an adventure. To get to the island, you fly, and then take a 10-minute ferry, where you will get whisked away on the retreat of a lifetime. It's a go-to spot for celebrities who are destined to be under-the-radar. When you get there, you can apply for an in-person Bahamian wedding license, which only takes two days to process. The Pink Sands Resort is among its largest hotels, featuring 25 posh cottages ad a reception site with breathtaking views.
Regardless of where you're heading to for your big day, destination weddings are the current trend. Before booking your hotel stay, contact the resort and see if they offer any wedding specials. The cost of a photographer, videographer, cake, officiate and everything will likely come at a bargain rate. The best part? You get to slip off the shoes and let someone else do all that nitty-gritty work for you. Enjoy!
Written by Mary Alice White. She is a world traveler and explorer. On her spare time, she browses different wedding destination sites.