Home from home – how can you tell if a hotel is secure?
Whether you stay at hotels for leisure or business, you need to feel safe and reassured.
There are certain basic levels of security any 21st century establishment should offer. Is there a 24 hour reception, is it clearly signed, and is it well lit? When booking in, are the staff careful to protect your details, and are they discreet about your room number as they pass you a room key or card?
Once in your room, does the door lock securely, and are the windows restricted in how far they can open? In higher starred hotels, is there a reprogrammable safe where you can stash your valuables, and if not, do reception offer a higher level of security? How easy to use is the spyhole in the hotel door?
Some hotels, however, take security several steps further. CCTV is now very common, as are limited access points to and from the building, but how about luggage scans, body searches, and even, in some extreme cases, retina scans and armed guards?
In some parts of the world, this level of security is becoming the norm. So just where are the world's most secure hotels?
A serene oasis in the heart of a war zone
The Serena Hotel – Kabul, Afghanistan – Photo Credit: Jeff Rozwadowski
Kabul's only five star hotel, the Serena, has had its security upped since it was the site of a terrorist attack in 2008.. Behind concrete walls and barbed wire, it hosts a mixed clientele of businessmen (yes, it is mainly men), property developers, diplomats, aid workers and the occasional intrepid journalist. Snipers are a feature on the roofs, and luggage is scanned not once but twice, as well as being checked by sniffer dogs. If you can get past all of that, however, you can eat some of the best (imported) food in Afghanistan and relax on some of the softest, comfiest beds in the country.
Staying with the Middle East
Marriott Hotel Entrance Photo Credit: cheffe_shanghai
If you're not quite ready for Afghanistan, then try the Marriott Hotel in Pakistan's capital, Islamabad. To enter you pass through security gates before entering a world where the walls are not only bomb proof but double thickness. Like many of the world's other most secure hotels, once checked in, you don't have to step outside the premises for food, laundry, entertainment, news, foreign exchange, or the florist.
The doors are there to keep you in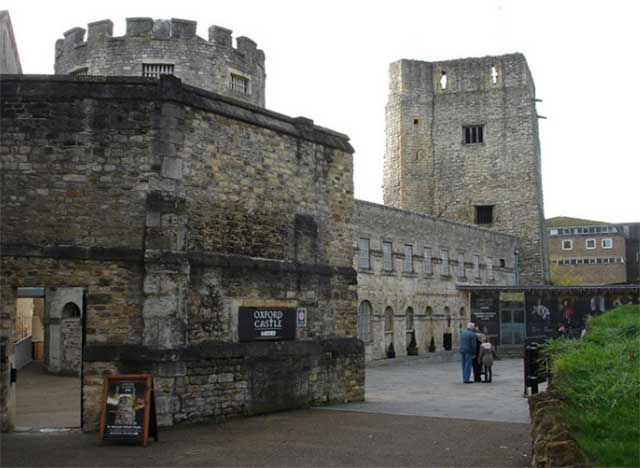 Oxford Castle – Photo Credit: Howard Noyce
If you want to be absolutely sure you're tucked up safely for the night, you can't get much more secure than a former prison. So opt for a night behind the walls of Oxford Castle with boutique chain Malmaison. Originally built in the 11th century by the castle-loving Normans, this fortress has been rebuilt and expanded over the centuries. It has hosted prisoners since the time of the English Civil War. HMP Oxford closed in 1996 and was turned into a hotel – several of the former jail cells are now in use as some of the most secure hotel rooms in the UK. Oxford is a popular tourist destination for visitors from all kinds of backgrounds, and Oxford Castle's clientele reflects this.
Ski slopes, cuckoo clocks and one of the world's most secure hotels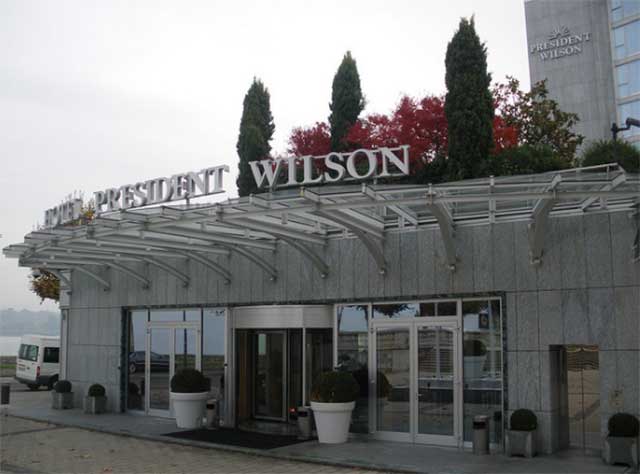 License: Creative Commons image source
Although many of the world's most secure hotels are in war zones or countries where there are safety issues, the Hotel President Wilson is an exception. Located on the shores of Lake Geneva, Switzerland, one of the safest countries in the world, the staff of the Hotel President Wilson ensures that the rich and materially powerful of the world are kept safe in the rarified atmosphere of the Penthouse Suite. With armoured doors, bullet-proof windows, a private elevator, a guard room, a helipad, a dedicated team including a chef, butler, and personal assistant, and a safe large enough for a human to hide in if necessary, this is a world all its own, with the only intrusions from the outside world via the TV or Internet. The suite also has its own fitness suite, a grand piano, ultra high speed Internet access, and a fully stocked bar. Once  inside, the typical clientele of presidents and other don't need to interact with anyone outside their little enclave while they make decisions that affect the rest of the world.
So is secure the same as safe?
And, of course, "most secure" has a different meaning from "safest". You could just head off to one of the world's most remote hotels – as long as it's in a country regarded as safe.
Article donated by Robert Phillips from Safe Options.