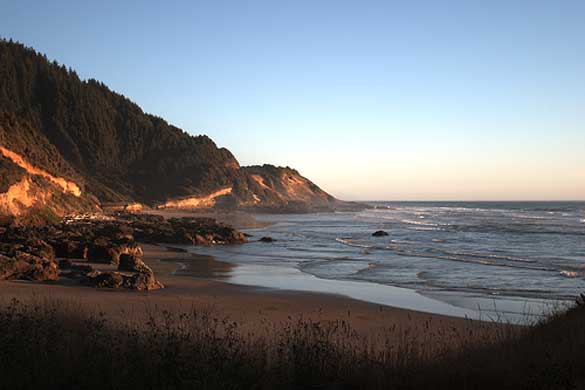 License: Creative Commons image source
Sandwiched between Washington and California, the Oregon coast offers 363 miles of scenic views, ranging from ocean and mountains to farms and forests. It takes about 12 hours to drive between the two states, but there's no reason to be a speed demon on Highway 101. The rabbit may have won the race, but it is the tortoise, who takes time to stop and smell the salt air, that is the real winner.
Whatever a traveler's interests, the Oregon coast has something for everyone. Even history buffs will find places of interest along the scenic byway, beginning with Astoria where the Lewis and Clark expedition ended its journey to the sea.
Recreational Opportunities on Highway 101
Beach-combing is the most obvious recreational activity. All of Oregon's beaches are public, which means that anyone can walk anywhere on them. However, not all access to the beaches is public; visitors should get permission before using a private access. Enough public accesses exist so that finding a public one shouldn't be a big deal.
Golfing alongside the ocean is an experience not to be missed. While golf courses are located the length of the coast, some stand out more than others: Salishan, south of Lincoln City, and Bandon Dunes, on the southern coast, are both award-winning courses that have hosted national tournaments.
Travelers seeking the thrills of white water may want to take a jet boat ride up the Rogue River from Gold Beach to Agnes. The Rogue is one of America's wild and scenic rivers, so be prepared for an awesome experience.
Is it Time to Eat?
Towns along the Pacific Coast Highway offer dining venues ranging from fast food to elegant restaurants. Eating clam chowder is a must; it's on practically every restaurant menu you'll come across, so doing this is easy. Harder, but perhaps more fun, is renting a crab pot and catching dinner.
Salt water taffy is a snack-must. The chewy candy comes in dozens of flavors from traditional chocolate and root beer to trendy mango and pina colada. Most shops allow visitors to sample one piece. Some shops have a glass-enclosed area so visitors can watch this delicious treat being made.
The Oregon coast also is famous for cheese. Take a self-guided tour of the Tillamook cheese factory to see how milk from more than 100 dairy farms is converted into its award-winning medium cheddar, its most famous cheese. Note to history buffs: The Tillamook County Creamery Association has been churning out cheeses here for more than 100 years.
What's a Coast without Marine Life?
Seagulls can be found everywhere. When the weather is bad, it is awe-inspiring to watch these birds in flight battle high winds and rain along the sea wall at Depot Bay. Visitors who leave their cars to walk along the sea wall instantly gain a new respect for gulls.
Old Town Newport is a good place to view sea lions in all their glory. Just follow the barking sounds down a small pier to see these huge, lazy beasts lolling on their own private dock. Travelers can also check out the Sea Lion Caves near Florence. Watch seals frolicking in the ocean near the Taft pier in south Lincoln City. Sea-going whale-watching tours are popular in the spring and fall months.
The Oregon Coast Aquarium at Newport's Yaquina Bay is ideal for travelers who want to see their marine life in one fell swoop. The world-class facility is home to a wide variety of marine animals, fish and plants that are native to the Oregon coast in both indoor and outdoor exhibits.
This travel article was written by Kevin Caldwell. Kevin is an avid traveler who built www.washingtondchotelsuites.com to help people find affordable hotels in Washington DC. Kevin enjoys sharing his knowledge and experiences with others.