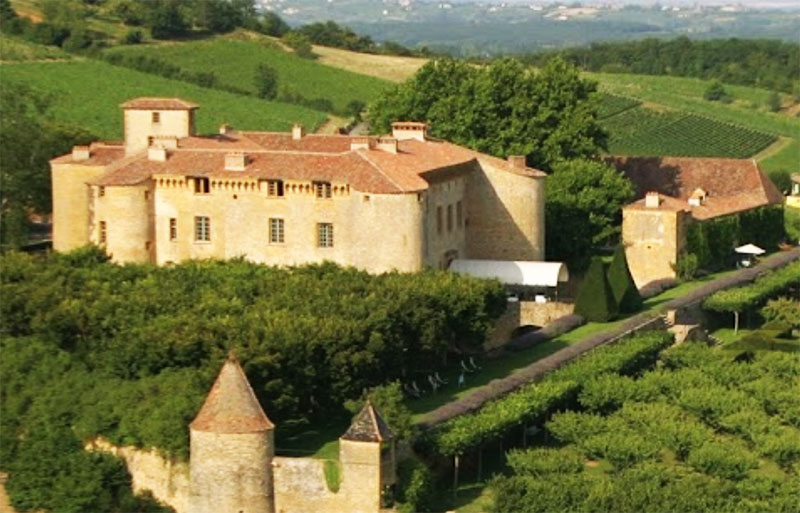 Hotel Chateau De Bagnols – a magnificent hotel in the south of France
There are some places in the world you want to visit and visit again – Chateau de Bagnols is one of them Beaujolais countryside. Then there is the breathtakingly beautiful chateau with its warm honey-coloured stone, magnificent turrets, dry moat and a drawbridge which leads you to this outstandingly fine hotel.
Chateau de Bagnols was transformed from derelict castle to glorious splendour through the inspired vision of Lady Hamlyn. The result is so stunning that this extraordinary chateau is both a major historic monument and a luxurious hotel. Rooms are filled with fantastic decoration, particularly the bedrooms. For these are salons of romance and self-indulgence; many feature fanciful four-poster beds from Lady Hamlyn's own collection. If the gardens were not so divine and the dining so delicious you would be tempted never to leave them.
Whether being warmed by the fire in winter or sitting on the terrace under the 100-year old lime trees you will find dining one of the most pleasurable experiences. Each dish is a tour of the wonderful flavours of the region and the wine list is incredible.
This is a sumptuous world; where the exceptional is the norm.
A collector's flair
Under Lady Hamlyn's guidance, hundreds of specialist craftsmen restored Renaissance frescos, original sculpted stonework and ornate plasterwork to their former glory. She gathered rare and beautiful antiques and commissioned a specially designed collection of objects inspired by the 17th and 18th centuries to create the finishing touches that make Chateau de Bagnols so very special.
One upon a time a travelling Prince and Princess checked into their own fairytale moated, luxury castle twinkling under a Michelin star, and lived happily ever after.
Tip toe
A night out at the theatre in a foreign country can be challenging unless you are a linguist. Dance is the answer, and lovers of the art will adore the Lyon Dance Theatre whose programme covers the spectrum from classical to contemporary. Always something new and exciting to see. I could have danced all night.
Medieval
Absolutely wear flats for a visit to the hilltop medieval town of Perouges. The town is preserved by the Beaux Arts Commission. With noble and craftsmen's houses side by side, you can see why the town has been featured in many French films. Try the locally specialitiy 'galette de sucre', a thin sugar pancake, simply delicious.
Antique
Go to rue Auguste Comte in Lyon's Antiques Quarter. In the spring there is Tapis Vert, and in the Autumn Tapis Rouge. A huge carpet is laid out on the street and all the galleries and shops display their wares. A plethora of amazing treasures you'll want to decorate your home with. An antique bargain bonanza awaits the savvy shopper.
Gourmet mecca
You could mortgage your house and eat in Lyon forever, but at least one pilgrimage is in order. The façade of Paul Bocuse's restaurant is a history of gastronomy which speaks volumes about what you'll experience inside. Order the Bresse chicken, or the famous black truffle soup, and stop for a cookbook in the boutique shop on the way out. Mission accomplished.
The Hotel & Surrounding Area
Accomodation: 20 rooms and suites with one luxury apartment complex
Dining: Onsite restaurant
In the area: To the north west of Lyon you have Le Manz, capital of Moto GP racing and Zurich to the north east for luxury high end shopping – depending on what you are looking for.
Kate writes for her lifestyle blog, http://www.thedailykate.org/ focusing on her favourite topics from food, travel, stress detoxing spas and of course the best places on earth to shop til you drop! Share your view on "Hotel Chateau De Bagnols from the 13th Century Chateau, France" in the comment section below.