Australia is one of the most popular travel destinations in the world. The country is filled with natural beauty such as the rainforest, Great barrier reef, pristine white sand beaches, and the Uluru. The Opera House and the Sydney's Harbour Bridge are iconic man made wonders and the café culture in Melbourne, will make anyone feel that they are in Europe. It is a famous driving destination too. The road travels in Australia are getting popular these days.
A road trip in Australia has become something like a rite of passage for visitors to this vast land. Every year tour groups, families, couples, and backpackers get into their various forms of transport and set off into the countryside, in a leisurely way taking in towns, mountains, cities, and beaches as they go. Taking a road trip in Australia helps you to widen your experience because it gives you a real feel of the country. You see the boring with the interesting, the beautiful as well as the ugly, which you can put together in your mind a develop a true opinion about the country.
Though, there are a number of road trips that you can take in Australia that ranges from a few hours to days and even weeks, one of the most common is the car drive from Brisbane to Sydney. Even though it looks easy to travel from Brisbane to Sydney when seeing on the map, it actually takes around 12 hours time when you are actually on the road.
Brisbane- A small introduction: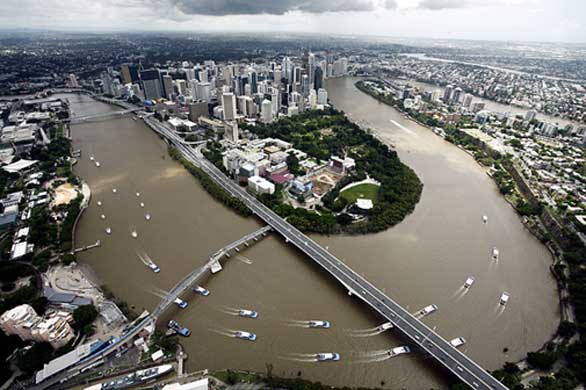 Image Source Wikipedia
Brisbane is the capital city of Queensland and is located in the Brisbane river between Moreton Bay and the great dividing mountain range. It is a lust city with spectacular beaches and beautiful gardens. Its vast historical and cultural landmarks attracts a number of visitors into it for sightseeing as well as for dining opportunities.
Lone Pine Koala Sanctuary is located little outside Brisbane which is a home for around 130 Koalas. You can enjoy having a picnic in this sanctuary where you can take photographs with Koalas, feed kangaroos, and see an eastern water dragon, parrots, a Tasmanian Devil, wombats, emus, Kookaburras.
Situated on the banks of Brisbane is The Queensland Cultural Centre which contain a series of buildings that celebrates art. The Queensland Gallery of Modern Art and the Queensland Arts Gallery contain an aboriginal collection of arts. You can see also fossils, models of a German tank in world war 1, dinosaurs and blue whale in The Queensland Museum. The Queensland Performing Arts Centre features backstage areas and 4 separate theatres.
St John's Cathedral features the only stone vaulted ceiling in Australia. It was designed in the year 1888 and still under construction for the past 100 years. One can take a stained glass tour in St. John's Cathedral and see more than 200 needlepoint cushions made by art students and the mason cutting stones using medieval methods.
Well, there are various routes which can be undertaken to travel from Brisbane to Sydney. But the most direct route is the Highway 1, which can be considered as the most scenic drives in Australia alternating between the valley and hill and the sea shores.
Brisbane to Gold Coast:
The travel distance from Brisbane to Surfers paradise is around 72.1 km which can be travelled in around 1 hour time. The Gold coast in Queensland is one of the most famous tourist attractions. The country's best theme parks like Wet'n'Wild, SeaWorld, Movieworld, and Dreamworld are found in the Gold Coast which makes it an ultimate destination for families wanted to have fun and entertainment.
Another great theme park in the Gold Coast is the Currumbin Wildlife Santuary. It has a wide range of animals to watch, along with the opportunity to participate in feeding Lorikeet.
The Gold Coast offers something for everyone visiting there, whether it may be a family holiday of a lifetime or a romantic coastal escape. It is also a home to the most famous Surfers Paradise, which offers more than what the name suggests.
The Surfers Paradise, though it is not a cheap town, it's one of those places that anyone should at least have to check out. It is a well planned city that makes driving so easy and comfortable and its superb skyline that can be seen at a distance are some reasons, why one should visit Surfer's Paradise. Do not miss to enjoy the cafes and shops that line the beaches in Surfers Paradise. Spending an afternoon relaxing in the sun or just frolicking in the water makes it a wonderful holiday destination.
Gold Coast to Bryon Bay:
The next destination when travelling from Brisbane to Sydney is the Bryon Bay. The travel distance from Gold Coast to Bryon Bay is around 89 km's which can be travelled in around 1 hour and 25 minutes. Bryon Bay is one of the famous New South Wale's tourist destinations. It is a town that solely relies on the tourism industry, and so, offers a lot to its visitors like to surround green hills, a laid-back lifestyle, superb beaches, and the rocky Cape Bryon rises in the distance. With just a small walk from the town centre, one can easily reach the main beaches of Bryon Bay. One can see dolphins not far from the sea shores jumping and feeding their calves in Bryon Bay beaches.
Bryon Bay is a place for plenty of hotels, free internet cafes, a Woolworth's, a good deal of bars, and above all, the beaches. Bryon bay is the home for some famous beaches in Australia. While some beaches did not escape the draws of commercialisation, many of them still remain untouched. Simply watch the windsurfers cruise by, or take a dip, do a spot of snorkeling, or catch some rays while enjoying the calming effect of the lapping waters.
Another must see place in Bryon bay is the Cape Bryon Lighthouse, which offers everything that a traditional light house would. The light house provides the most spectacular view of the coastline that surrounds it, thus attracting half a million visitors every year.
Little further to Bryon Bay is a small beach town called South Ballina, which provides great views of the ocean from its mountain cliffs. As a whole, Bryon Bay is a great gateway for travel and an excellent way to meet other travelers.
Bryon Bay to Coffs Harbour:
Coffs harbor in Australia is located in the north coast of New South Wales about 390 km south of Brisbane and 540 kms north of Sydney. One can reach Coffs harbor from Bryon Bay in around 3 hours 30 minutes time covering a distance of around 240 kms. Tourists flood to Coffs harbor due to its balmy weather and beaches.
Take a ride to the jetty beach and enjoy the wonderful strip of coast that looks out to the pacific ocean and the Mutton Bird island beyond. Taking a stroll up and over the island will give a feeling of being on the edge of the world. The period between August and April is the best time to visit Mutton Bird island, as it will be crammed with more than 10,000 pairs of mutton birds in it, and hence its name. Visiting the island during June and November will give a spectacular view on Humpback whales, as they may travel along the coastline for migration; cruises will offer a close-up view on these whales.
Do not forget to visit the Pet Porpoise Pool, which is close to the Jetty which includes marine creatures like Penquins, seals and dolphins as well as emus, peacock, cockatoos, and many more. It also allows use to swim along with these marine creatures in the pool, but however to avoid last minute disappointment it is advisable to book early.
The Big Banana is one of the most famous icons in Australia. It is a favourite stopping place with people of all ages, where products related to banana as shown or sold here, and the ground of the building are a restaurant, a souvenir shop, and a banana plantation.
Coffs harbor to Port Macquarie:
Once can reach Port Macquarie from Coffs Harbour in around 2 hours 20 minutes covering a distance of 162 kms. Port Macquarie is a mecca of water sports and is located at the mouth of the Hastings river. It is a place of tourist attraction and has a rich history too. One of the oldest churches in Australia, St. Thomas Church is found in Port Macquarie. Apart from this there are a number of things to enjoy in the port which includes theme parks, restaurants, cafes, shops, scenic fights, camel rides, mini golf, and boat hire.
There are some places of attractions in Port Maquarie that any visitor should not miss. One is the Cassegrain Winery which is located south of Port Macquarie near the Hastings river. This winery hosts various special events and concerts in its natural amphitheatre. The winery door opens early in the morning for wine tasting, and can even picnic their wineyard.
Another place of attraction in Port Macquarie is the Aboriginal Tour where the guide, Wiruunngga will guide everyone from Bellingen to see the Never Never and the Promised land. He will also teach the skill of Ocre painting and tell stories about the Old Man Dreaming, in addition to learning sample bush tucker and traditional dance.
In the sea Acres Rainforest Centre, the ecology display will help deepen your understanding about the fauna and flora and how they interact. You can also see the rainforest up close by taking a long boardwalk, and refresh and dine in the Rainforest café.
Port Macquarie to Nelson Bay:
The next destination from Port Macquarie is a small town located on the southern coastline called Port Stephens. It is a total 250 kms distance from Port Macquarie to Nelson bay which can be covered in around 3 hours and 20 minutes. Nelson Bay is a home for various attractions, and the one that is high on the list is spotting dolphins and whale watching. Dolphin bay around this area all around the year, so watch these clever creatures having the time of their life will not be difficult if you head down there one afternoon.
Nelson Bay to Sydney:
The distance of 207 kms from Nelson Bay to Sydney can be covered in 2 hours 45 minutes. Sydney offers a number of tourist destinations to its visitors. From the Sydney Opera House to the Darling Harbour, there are many places in Sydney to visit that not only makes it a world-class attraction but also makes you extend your vacation trip further.
The Sydney Opera House is a famous tourist attraction in New South Wales, Australia. It is a multi-venue performing arts centre, conceived and built by Jorn Utzon, a Danish architect. The Opera House is considered as one of the greatest architectural work of the 20th century that brings out both innovation and creativity in its structural design as well as architectural form. It features 5 performance venues, including bars, restaurants, and shops. The basic tour includes coffee and tea, but the real entertainment is in the backstage tour. Though little pricey, it is highly worth from the experienced gained from it.
Another must see place in Sydney is the Darling harbor, which has many attractions like the National Maritime Museum, the Powerhouse Museum, the Sydney aquarium, and the Harbourside festival marketplace. One can also get fine dining experience in Darling Harbour as many fantastic restaurants operate here.
Do not forget to enjoy a tour in Royal Botanical Garden located in Sydney. It is a 80 acre park having more than 45,000 plant species. The garden also features rare and threatened plants. Do visit them and have a fine dining experience in the restaurant in Royal Botanical Garden surrounded by flowers.
Conclusion:
Travelling from Brisbane to Sydney (approx. 1000 km) is ideal for a sports car, and a good road trip for anyone who wants to enjoy the serene beauty of Australia. However, always be prepared to drive away from the highway to have a better look at the scenery and do not forget to miss any of the tourist attractions mentioned above.
Kelly Jason has now travelled from Brisbane to Sydney over ten times. She current lives in Port Stephens.