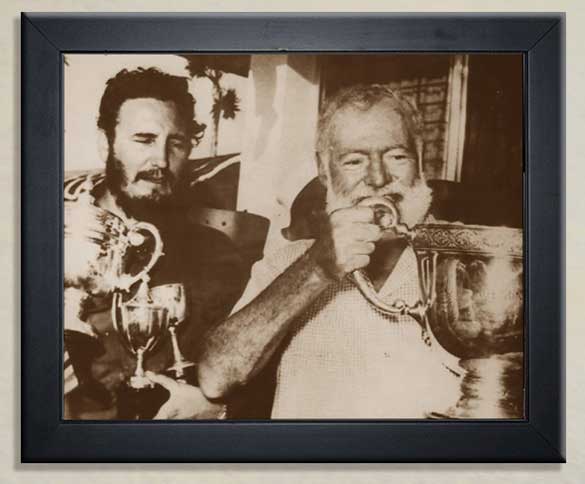 Ernest Hemingway: Most anyone who successfully completed their High School English reading list recognizes this quote as coming from Santiago, the tired old Cuban fisherman who is jettisoned out to sea by his own accord on a quest to reverse his fishing misfortunes. He hooks a gigantic marlin and endures a grueling fight for three days, before finally defeating his foe with a harpoon, only to lose his prize to feasting sharks as he towed the massive fish back to port.
"Perhaps I should not have been a fisherman, he thought. But that was the thing that I was born for."
– Ernest Hemingway, The Old Man and the Sea
For the people of Key West, however, these lines bear a slightly different meaning. Sure, they recognize that the text comes from the novel, (not having read The Old Man and the Sea is nearly a finable offense on Key West) but they are astutely aware that with these words Hemingway is making reference not to a fictional old man, but indeed to himself as much as the old sea captain whose stories he retold. Hemingway, who was born to be a fisherman, perhaps not by trade, but most certainly by virtue.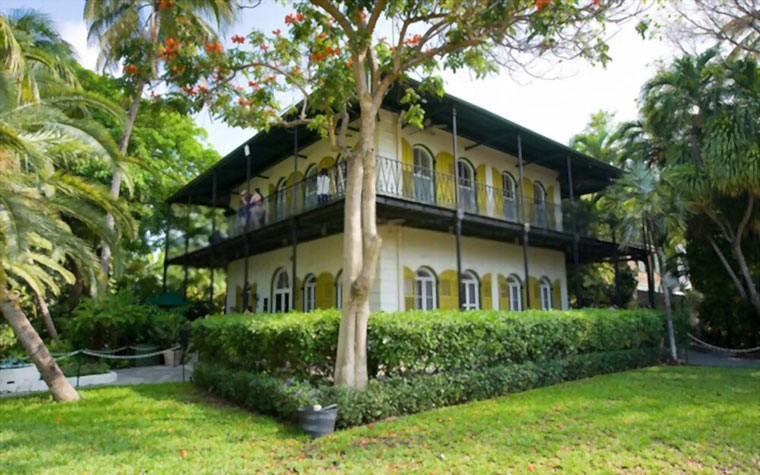 The Ernest Hemingway House with garden in Key West in Florida.
In the 1930's Ernest Hemingway relocated to Key West, the move inspired of course by his love for fishing. Today, tourists can still visit his home, which has been renamed the Ernest Hemingway Home & Museum. Along with reliving Hemmingway's glory days out at sea, visitors can pet the six and seven toed cats that reside at the house and are claimed to be direct descendants of Hemingway's beloved kitties from oh-so long ago.
Hemingway stayed in Key West as a permanent resident for nearly a decade, spending most of his free time out on his boat, Pilar, in search of marlin, and the other bounties of the Gulf Stream. After all, fishing was the thing that he was born to do.
Not only was Hemingway an avid fisherman, he was also an exceptionally talented one. Throughout all the years that he spent in the Caribbean, he won every single fishing tournament in the Key West-Bimini-Havana triangle. The walls of the Hemingway home are lined with photos bearing colossal billfish, golden trophies, and other spoils from the many triumphs he enjoyed over his illustrious fishing career.
Hemingway had an enormous respect for the sea, and deemed his deep water prey to be more than worthy adversaries. He loved the challenge and the fight. It was his passion for the battle that led him to bring in so many record-breaking catches.
"Fish," he wrote in the Old Man and The Sea, "I love you and respect you very much. But I will kill you dead before this day ends."
He was not, however, always victorious. In a now famous photo, Hemingway poses in 1960 with the winner of a tournament he sponsored in Cuba, Fidel Castro. The tournament continues to run today, and the name has since been changed to the Hemingway International Billfishing Tournament. Teams of fishermen from around the world flock to Havana every year to try their hand at winning what is one of the most coveted tournament trophies in the world.
In the Conch Republic, no tournament bears Ole Hem's name, but the Key West Marlin tournament is held during Hemingway Days in July.
Hemingway's influence can still be felt around Key West, the charming island that he first fell in love with after returning from Paris in 1928 with his new bride, Pauline. Along with fishing, hunting, and writing, one of his other infamous follies was love for booze, and you can still throw back a cold one at Hemingway's favorite watering hole, Sloppy Joe's Bar. Eighty years later, Hemingway's Key West very much still exists, with a laid back island lifestyle seemingly frozen in time, and giant ocean warriors swimming the Gulf Stream, awaiting their battle with the next modern day Santiago.
Author
M.J. Taylor lives in Key West and shares Papa's enthusiasm for the Southernmost City, writing, fishing, and other warm water sports and activities. Also read about 8 of the Best Fishing Destinations in the UK