Have you ever, whilst watching the rugby being shown on television, thought that you'd like to get a bit closer to the action? If so then you could get up close and personal with the British and Irish Lions in 2014, by joining them for the Six Nations Tour or the Hong Kong 7's.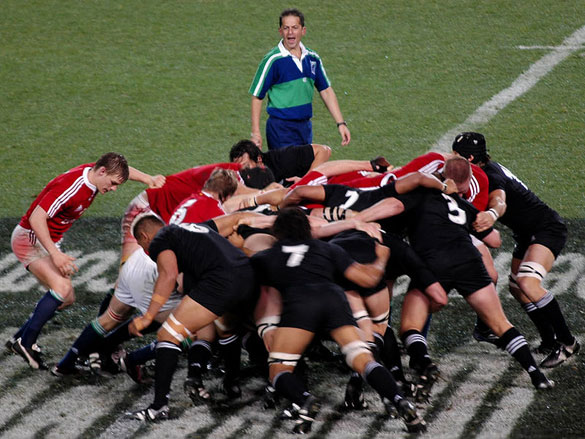 The British and Irish Lions against the All Blacks in 2005. Image source Wikipedia
But after the initial daydream, have you then thought it's too complicated, it's too expensive, I don't have time, I don't want to go on my own? Well by starting now and looking at all your options you will be able to turn those doubts around and that dream into a reality.
Firstly decide where you'd like to see The Lions play, which might be dictated by your budget, so will determine how far you'd like to travel. Other considerations will include your own work or home schedule or planning it so you get to see the team you'd most like to see The Lions play against.
In 2014, The British and Irish Lions will play in Paris, Cardiff, Rome and Edinburgh as part of the Six Nations Tour and Hong Kong for the world famous Hong Kong 7's. Each game, each venue and experience will have its own charms so whichever you choose you're in for the experience of a lifetime.
Once you've decided the venue or venues you're planning to go to the next step is securing tickets for the relevant match, booking travel and importantly accommodation close to the stadium.
At this point you might be starting to feel a bit daunted; it's not like booking a regular trip where things are a bit more flexible and with just a little bit of effort and luck everything generally falls into place. Booking a trip to see The British and Irish Lions play depends on a number of interconnecting factors and without them all in place you might end up with tickets for the match but no accommodation, accommodation but no flights; or worse-case scenario with the travel and accommodation sorted but missing those all-important match tickets.
Luckily there is a whole host of information that you can tap into to make what can seem like a daunting process become a much easier one. Do your research and look at as many resources as you can: Facebook pages, twitter feeds, fan blogs, specialist travel agents, newsletters and even your local rugby watching haunt can all prove invaluable.
You'll be able to tap into the knowledge of an army of fans like you, who have done or are planning this kind of trip themselves, as well as specialists who could take some or even all of the work out of your hands.
So to end, a quick checklist to help you when making plans for your Six Nations Travel / Hong Kong 7 experience: plan as early as possible, look at all the options, decide what you can afford in terms of money and time and don't be afraid to ask for help.
Wendy Lin is a free-lance writer who enjoys spending time with her family and traveling abroad.