I regularly head out at the weekend camping in Devon and Cornwall. What more could I have asked for than (mostly) blazing hot weather coupled with daylight into the evenings and only mild breezes, all the while surrounded by likeminded campers enjoying their holiday break in a similar style.
Porthcurno beach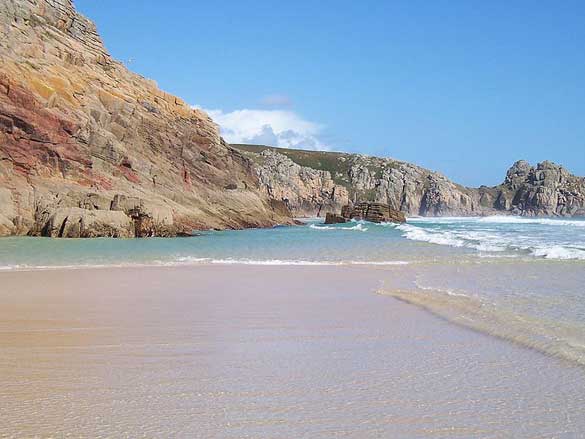 Image Source Wikipedia
When I go camping I usually get back to the basics and rid myself of all luxuries, sleeping on a thin matt and eating basic food stuffs. On this occasion for the first time I decided to do the whole trip in a classic VW camper van! It was unusual at first and a strange experience to be sleeping in what was as near to sleeping in a proper bed as camping gets, I even had a proper stove and place to wash my dishes up after cooking! I must say that the entire experience was a memorable one and I woke up in the morning feeling much better than I would have if I had camped in a tent. Let's not forget the effort as well, I take pride in getting everything setup correctly and as we were moving around a few different campsites a tent does become a laborious task (trust me!) the minimal effort required once parked up in a VW camper van is amazing, providing you more time to enjoy your camping holiday in Cornwall.
In hindsight, I am surprised I hadn't rented a VW camper van before and will defiantly be doing it again in the near future.
I'd like to make some recommendations to you for places of interest in Cornwall if you're planning a camping trip in your campervan:
Tintagel
Home to King Arthur's legendry castle, this little town has a lot to offer the prospective tourist and has a great campsite within walking distance of the town and attractions.
Holywell Bay
Has another well-located campsite and a 'fun park' – I just like the go carts and golf personally.
St Ives Bay
Is closer to Hayle than St Ives, but you are within stone's throw of some of the most beautiful beaches which tend not to be sparsely populated compared with the beaches in St Ives town.
Portscatho
Has a couple of worthy campsites which have stunning views out to sea and of the surrounding coast. It's only short coming which for some could be a reason to visit is that the location is quite remote.
Gwithian
Is home to a great farm campsite which is a short walk from the beach and coastal paths, again it is quite remote but provides some fantastic views.
I spent a couple days at each campsite and found this was the best way to truly get to know the area. Any less and I don't think I would have had the same experiences and probably missed out on some of the attractions.
Isaac writes on behalf of Campers In Cornwall who can help you with Volkswagen camper van hire. If your looking for VW camper van hire check Campers In Cornwall for great deals.