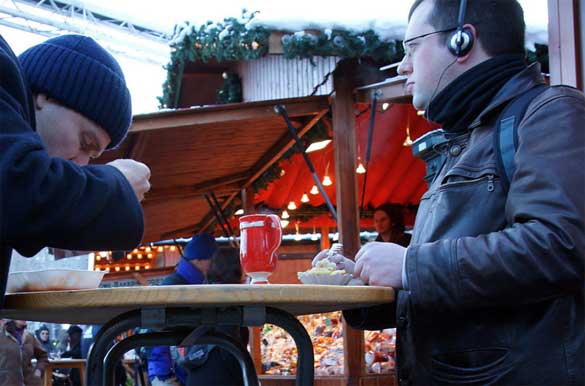 Photo © Steve
Edinburgh, Scotland is one of the most popular destinations to travel to in the world, known for its urban culture and number of attractions, complete with some of the most incredible restaurants in the country. By visiting delicious eateries that are known for its fine cuisine, it will enhance any stay and make for a memorable trip.
The Grain Store
This eatery dishes up decadent dishes for fine Scottish cuisine just above the shops on Victoria Street where the food is just as impressive as the presentation. Between fresh lobster, pigeon, local salmon, rabbit, and pork belly, the meats are fresh and served in appropriate portions. The decor is eclectic and classy, making for a romantic place to dine at while exploring Edinburgh.
The Tower
The Tower is a favorite among both tourists and locals, enjoyed for its spectacular views of the city and high-quality dishes, said to be hot spot for A-listers by AfternoonTea.co.uk. The establishment is attached to the Chambers Street Museum with rooftop afternoon tea, a luxurious bar, and a cozy environment with modern decor. From the restaurant, guests can enjoy intricate menu items that include a chocolate bombe, a goats cheese and beetroot salad starter, and moussaka with lentils.
City Restaurant
The City Restaurant is a lively and bustling place, situated on Nicolson Street and named one of the best 10 restaurants in Edingburgh by The Guardian. Known for their classic fish and chips at an affordable price, this establishment is fun and casual. Cozy seating is available upstairs for guests to enjoy enchanting views or the surrounding area while dining over a plate of mince pie, a city burger, or a fluffy omelette. Similar to an American diner, the restaurant offers classic booths and traditional British favorites for a relaxed and enjoyable meal in the heart of Edinburgh.
Howies Waterloo Place
After serving food for 21 years, the newly renovated Howies is a staple in Edinburgh that celebrates exquisite cuisine in a fancy environment. The dining room includes specials written on a framed chalkboard on the wall, along with eclectic wallpaper, a bagpiper that often welcomes guests, and even a beautiful reception hall. They serve hot smoked salmon, Cullen Skink, and fish cakes with a local ale that is perfectly paired with the dishes. Although the establishment is quick to become packed, the staff are friendly and work to accommodate seating for each guest that walks through the door.
Cafe St Honore
Cafe St Honore is a quaint restaurant with black and white checkered floors and lovely mirrored walls for an intimate setting when coming in for lunch or dinner. Their menu is flavorful and creative with dishes that include braised veal breast and pigeon salad for fine-crafted French cuisine. The cobblestone outside of the restaurant makes for a lovely exterior, welcoming guests who are passing through the city or returning for their favorite dish.
For both foodies and explorers, Edinburgh is a pristine destination for finding the finest cuisine in Scotland and enjoying the lively culture in each of its establishments. New dishes and recipes can be ordered to explore new flavors and spices that are hand-crafted to celebrate a passion for food.
Sally writes for Edinburgh serviced apartments specialists Let In Edinburgh, they are a part of Reserve Apartments and also have a range of Glasgow serviced apartments for you to choose from for your stay in Scotland.