24 hours in Glasgow: Scotland's biggest, most populous city and the anarchic neighbor to Edinburgh, Glasgow is a city that takes weeks to get to know. If you find yourself in the city for a short period though, there's still plenty to fall in love with. So here's our guide to spending 24 hours in the 'Dear Green Place':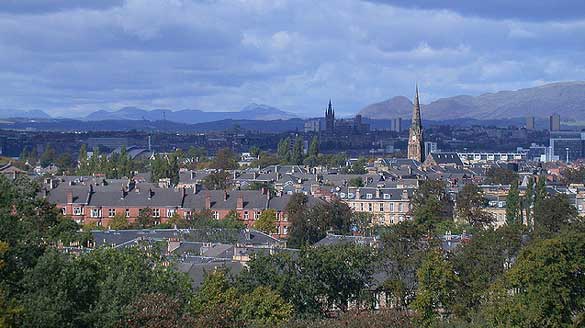 Morning
Start off your day with a hearty Scottish breakfast at Café Gandolfi, a great place for a Scottish take on eggs that doesn't involve breadcrumbs or sausage meat (but does involve Stornoway Black Pudding or Peat-Smoked Salmon), washed down with some strong coffee. Then head out into Merchant City to spend the first part of your morning browsing the boutique shops that abound in the area, being sure to take in the historic City Chambers, Glasgow Cathedral and George Square as you do so.
Together, these three architectural landmarks make up the civic and spiritual heart of Glasgow. George Square is usually referred to as the centre of the city, featuring monuments to Scottish luminaries Sir Walter Scott, Robert Burns, Sir Robert Peel and many more. The City Chambers dominate one side of the square, and have been home to the city's government since they were completed in 1888. The nearby Cathedral is far older, having been completed and consecrated in 1197.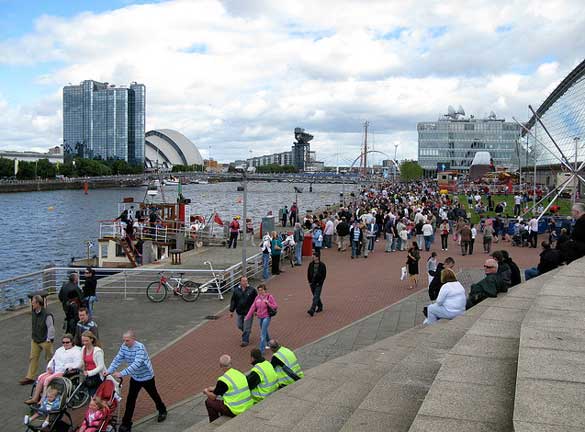 Afternoon
Towards the end of the morning, head over to Glasgow Green and wander the city's oldest park (and the birthplace of Glasgow Rangers Football Club) with the beautiful Doulton Fountain, Nelson Monument and Mclennan Arch within. For lunch, grab a quick sandwich at one of the cafes located around the green before heading back into Merchant City in the early afternoon.
Specifically, walk over to Argyll Street for an unforgettable and truly unique experience, the Sharmanka Kinetic Theatre. Made by a sculptor-mechanic named Eduard Bersud sky in the 1980s, the Sharmanka has been housed in Glasgow since 1996, delighting visitors who discover its hidden charm. In a daily 45 minute show (book ahead as tickets are not available on the door), watch hundreds of figures tell the story of humanity in a way that you have never seen before.
Once that's over, hop on to Glasgow's Underground (or 'Clockwork Orange') at St Enoch station and take the train to Kelvinhall in the West End of the city and wander down to Kelvingrove Art Gallery and Museum, one of the finest art collections in Europe housed in a stunning, newly renovated sandstone building. The exterior, interior and contents of the gallery are all amazing to see: including the famous Christ of St John of the Cross by Salvador Dali.
If there's still daylight left, Kelvingrove Park is well worth exploring, as are the Glasgow Botanic Gardens (which are 20 minutes' walk from the gallery, through the main campus of the University of Glasgow). The Gardens are home to several glasshouses including the magnificent Kibble Palace, a huge wrought iron framed house that has been a feature of the gardens since 1873.
Evening
The West End is an excellent place to find yourself in of an evening, so begin your time there with a wander around the various boutique shops and indie establishments that abound in the area. For a pre-dinner drink, head over to Brel on Ashton Lane, a lovely bar with a goodly sized garden for taking in the (hopefully) warm evening.
Pop around the corner for dinner at the renowned Ubiquitous Chip, a Glasgow institution that's been serving up real Scottish cuisine since 1971. What you do next is dependent on your taste for nightlife, but try heading north to The Stand for some local stand up and a few drinks, or back into town via Nice N Sleazy on Sauchiehall Street to end up right back in the heart of the city. From there, The Arches or King Tut's are two of the best clubs in Scotland.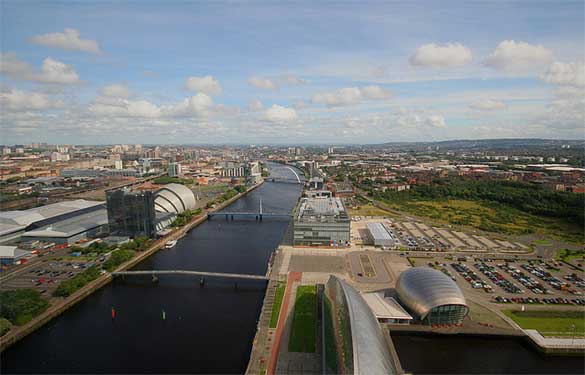 Where to stay
If 24 hours is all you're going to spend in Glasgow, consider one of the hotels in the centre of the city like Malmaison or Blytheswood Square. If you're staying on a bit longer, renting out a flat can be a great way of staying in luxury on the cheap in Glasgow.
Bio: Patrick Foot writes about lettings and property for Lettingweb.com, covering everything from moving tips to tenancy disputes to generating yields. He's been a professional writer for several years, and now writes '24 hours in Glasgow' under his role as Lettingweb's Marketing Manager as well as for various publications as a freelancer in his spare time.