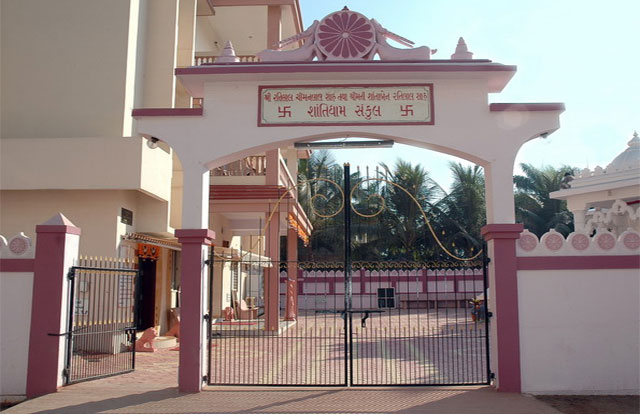 Shantidham Aradhana Kendra temple was incepted around 23 years ago. Located on the beach of Tithal It is situated in South Gujarat at a distance of about 4 km from the city of Valsad. It is surrounded by lush green and nonpolluted atmosphere. Well known for its peace and pure atmosphere also is famous amongst the Sadhaks visiting this place from around the world to achieve mental peace and spiritual experience.
Under the spiritual guidance and holy presence of Rev. Munishri Jinchandraji Maharaj regular shibhirs for Jainism, Mantra Sadhana, Free Medical Camps have been continuing from last 10 years.
A beautiful Parshwanath Jain Derasar along with Airconditioned Meditation Hall, Jain Upashray, and well furnished A/c & Non A/c Guest House are in place at Shantidham Aradhana Kendra.
A number of Jain and Non-Jain groups and families have organized a number of humanitarian, educational, religious and cultural activities on a regular basis at Shantidham Aradhana Kendra for which the working Trust is always ready to help them.
With the efforts and spiritual power of Rev. Munishri Jinchandraji Maharaj and continuous Mantra Sadhana, Yantra Poojan performed at this place a lot of positive vibrations and divinity are experienced at this place.
Contact Address:
Prerna Prakashan Trust, Valsad
Shantidham Aradhana Kendra, Tithal, Valsad, Gujarat,India 396001
E-mail : jinjimaharaj@yahoo.co.in
Contact Number : +91 2632 255874
Mob : 93742 55874
Trustee : +91 9825148074
Website : www.jinjimaharaj.com
Guide Map