China is home to some of the most beautiful mountains in the world and is a great place for hikers to explore some of the world's most mystical destinations.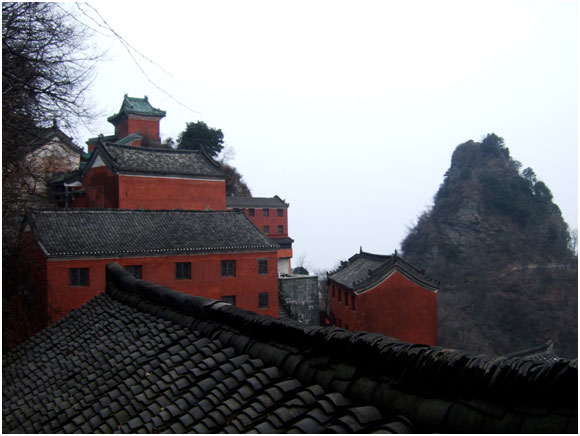 (Pictured: Wudang Shan)
Here are my top five mountains to hike in China.
1. Huang Shan

Photo Credit: Matthew Amery
Huang Shan (黄山), or Yellow Mountain, is one of the most famous mountains in China, Anhui province. Most peaks here are over 1,000 meters (3,250 feet) high and are covered with lush vegetation. This mountain range is known for its mystical appearance due to the fact that 200 days a year it's covered by clouds, and the mountains peaks look like islands floating in the clouds. There are several hiking trails and hostels to stay at around the area.  It is definitely worth a trip to see the beautiful scenery and hike this mystical place. If you are looking to go hike a mountain, be sure to read more about cover-more and stay safe.
2. Tai Shan

Photo Credit: paulappleton
Tai Shan, (泰山), Mount Tai, is one of the five sacred mountains of China and is the most climbed mountain in China.  Mount Tai is located near the Shandong city of Tai'an. The main peak is about 1532.7 meters (5,029 feet) high so make sure you have good hiking shoes if you wish to reach the top with the other tourist that flock here for this famous mountain.< b>3. Hua Shan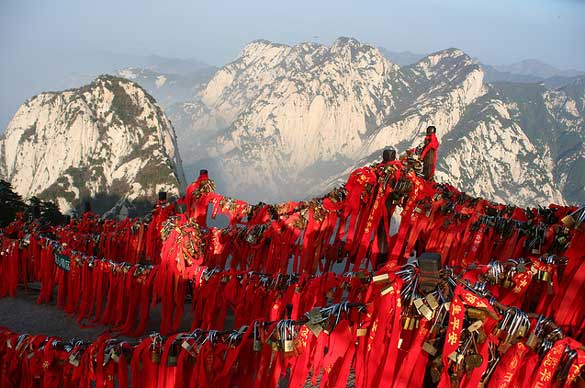 Photo Credit: Gabriele Caretti
Hua Shan (华山) is also one of the five sacred Taoist mountains and is located in Shananxi province. Hua shan has peaks that reach around 2160m and is named by the people, "The most precipitous mountain under heaven." The mountain is beautiful but can be a bit of a challenge due to the fact of its many steep ascents with via ferrata and narrow passes.  If you're feeling up to it, this mountain is also known for having "The world's most dangerous hiking trail."
4. Wu Dang Shan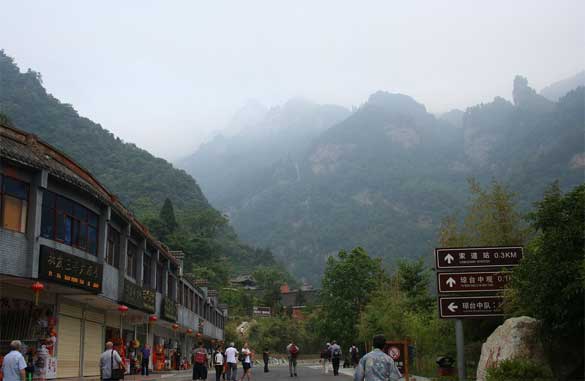 Photo Credit: Linda McGrath
Wudang Mountains (武当山), is a small mountain range in Hubei Province.  The mountain peaks range around 1612 meters, and have several temples and Taoist complexes to explore.  The mountain range is quite beautiful and has a certain mystical feeling when hiking it.  This place is great if you want to get away from the crowds of tourist that you might see at places like Tai Shan. There are many places where you can find a quite spot to meditate and observe the peacefulness of the mountain, and you will often find Taoist monks doing the same.
5. Emei Shan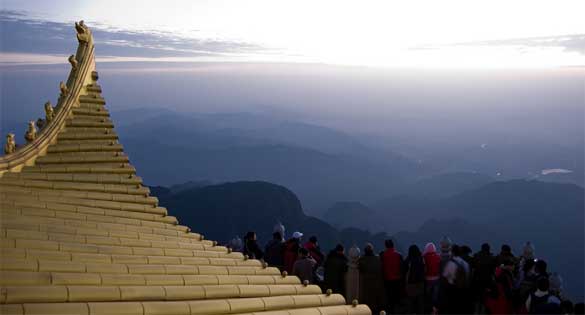 Photo Credit: Ryan Gutierrez
Mount Emei (峨嵋山), is one of the sacred Buddhist Mountains found in southern Sichuan province.  Mount Emei stands at 3099 meters (10,167 feet) and contains more than one hundred temples and monasteries for you to explore.  This is a beautiful mountain and is a great place to view breathtaking sunrises and sunsets with the cloud seas that surround this mountain.
About the author: James Brookes is an experienced travel writer living in Beijing.  His writes clear, educated, and up to date information for all travelers in Asia. He is known for his helpful travel tips in the travel sector such as CoverMore UK and New Zealand.