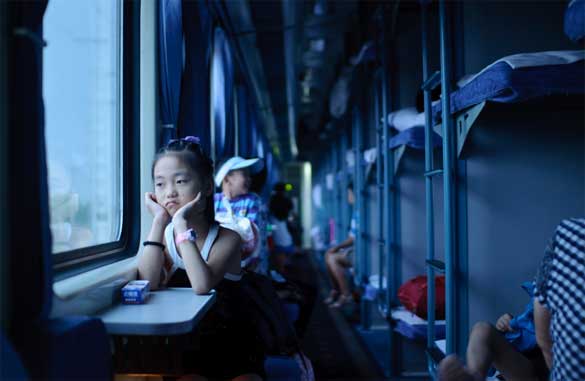 Photo © RudmerHK
A long commute is sometimes unavoidable.  Riding on a bus or train for long trips can be very taxing mentally and physically if you do not prepare yourself and come up with a game plan for passing the time.  Bringing along a laptop with movies installed, having a book or e-reader handy, or catching up on your sleep with the help of some ear plugs and a travel pillow are all ways that can make your long commute seem like no time at all.
Laptop with Wi-Fi and Movies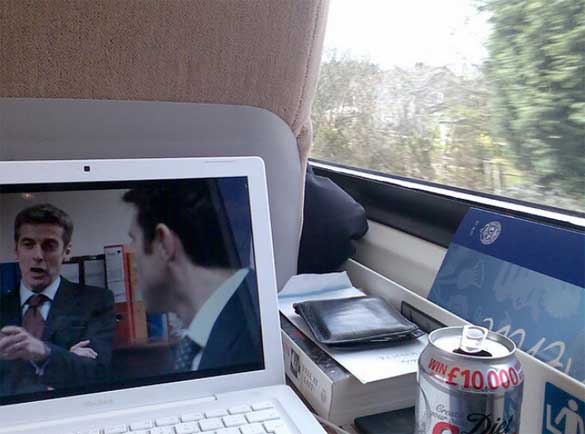 Photo © Paultweedy
If you own a laptop, it could be a great ally to stave off boredom during a long commute.  Some buses and trains offer Wi-Fi as a free service, so if you can get a connection, you could potentially be surfing the web in no time.  Also, many DVDs and Blu-rays released today come with digital copies of the film, which could be a great way to pass the time, especially since you will know how long the movie is and how much time you will have left, if any, when the film ends.  Of course, make sure you download the movie before you are on the trip, or else you'll be stuck without entertainment.
A Good Book or E-Reader
One good thing about having a long commute is that it gives you a perfect opportunity to catch up on that book you've always been meaning to read.  With minimal distractions, it also gives you minimal excuses.  Whether you're looking to polish off a classic tome or you want to indulge in some harmless pulp novels, the commute is the perfect time to get it done.  If you're an avid reader, invest in an e-reader and you could have a virtual library at your fingertips.  Once you immerse yourself in the pages, you'll feel like you arrive home in no time.
Things to Help You Sleep
The easiest way to make the time fly by is to catch up on a little shuteye.  If you're on the road earlier than most, this will probably come easily to you.  Sometimes, however, a cramped bus or train is not an ideal place to get forty winks.  Between noisy passengers, sun shining in your eyes, and anything else the trip throws at you, it's best to take precautionary measures to assure a relaxing nap.  Noise-canceling headphones or earplugs will help prevent unwanted noise from keeping you awake.  If you anticipate the sun being a problem, wear a hat and pull the brim low, or buy yourself a sleep mask.  Don't forget your travel pillow; nothing can ruin a perfectly good nap quite like waking up with a stiff neck.
If you take these into account when you are trying to pass the time while stuck on the bus or train, the long commute you have may seem less daunting.  At the very least, you may be able to catch up on some movies, books, or simply, some much-needed rest.
For more writing by Jillian Johnson follow her @MissWritey.