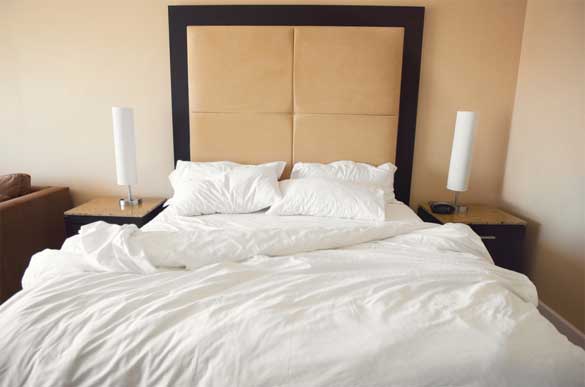 Photo © Amy DiLorenzo
Hotel bed; the name immediately conjures up thoughts of luxury, softness, space. We stay in hotels for various reasons: some people may require them for a business trip; couples book them for romantic getaways, and people stay in them as an alternative to braving the old family home when visiting relatives. Whatever the reason, we love hotels. Why? Because hotel beds are guaranteed to give you the best night's sleep ever.
Size
Not only are they always much bigger than your average sized bed at home, the mattresses are firmer, the pillows plumper, and the duvet and sheets much thicker. In short, you feel like royalty for the night; what's not to love about that?
The Luxury Factor
If you've recently struggled with bouts of insomnia, book yourself a stay in a posh hotel; it'll help to calm and soothe your nerves. Having a change of scenery may be just the cure for those with difficulties sleeping. Hotels are quiet and chilled places, perfect for relaxing and ridding your mind of the stresses and struggles of everyday life.
Treat Yourself
Maybe you just fancy a bit of TLC? Have a weekend's worth of pampering in a luxury hotel. Visit the onsite spa during the day for any health and beauty treatments, and then enjoy a delicious meal in the hotel's restaurant in the evening, before falling into a deep sleep in the comfort of the bed.
Relaxing On Business
Booking the hotel for a business trip? After a long, hard day at the office, chill out with a swim in the hotel pool and relax in the calming atmosphere of your room at night. Order room service for a bit of extra privacy or go to the hotel bar for a quiet drink. Settle back against the pillows and watch some television to unwind and relax your mind and you can be sure that you'll fall asleep as soon as your head touches the pillow.
Romantic Getaways
If you're feeling romantic (maybe your anniversary is coming up), book an overnight stay in a fancy hotel. Many hotels have themed rooms available for if you want to make the night extra special. Arrange for a three course meal to be brought to you via room service, or dine by candlelight in the restaurant. Book a room with a large, sumptuous bed; think Egyptian cotton sheets, silk covers and lots of pillows. Light some tea lights and place them around the bathroom, dim the lights and snuggle up together for a romantic night in for two.
24 Hour Service
Hotels provide excellent service day and night, so there's always someone around to help, should you need any assistance. There is always a wide selection of room types available. Just because you're staying alone doesn't necessarily mean you have to choose a basic single bed room. For a little more money you could be sleeping in true luxury. The more relaxed you are, the better you feel.
So the next time you book a hotel, why not splash out and go for the most luxurious option? Go on; treat yourself to the best night's sleep of your life.
This guest blog was contributed by Jenny Simpson a freelance writer who suggests that you banish that insommnia by picking from on eof the many advertised valentines breaks.