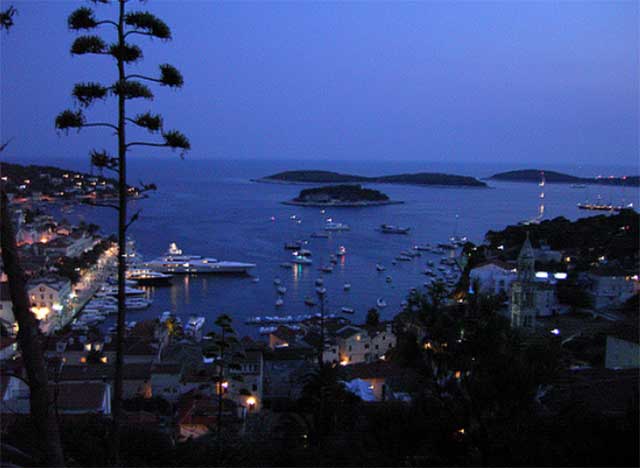 Hvar port at night – Photo Credit: Nadine Batista Santos
The island of Hvar is well known for its incredible beauty and is now considered a major attraction for those in the know and searching for an idyllic getaway with their family or loved ones. Most people flock there for the awesome sunny beaches and to relax away a few days without the stresses of city life – however, more and more people are going to Hvar to experience its top quality nightlight. So what does Hvar have to offer in terms of after-dark attractions? Let's take a look at what's making this little island famous all over Europe.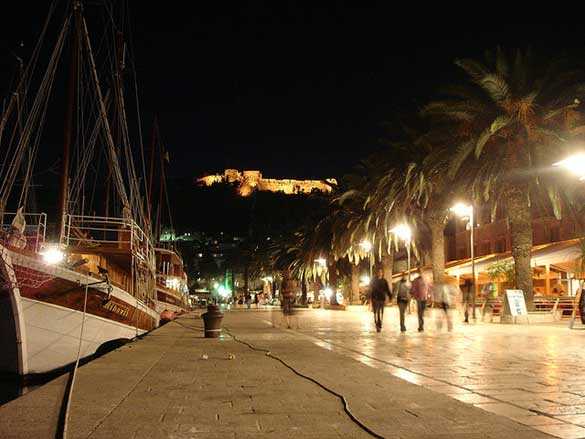 Photo Credit: Fiona Black & Dale Winfield
Dinning Out
Whilst bars and clubs are probably what's on your mind when it comes to thinking about nocturnal activities it's important not to forget to eat a hearty meal before making your way out for the evening. And we're in real luck here; the Dalmatian diet is one of the tastiest in Europe. With food heavily influenced by Italy as well as Croatia's more exotic neighbours in Serbia, you'll find a real tasty mix of fresh and tasty consumables. Typical Dalmatian evening meals include freshly baked bread, Croatian cured meats, light salads and some of the best seafood (or sea-fruit as the locals say) that you'll ever eat.
A good place to start at is Konoba Menego where they serve up traditional Croatian goodies and all served by staff wearing traditional outfits which for once actually give the place a really authentic feel. Another great option is Luna, this serves Croatian influenced Italian food and has quite a whacky atmosphere making it a great place to start off for an evening of dancing. Paradise Island is also a great restaurant tucked away at the top of a flight of stairs behind the cathedral and serves up some splendid dishes. Finally we come to Yaksa which is THE place to eat in Hvar, often visited by the glitterati not only does it serve top quality dishes but you also stand a good chance of some celebrity spotting whilst you dine.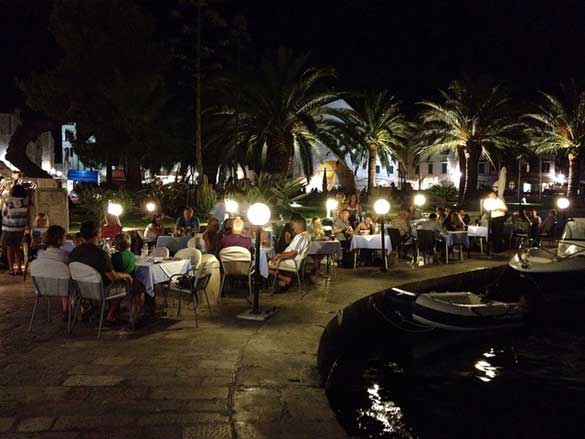 Photo Credit: HarveyMW
Bars & Clubs
While Hvar isn't quite Ibiza in terms of bars and clubbing (we're actually pretty glad about that!) there are certainly some pretty cool places to hang out and dance away the hours. It's important to remember that while Croatia is fairly cheap compared to countries such as the UK or France, drinks in Hvar might not be as cheap as your hoping, in a town where top models like to play, prices are going to be a little more expensive than on the mainland of Croatia.
Carpe Diem is probably the most popular bar and club in Hvar, with an easy going beach-side atmosphere and some killer cocktails this is a must visit for all those who fancy a some groovy booty shaking – plus there's a good chance you might spot some celebrities giving it their all on the dance floor. There's also a Carpe Diem Beach, a second branch if you were, in Stipanska Bay which is also a great place for some quality boogieing.
Less well known but no less cool is Hula Hula, just a short walk from the town. This rustic style beach bar really comes to life during the summer months, with chill-out style music and long cocktails this is a brilliant place for a more relaxed evening by the sea. If you fancy something a bit more alternative then Kiva is a great place to go to listen to rock, grunge and metal, where you can meet the extremely friendly locals and dance away your blues with attitude!
Finally we come to Veneranda. This club hit the headlines when Prince Harry was shot dancing there in 2011. The vibe here is great and locals mix with celebrity types in a very friendly manner. There is large dance floor and a pool for those of you who fancy clubbing in your bikinis. This is the most expensive of the venues we've mentioned but you'll be glad you spent the Kunas once you're inside and having an awesome party – best of all its hidden away in a beautiful pine wood so the house music can be blasted loudly without having to worry about waking up any early sleepers from the town.

Photo Credit: victorien
In Conclusion
Hvar really is an island paradise, quite a rare gem in Europe. The beaches are beautiful, the sights are stunning, the food is fabulous and the local people are exceedingly friendly – what more could you ask for? Well, some awesome clubbing would help, and as we think you'll agree – Hvar has that in bucket loads. So break out your beach-shorts or bikinis and book your holiday to Hvar – it's time to party Adriatic style!
I am a copywriter and poet with a bachelor's degree in English Language and Creative Writing. I have worked in various marketing & creative roles since 2001. My aim is to publish at least one novel before I die – so far I have had 2 poems published internationally in print as well as some online. In my professional capacity I currently work for an advertising agency in London.