Located just 13 km from Agra, Sikandra is a soothing retreat. An extension of Agra, it is within the city limits. Therefore, you find all forms of communication means ranging from unmetered auto rickshaws to buses to reach this place from Agra. You can also hire a cycle or a tonga (horse-drawn covered carriage) for a change.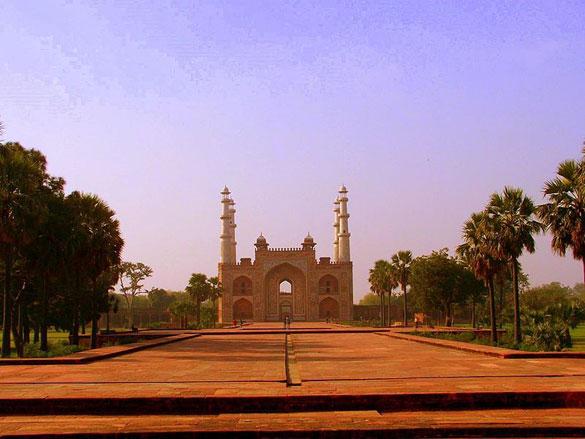 Main entrance of Akbar's Tomb complex from inside. Image source wikipedia
It is a popular tourist destination spot also for Akbar's Mausoleum. Rightly termed the "Gateway of Magnificence", Emperor Akbar planned this pyramidal tomb for himself and also selected the site during his lifetime. In this, he followed the typical Tartary custom of his forefathers who religiously construct their respective tombs during their lifetime. The sprawling, wonderfully carved, red-ochre sandstone catacomb is situated amidst a lush widespread garden. The architectural style marks a significant departure from the earlier Mughal buildings. His son, Emperor Jahangir (1569-1627, completed the construction of the sepulcher in AD 1613.
Following are the "Must See" detours arranged alphabetically are: Bateshwar, Bharatpur, Fatehpur Sikri, and Sikandara.