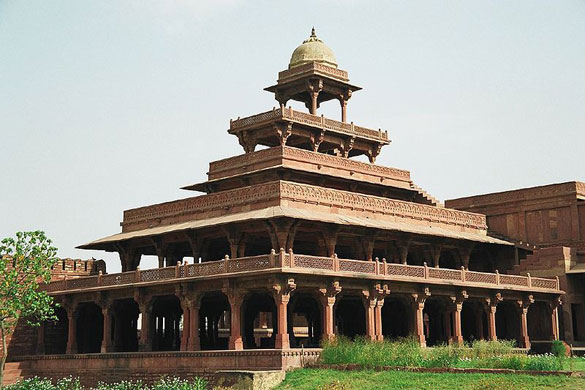 Panch Mahal in Fatehpur Sikri. Image Source Wikipedia
The capital city of Mughal Emperor, Akbar the Great (1542-1605), during the period between1571 to 1584, Fatehpur Sikri is situated 45 km from Agra. After your whirlwind sightseeing tours, you can take private buses or the luxury ones from Agra to this welcome respite. The urban hub was formed by amalgamating the twin cities of Fatehpur and Sikri. Akbar built Fatehpur Sikri as a mark of respect to the famed Sufi seer, Sheikh Salim Chisthi, who had predicted the birth of a son to Emperor Akbar (the monarch was issueless till 27 years of his age). This city is not just a feast for your eyes but its tour will also acquaint you with the architectural finesse and rich magnificence of the Mughal era. One of the prominent buildings is the Bulwand Darwaza. Akbar constructed it after his victory over Gujarat. The 41 m-high arch of Bulwand Darwaza is awe-inspiring. The other representative structures are the Fatehpur Sikri Fort the Panch Mahal and the Tomb of Salim Chishti. All of them are indicative of Akbar's Persian ancestry and his all-embracing approach. They further demonstrate an excellent sense of proportion.
Following are the "Must See" detours arranged alphabetically are: Bateshwar, Bharatpur, Fatehpur Sikri, and Sikandara.