Friends who have just came back from visiting Bangkok would most likely tell you tales of Silom and Khao San Road more than any other area in Bangkok. This comes as no surprise since these are districts where you would find the most night entertainment ranging from pubs, restaurants to lounges; after all, Bangkok is rather well-known for its night life and entertainment.
If you yourself have plans on spending some time at Bangkok, do make sure you check out the other districts for shopping and getting to know the local culture a bit more. Some of the things might amaze you such as sidewalks being happily shared by pedestrians on foot side-by-side with motorcycles. To get you started, here's a mini guide to selected districts in Bangkok and what you would find in the area as well as some hotel recommendations by district. There are in fact 50 districts in Bangkok, these are some of the main ones.
First is none other than Siam Square which also covers Ratchaprasong and Phloen Chit Road. And yes, we are referring to the same Ratchaprasong where protest took place not so long ago. In fact there is reason why protest took place there; it is Bangkok's modern commercial center where all the big name shopping malls and hotels could be found. The Siam sky train and subway interchange station is also probably the largest of the entire network.
Further along the same road, you would come to Sukhumvit area. Sukhumvit road is a very long road that runs a long way outside of Bangkok to rural areas so try not to get confused. There's Sukhumvit road and there's Sukhumvit area. In Bangkok, these two are one and the same and the district is popular among upper class Thais and expats. Expensive nightclubs, restaurants and hotels are found in this area. This is more of the area from Asoke towards Bangna area. Nana Sukhumvit (close to Siam) is where you'd find Soi Cowboy and Nana Entertainment Plaza where the naughtier image of Bangkok nightlife is found.
Silom is yet another nightlife district during the night with places such as Patpong coming to life once the sun sets. Silom is however also Thailand's financial center with many local and international brand headquarters running offices in the area. During the day, there are also lots of local markets selling local products and fashion pieces such as Lalai Sap market which is popular among working women who does a bit of shopping during their lunch breaks.
Next, let us introduce you to Rattanakosin which is "Old Bangkok" and the historic center where you could get to learn more about the country's culture and history. This is where you would want to visit the famous Grand Palace and Wat Pho. The famous temples Wat Phra Kaew and Wat Arun are also found in this area.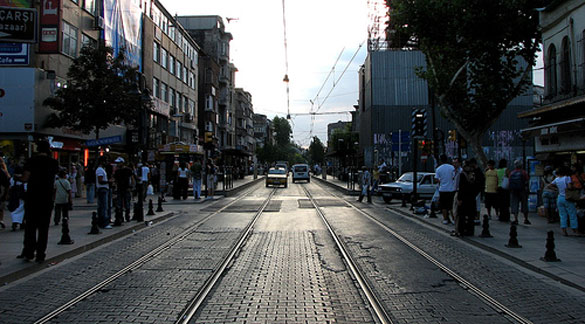 License: Creative Commons image source
When you get to Thailand you would quickly notice the large number of Chinese descendants everywhere. It is no secret that many Chinese immigrants has over the years, considered Thailand their home and many younger generations have forgotten how to speak Chinese. This does not stop Chinese tradition from still being a big part of the country which is portrayed by Yaowarat and Phahurat district. If you have some time, visit the area, and you might feel like you're in China or Hong Kong rather than Bangkok (especially at night when all the lights and signboards comes to life). And for a feel of mass sale of goods, wholesales of local products, fashions and garments, head over to Pratunam district. The famous Victory Monument is also in this area.
Finally, another district that is gaining popularity among foreign visitors is Ratchadapisek. Here you'll find lots of massage parlors and clubbing spots, the more well-known one being Royal City Avenue (RCA).
As for where to stay, here are some of our picks going by location. For Silom, consider Pullman Bangkok Hotel G. Pullman hotels host quite a lot of events, suitable for visitors looking to spend a good portion of their trip for partying and nightlife. As for Ratchada area, there are a few local hotels to pick from. The more upscale hotels you could consider are either Grand Mercure at Fortune town (an IT mall) or Swissôtel Le Concorde. As for Sukhumvit area, there's a large number to pick from ranging from Novotel Bangkok Ploenchit, Sofitel, JW Marriott, The Continental to a few local picks.
Writing for miscellenous travel blogs and websites, Mike Stahl contributes articles and news pieces as a guest blogger in his free time. Mike studies graphics arts and uses travel as an inspiration for his works.