Brisbane, Australia, is famous for its beautiful countryside, picturesque city and friendly people. It has lots of options for free fun throughout the city including galleries, parks and entertainment as well as plenty to see and do at the seaside on Moreton Bay and in the mountains to the west.
The Loop is a free bus service that takes people around the Central Business District. It is a great way to get to many of the best places to see as it stops at the City Botanic Gardens, the Queen Street Mall and King George Square.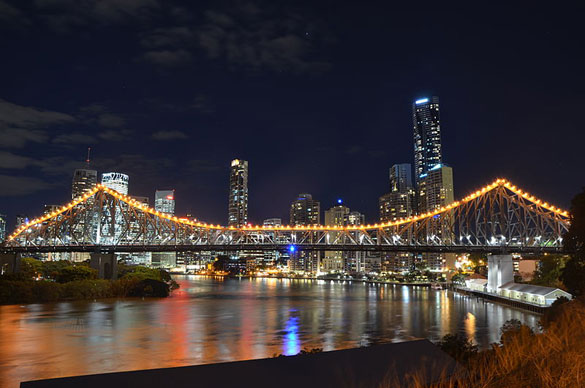 The Brisbane metropolitan area is centred on the Brisbane River. Image Source Wikipedia
Parks
The City Botanic Gardens started as agricultural land in 1825, but in 1828 the site was chosen by Charles Fraser for a public garden. It has many rare and unusual botanic species and is a good place for a picnic or walk through a rainforest. It has a café that offers tasty options and there are good views of the river. The Riverstage is in the gardens and offers free concerts, exhibitions, shows and music festivals throughout the year. The audience relaxes comfortable on a grassy hill.
The Roma Street Parklands offer free guided tours and is considered the largest subtropical city center garden in the world. It has lots of colorful flowers, fern groves and rocky peninsulas. There are playgrounds and barbeque areas. It also has 15 art installations including sculptures, bronzes, murals, mosaics and paving.
History
The Museum of Brisbane puts on a fascinating show of social history and visual arts about the communities and culture of the city. Tours are free at 11:00am on Tuesdays, Thursdays and Saturdays.
The Old Windmill is the oldest building in Brisbane. It was built in 1828 for grinding corn, but the sails were rendered incorrectly, so it was used as a fire lookout tower, signal station and meteorological station.
Old Government House, Customs House and Brisbane City Hall are all beautiful historic buildings that are interesting to tour.
The Albert Street Literary Walk begins at Central Station and follows a trail of 32 brass plaques that have been set into the pavement. The plaques show various observations that famous authors have written about Brisbane, and the walk takes about an hour.
St. John's Cathedral is the world's only Gothic cathedral that is still being built using traditional medieval building techniques. Tours are free Monday – Saturday at 10:00am and 2:00pm.
Australian Animals
Just 25 kilometers south-east of the city is the Daisy Hill Koala Centre where visitors find a eucalyptus forest and bushland full of koalas and other native animals. It is open every day from 10:00am – 4:00pm.
Events
Light Fantastic: a show from World Expo 88 that changed the cultural identity of Brisbane forever.
Brisbane Festival has music, theatre, comedy, dance, opera and much more. Some of the free events include Santos GLNG City of Lights with lights lasers and special effects at South Bank's Cultural Forecourt. There is a show every night from September 7 – 27. There are more lights at the Brisbane Airport Light Garden. There are also free parties, art exhibitions and other events at the festival.
Shopping
Paddington is a shopping destination for people looking for vintage clothing and antiques. There are over 50 specialists with an ever-changing selection of antiques and collectibles.
For more upmarket shopping, the Queen Street Mall is the place to see and be seen. It is the central hub of the Central Business District shopping district.
The Port of Brisbane
Visitors looking for migratory birds flock to the Port of Brisbane to view the 12 hectare Shorebird Roost where thousands of migratory shorebirds come to the unique wetland environment at the Port. There are tours of the Port for visitors to see how a busy port works, and there are cafes for a light lunch or high tea.