The fiesta is an absolutely crucial part of Spanish life. Even the smallest village or most modern city suburb devotes at least a couple of days a year to partying, and coinciding with such an event can be huge fun, propelling you right into the heart of Spanish culture. As well as local celebrations, Spain has some really major events worth planning your whole trip around most famously, the Fiesta de San Fermín at Pamplona (July), Las Fallas in Valencia (March), Seville's Feria de Abril, the pre-Lenten Carnival festivities and the great religious processions of Semana Santa, leading up to Easter. One thing they all tend to have in common is a curious blend of religious ceremony and pagan ritual sombre processions of statuary followed by exuberant merrymaking in which fire plays a prominent part.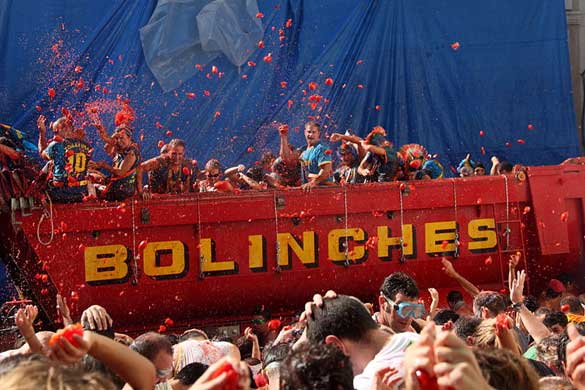 La Tomatina Festival Throwing tomatoes from a truck. Image Source Wikipedia
What follows is a very basic annual festival calendar, concentrating mainly on the notable religious, cultural and traditional fiestas. Otherwise, turn to the feature boxesat the beginning of each chapter for more information, where the various regional music and arts festivals are also covered. The "Fiestas" color section also has more on the Spanish "Big Four" of Las Fallas, Semana Santa, Feria de Abril and San Fermín. Outsiders are always welcome at fiestas, the only problem being that it can be hard to find a hotel, unless you book well in advance. The other thing to note is that not every fiesta is a national public holiday, or vice versa, but even so you might get stuck if you arrive in town in the middle of an annual event, when everything will be closed.
January
5 Cabalgata de Reyes When the Three Magi arrive to bring the children their presents for Epiphany. Any medium-to-large city will stage a spectacular and colorful procession as the Three Kings are driven through the streets throwing sweets to the crowds. 16–17 San Antoni's day Preceded by bonfires and processions, especially on the Balearic Islands.
February
Week preceding Ash Wednesday and Lent Carnival An excuse for wild partying and masques, most riotous in Cádiz (Andalucía), Sitges (Catalunya) and guilas (Valencia).
March
12–19 Las Fallas Valencia holds the biggest of the bonfire festivals held for San José, climaxing on the Night of Fire (Nit de Foc) when enormous caricatures are burnt, and firecrackers let off in the streets.
Easter
March/April Semana Santa (Holy Week) Celebrated across Spain with religious processions, at their most theatrical in the cities of Seville, Málaga, Murcia and Valladolid, where pasos – huge floats of religious scenes – are carried down the streets, accompanied by hooded penitents atoning for the year's misdeeds. Good Friday sees the biggest, most solemn processions.
April
22–24 Moros y Cristianos Mock battle between Moors and Christians in Alcoy, Valencia. (Similar events take place throughout the year all around Spain.)
23 Sant Jordi (St George's Day) Catalunya's patron saint occasions a big party across the region. Being the birth date of Cervantes, it's also celebrated as National Book Day throughout Spain.
Last week Feria de Abril Spectacular week-long fair in Seville, with a major bullfighting festival.
May
Early May Horse Fair Jerez (Andalucía). 7–22 San Isidro Madrid's patron saint's day (15th) is a signal for parades, free concerts and the start of the bullfight season.
Seventh Sunday after Easter Pentecost (Whitsun) Great pilgrimage to El Rocio, near Huelva (Andalucía).
Thursday after Trinity Sunday Corpus Christi Focus for religious processions, accompanied by floats and penitents, notably in Toledo, Granada and Valencia. Many town fiestas also take place, including the spectacular costumed events of the Festa de la Patum, in Berga (Catalunya).
Last week Feria de la Manzanilla celebrates the famous sherry of Sanlúcar de Barrameda (Andalucía).
June
23–24 San Juan/Midsummer's Eve Celebrated with bonfires all over Spain – particularly in San Juan de Alicante, where a local version of Las Fallas takes place, and in Barcelona where the Nit del Foc (Night of Fire) marks a hedonistic welcome to summer.
29 San Pedro The patron saint of fishermen is honored by flotillas of boats – and partying – all along the coast.
July
7–14 San Fermín The famed Running of the Bulls at Pamplona.
25 Santiago Spain's patron saint, St James, is honored at Santiago de Compostela, with fireworks and bonfires.
26 Blanes Spectacular week-long fireworks competition on the Costa Brava, with teams from all around the world.
Last three weeks Pirineos Sur World Music festival on a floating stage at Lanuza, near Sallent de Gallegos, in the Pyrenees.
August
10–11 Misteri d'Eix Elche (Valencia) hosts mock battles between Christians and Moors, ending with a centuries-old mystery play.
First/second week Descenso International del Sella Mass canoe races down the Río Sella in Asturias.
Last week Gigantones (giant puppets) are paraded in Alcalá de Henares, near Madrid.
Last Wednesday La Tomatina Buñol, near Valencia, hosts the country's craziest fiesta, a one hour tomato fight.
September
First week Vendimia The grape harvest is celebrated in Valdepeñas (Castilla-La Mancha), Jerez (Andalucía) and other wine towns.
11 Diada Nacional de Catalunya Catalan public holiday commemorating its loss of independence. Various cultural and sporting events over the weekends before and after.
21 Rioja wine harvest Celebrated in Logrono (La Rioja).
October
1 San Miguel Villages across the country celebrate their patron saint's day.
12 La Virgen del Pilar Honouring the patron saint of Aragón is an excuse for bullfights and jota dancing at Zaragoza and elsewhere.
December
24 Nochebuena Christmas Eve is particularly exuberant, with parties and carousing early in the evening before it all suddenly stops in time for family dinner or Mass.
31 Nochevieja New Year is celebrated by eating a grape for every stroke of the clock in Plaza del Sol in Madrid, Plaça de Catalunya in Barcelona, and main squares and bars throughout the country.
About Me:
Linda Swan Is a blogger & a writer from UK (LONDON) having interest in writing travel related topics.She is a person with full of life, exploring the cities to the deepest.  She loves to travel around the world and prefer train journeys, because she feels train is the most comfortable & delightful means of transportation.