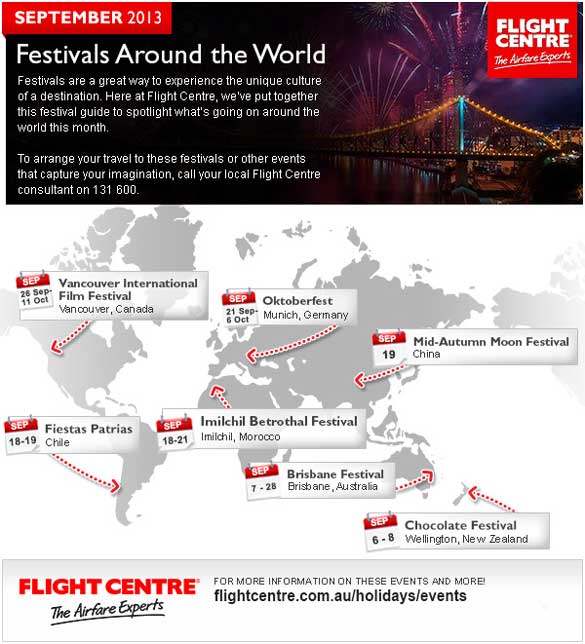 If you're traveling the globe and looking to find out what's on around the world, we check out some of the top festivals around the world in September 2013.
Chocolate Festival, Wellington NZ, 6th – 8th September: This is a must for chocolate lovers and brings together an array of chocolate and culinary experiences from the best chocolatiers in NZ, see them at work and try out some of the amazing treats on offer!
Brisbane Festival, Australia, 7th – 28th September: This is a host of mini events from Australian artists and productions offering free outdoor events and productions. The festival programme includes dance, theatre, opera, classical music, circus, sideshow and contemporary music; it finishes with a big firework display over the Brisbane River.
Fiestas Patrias, Chile, 18th-19th September: This is a celebration of Chile's independence from Spain and includes parades, music, festivities, food and drink.
Imilchil Betrothal Festival, Morocco, 18th – 21st September: Otherwise known as the 'Marriage Festival' this is one of the main attractions of the Imilchil village and features the Aït Yaazza culture of an annual collective marriage where women search and choose their husband.
Mid-Autumn Moon Festival, China, 19th September: This is the second biggest festival in China, and is named the 'moon' festival as the moon is at it's brightest and roundest this time of year. This is celebrated by residents in China, Malaysia and Singapore. Family and friends celebrate with mooncakes, lanterns, light shows and firey dragons.
Oktoberfest, Munich, Germany, 21st Sept – 6th October: This is an annual beer festival running for 16 days. It attracts over 6 million people to the event each year and is a big part of Bavarian culture.
Vancouver International Film Festival, Vancouver, 26th Sept – 11th Oct: This is one of the largest film festivals in North America, and is run by the VIFF Society, a not-for-profit cultural society. They screen films from 80 countries on 10 screens and attracts a huge number of diverse film lovers.
This infographic was created by Flight Centre.