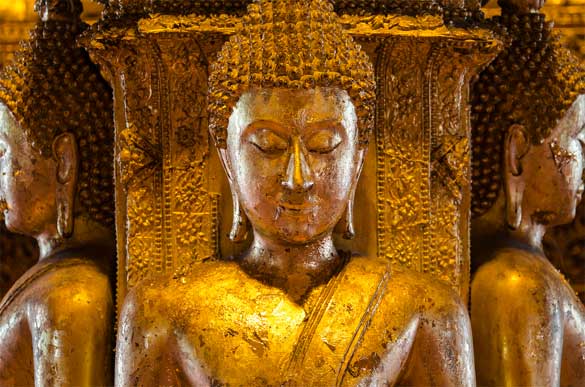 Buddha image in church of Wat Phumin, Nan – Photo Credit: Phumphao Sumrankong
If you want to experience an area of Northern Thailand that calls for a short stop along your travels, you may want to visit Nan. These days it is defiantly in a less traveled part of Thailand and is a remote rural province that is full of genuine natural beauty, rich culture and very peaceful. The area of Nan is nestled near a valley in Northern Thailand that on the border with Laos. The closest city is actually across the border, the city of Luang Prabang. You will pass though Nan if you travel from Chiang Mai or Chiang Rai to Laos. It is actually popular as a boarding point for a river boat "cruise" down the Mekong to Vientiane.
Rich in Ancient History
This was once independent kingdom if you go back far enough in history, but after many Monarchies in the region have successively ruled the small area, it ended up as part of present day Thailand, although many locals still say they are from Nan, not Thailand. The area here is rich in ancient rock salt which is mined as a local industry.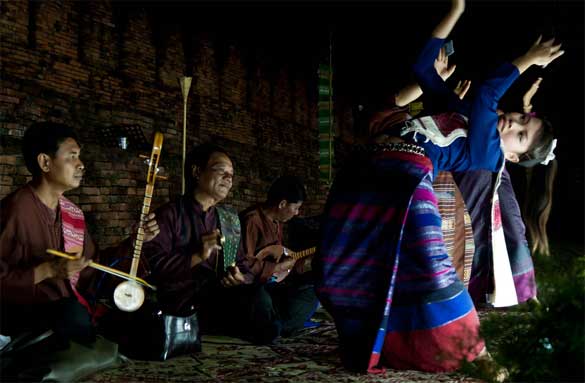 Photo Credit: John_and_Cata
Things To Do
If you love to participate in water rafting, the "Nam Wa" rafting is what you will want to do. Situated in Tambon Nai Mueang and Amphoe Mueang, Nan. You can participate in water rafting that is of difficulty level three to five with a length of one-hundred kilometers. The trip will take you three days and two nights to do with a pass thru of the Mae Charim National Park, as well as the Doi Phu Kha National Park. The views of this trip will take you down a river with spectacular mountains that have more than twenty-two rapids. The most difficult rapid is the Kaeng Luang rapid. If you want to stop along the way to enjoy some beach, there are some sandy white beaches where the raft can be docked in order to enjoy some rays of sun without being on a raft. These areas are great for swimming as well as some elephant camps where someone can enjoy a elephant trip to Ban Hat Rai. The river level is at its peak in August with the lowest level being in April. If you want to know when the best time is to enjoy the rafting, the best time is from October to January.
If you want to visit a temple, the temple of Wat Phaya Wat of Nan is located on Highway 101 and is a ancient religious site. The Chedi bases are rectangular where Buddha states were placed near and around the Chedi structure. The artistic influence of the area of Lanna, Lan Chang and Nan can be found here at the temple.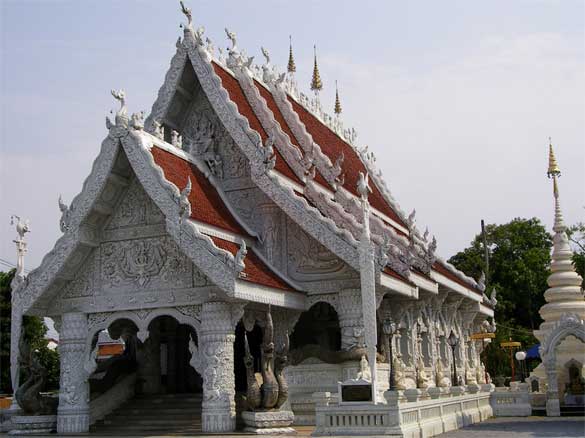 Nan amazing lace temple – Photo Credit: Amber Cripps
Festivals With Orchids
One of the main local festivals in Nan is called, the "Wai Phrathat Festival", which is celebrating Buddhism in "Lanna". People visiting lay Phrathats on the hill near the ancient city of Nan. The main event to pay respect to these Phrathats is known as the, "Namatsakan Phrathat Beng Sakat Fair, which is held annually on the full moon of the fourth lunar month. This is normally around January, but does vary slightly year to year. Flowers are also an important part of this festival, as they are also given as respect. As luck would have it, Nan is ideally suited to growing Thai orchids, with several ginormous nurseries located there that grow for the export market. Many of these floral offerings are amazing orchid display in their own right. January and February is also the time of year when most of the flowers are naturally blooming in the region as well. This is why the famous Chiang Mai flower festival in nearby provinces is also held at the same time.
Getting There
Nan is defiantly off the tourist map. This is great as it has not been destroyed like Phuket and other popular destinations have been. The easiest way is by air, the airline called Nok Air fly to Nan. There are also many buses form Chiang Mai, Chiang Rai and Bangkok. Rail is somewhat lacking, with the closest station a three hour bus ride away in Den Chai.
The Nan region has made an impact on John Shoane who visits it regularly from his home in Bangkok to source Thai orchids for Gogo Florist, a local online florist. You can contact him directly here.