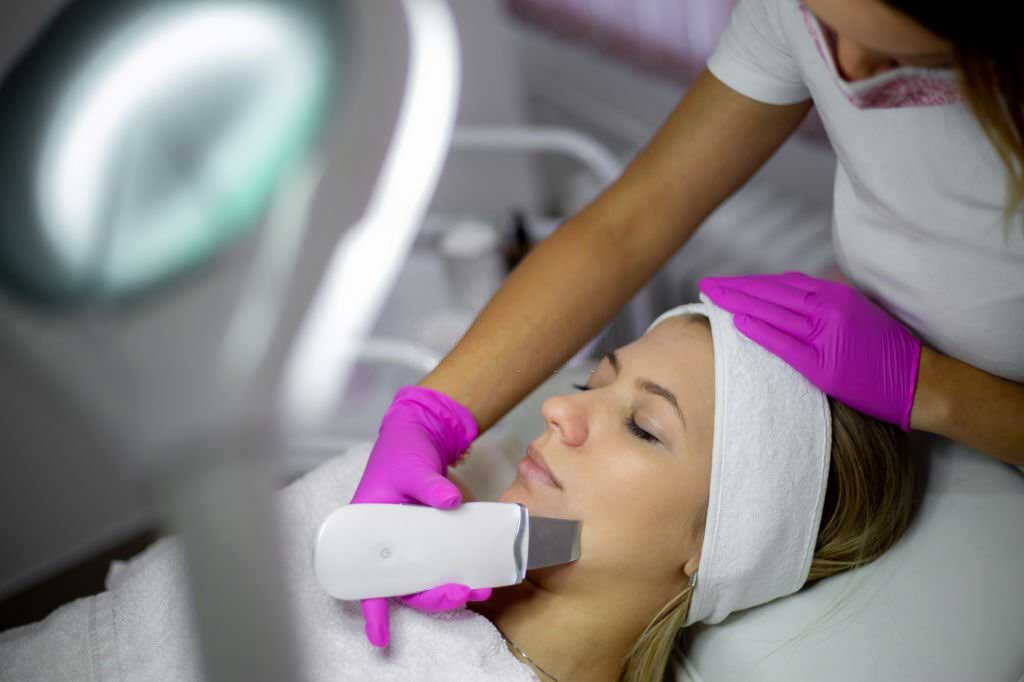 Cosmetic Procedures in Bangkok: Skin clinics in Bangkok compete for real estate space with 7-Eleven convenience stores. True or False? Answer: Maybe.
Like other peacockish cultures of this world, Thailand's ideal beauty is a flawless complexion, bereft of blemishes and age. Despite what the maquillage industry might plaster on their skincare products – "miracle in a jar" anyone? – cosmetics chemistry can only do so much for skin; Marketing does the rest. Here then, enter dermatologists; psychologists of the skin, with degrees from brand name universities, who can fabulously fix all your superficial defects.
In Bangkok, there is no shortage of practices. And due to the high density of skin professionals that have opened shop, and continue to do so at a viral rate, competition for pricing has lowered costs to an attractive bargain; thereby becoming a destination for the budgeting internationals who seek beautification at a fraction of the figures back home. Whether it is a chemical peel, a course of lasers, a dose of fillers, or good-old surgery, Bangkokian physicians are happy to probe, prick, and tuck your face until it resembles something akin to perfection.
Chemical peels are a popular item on the 'menu'. It is often sold as a "spa-like treatment" that utilizes "medical-grade" reagents, the point of which is to exfoliate the skin. Results from this will vary depending on the strength of the peel, but generally speaking, you can expect it to smoothen the skin's surface, stimulate collagen, and reduce some brown spots. They are cheaper than lasers, but the improvements aren't as dramatic if you have extensive hyper-pigmentation or deep wrinkles. Most clinics in Bangkok, like Rajdhevee Clinic, offer this option but know that this sort of remedy is usually performed by a beautician or nurse.
What to expect when getting a chemical peel: the face is cleaned, the AHA or BHA solution is applied, wait for the acid to remove dead skin cells, the face is wiped, sunscreen can be applied, and you are free to go home. Some redness and sensitivity might appear on the treated area, but this usually dissipates within the day.
Lasers are basically a stream of light that is bombarded onto the desired area in order to encourage skin resurfacing. Depending on the depth of acne scarring, the extent of wrinkling, or the degree of sun damage, the energy of the laser can be adjusted and optimized accordingly. There are a few different types of lasers that are used to tackle various problems – read: no laser is best. However, most doctors in Thailand prefer the non-ablative variety, due to its minimal associated risks and low downtime. Be that as it may, results aren't as quickly obvious as the ablative make, and multiple sessions are required to see the same effect.
Again, no laser is better than the other, since each machine is calibrated and engineered to target and correct separate issues; there is no all-in-one device on the market to this date. For instance, Fraxel is great for acne scarring, Ulthera to "lift" skin, VBeam for red marks, and CoolTouch Yag Laser for wrinkles or hair removal; just to name a few fashionable instruments. When it comes to lasers, the phrase "no pain no gain" becomes a rule of thumb; if you don't feel anything, then it's probably not working. Make sure that it is a dermatologist who is executing this operation on you; even with hair removal, don't be shy to ask for a doctor. Siam Laser Clinic is your best choice in this field.
What to expect when getting laser: the face is cleaned, numbing cream might be applied, which is followed by a forty-five minutes to one hour wait, then zap zap zap, ice packs are administered to the treated area for a few minutes, sunscreen can be worn, and you're free to go home. Redness and "sunburnt-like" reactions are common post-blasting responses.
Botox and dermal fillers work differently from each other despite its common tool, the needle. The former solution stops muscles from moving in the areas where expression lines prominently occur – think forehead or crow's feet – whilst the latter adds volume to plump sunken skin – underneath the eyes or deep wrinkles. Depending on your concern, the doctor might opt for one injectable over the other, or a combination approach might be taken.
The majority of dermal fillers used in the dermatological practices in Bangkok are the following two brands, Juvéderm and Restylane; both are hyaluronic acid products that have been synthesized in a lab. Results from dermal fillers last between six months to one year, whereas for Botox, it stays for about three to six months. Needles puncture, and so it is not a painless experience. A lot of the patients that walk into celebrated establishments like Wuttisak Clinic go to get this fix specifically, so they are a reliable institution if temporary agelessness is what you're seeking.
What to expect when getting Botox or dermal fillers: the face is first cleaned, numbing cream might be applied, the shot is done on multiple points, ice might be needed to ward off any bruising that could incur, sunscreen and makeup can be painted on top, and then you're free to make an exit.
Cosmetic surgery is not a scary or taboo word in Bangkok. There is a myriad of reasons to go under the knife; from patching up indented scars, to getting a face-lift, the choices are bountiful. It is strongly encouraged that you do a lot of research before going to an office and having a list of questions ready to ask when there is a wise step. Make sure that the person who performs the procedure is a board-certified plastic surgeon. Board-certified because it implies that the physician has undergone extensive training in the area of plastic and reconstructive surgery, and more often than not, is affiliated with an accredited hospital; when it comes to surgery, the more credentials the better. Although pain-relievers are implemented before the procedure, you will still feel sore afterward, and it might last a while depending on the "wound" size. For the crème de la crème of plastics, head to Bumrungrad International Hospital; this is where all the respected professors of dermatology and surgery in Siam make their bread and butter.
What to expect when getting cosmetic surgery: this might vary slightly from case to case, but generally speaking, the area of the surgery is disinfected, you will either be subjected to local or general anesthesia, the cutting and sewing happens, it's done, listen carefully to the after-care instructions, make an appointment for a follow-up, go home and take it easy for the next few weeks.
Cosmetic procedures take a lot of time, commitment, and money; there is no short cut. But the eventual results can be more impressive than any amount of caviar serum you slather on can achieve. So come to Bangkok when you're feeling like you need a dramatic makeover. Long stay hotels such as Chateau de Bangkok are great accommodations to recuperate or stay at when multiple sessions are needed. Conclusively, whether you get surgical or non-surgical procedures, the strategy to maintain the results is pretty much the same, and as boring as it sounds, it needs to be repeated consecutively: sunscreen, sunscreen, sunscreen!
Hope you love reading "Cosmetic Procedures in Bangkok". Share your view in the comment section below.