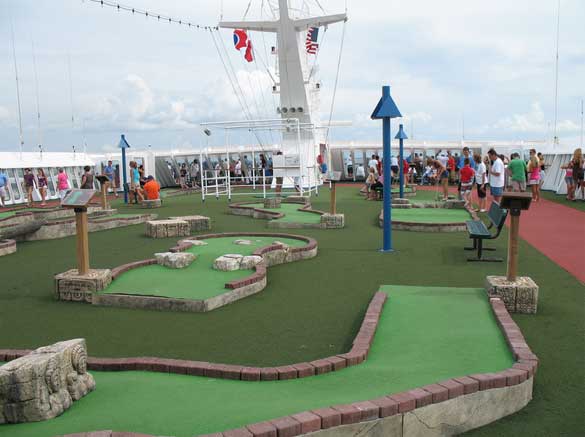 Sport On A Cruise: Many people associate cruise holidays with sedate relaxation, or nothing more arduous than a stroll round the deck after a leisurely day of pampering. However, that's no always the case these days as more and more cruise companies are becoming aware of the need to diversify and provide their holidaymakers with more choice and that includes sporting activities. If you like to keep fit and make sure you stay trim and toned while you're on your holidays, you can now do that on a cruise vacation – and do it in a variety of different (and surprising) ways.
The rise of the golf cruise is something that many people didn't think would work, but has done. Some liners are now having their own purpose built golf courses on deck so that should you fancy a round as you relax and unwind, you can do so. Playing golf at sea is a bit of a different experience to playing it on dry land, but it's no less pleasurable and can be a way of introducing more reluctant family members to the hobby too.
Football and basketball are two other sports you might generally not associate with this kind of break, but believe it or not, there are some cruise companies who are now providing their passengers with pitches that can covert to either play football or to be used as a basketball court. Many of them will offer games and tournaments that will get the whole family involved and they can provide a fun and healthy way to enjoy yourself and get fit at the same time. Well worth considering if you have younger children who are football crazy and feel they might miss out on their favourite sport by being on board a cruise liner!
There are a wealth of "indoor" choices too – even down to gym based sports like boxing, to help keep you trim and toned while you're relaxing! There's no excuse to not indulge in your favourite sport while you're on a cruise holiday and it really is worth checking out the many varied offers that different operators have.