The Pacific: Spas & Retreats: Home to undoubtedly the richest spa culture on the planet, the time-honoured healing traditions of the Asia Pacific are firmly grounded in the fundamental principle that energy known as life force flows through oneself to balance and harmonise body, mind and spirit.
From the Indian Ocean to China, Japan, Thailand, Indonesia, Vietnam, the Philippines, Cambodia, Australia and New Zealand, an exotic blend of exotic therapies are offered amid unspoilt natural beauty to soothe and enrich the weariest of minds.
The Indian Ocean
At many of the exquisite natural retreats dotting India, Sri Lanka and the Indian Ocean's collection of pristine islands, one can enjoy the best of indigenous therapies using deliciously fresh ingredients and expert healing hands.
From the traditional Ayurvedic synchronized Abhyanga massage and Shirodhara (the pouring of warm medicated oils over the third eye on the face) to traditional Maldivian and Seychellois rituals, authentic healing comes guaranteed.
For a genuine Seychellois experience, the Rock Spa of Fregate Island Private (Fregate Island Private, PO Box 330, Victoria, Mahe, Seychelles, + 248.282.282) utilises fresh organic ingredients that have been harvested on the island or from Fregate's very own hydroponics house. These herbs are then custom-blended into aromatic scrubs, pastes and oils.
The incense-scented spa at Soneva Fushi by Six Senses (Kunfunadhoo Island, Baa Atoll, Maldives, +960.660. 0304) is every sybarite's delight, with waterfalls trickling into indoor pools and therapy rooms opening onto the ocean as flying fish dart past. A refreshing menu of holistic and traditional treatments comprising all-natural skin foods is available. Many of the ingredients are handpicked in the resort's organic vegetable garden, before being moulded into nurturing recipes for the face and body.
At the spa at Soneva Gili by Six Senses (Lankanfushi Island, North Male Atoll, Maldives, +960.664.0304), be soothed by a soul-restoring menu of therapies, signature-spa journeys and doctor-assisted Ayurvedic programmes. Afterwards, dine on refreshing spa cuisine at the spa lounge and admire the uninterrupted views of the azure ocean.
The Maldives is a wellness haven – find rejuvenation at the overwater spa at Anatara Dhigu (Dhigufinolhu, South Male Atoll, Maldives, +960.664.4100). One of its highlights is the Anantara Detoxifying Signature Treatment which uses mineral-rich Moor mud, steam and lymphatic drainage massage to deeply cleanse the system and reduce fluid retention.
Ulpotha (near Embogama, Kurunegala District, +44.208.123 3603) in Sri Lanka is ecotourism at its purest – a natural, spiritual environment where Ayurvedic therapies are just a small part of the overall regenerative experience.
New Zealand
Native New Zealand therapies revolve around the healing benefits of hot mineral springs, alongside local natural ingredients such as Rotorua thermal mud, manuka honey, kiwifruit, apricot, ground almonds, aromatic lavender, fragrant coconut oil and botanical extracts.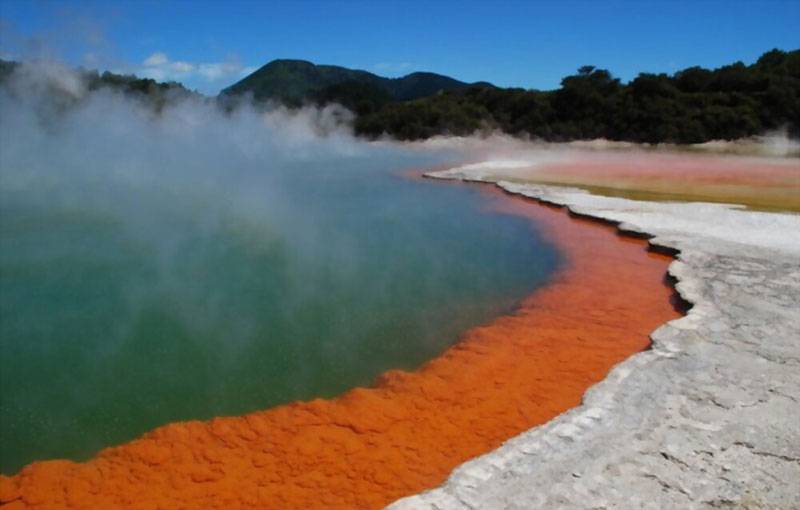 Smoke over the bubbling hot water of a colorful geothermal pool called the Champagne Pool at Rotorua, North Island, New Zealand
At Treetops Lodge & Wilderness Experience (351 Kearoa Road RD1, Rotorua, +64.7333 2066) these healthful ingredients are used in spa's therapy menu. Set in the heart of a 1,012 hectare (2,500 acre) eco and wilderness park in the hills of North Island, this superb-ecoretreat was strategically constructed to seamlessly blend into its natural environment of streams, virgin forest and untamed wilderness.
Kari is a travel blogger from Phoenix AZ who writes at Solimar Travel. Check out her blog sometime! Share your view on "Asia – The Pacific: Spas & Retreats" in the comment section below.