The Chardham yatra by helicopter is a tour of four places in Uttarakhand (India).  Each place is dedicated to a specific god, hence Uttrakhand is perceived as a state of gods. Every Hindu has this wish to visit Chardham to seek blessings of the almighty. Hindus believed that going on this holy Char Dham yatra by helicopter will help them to get rid of their sins. It is also a way of showing devotion towards the almighty.
Chardham yatra begins with Yamunotri then proceeding to Gangotri followed by Kedarnath and ends at Badrinath. Yamunotri is worshipped because of the holy river Yamuna. Gangotri is worshipped because the river Ganga starts from Gangotri. Lord Shiva sits in Kedarnath, making this site one of the most sacred places on earth. Badrinath is a land of Lord Vishnu.
Chardham yatra is not a simple journey, it is difficult to travel on the roads of mountains. This journey requires physical and mental strength. And in that situation handling everything is very difficult but an important part too. So, leave all the tension of the arrangements on the best travel agency i.e, Lih.travel(Leisure India Holiday).
Lih.travel (Leisure India Holiday) brings an affordable package. The Chardham yatra package includes all the necessary requirements within a budget making it perfect for you. The package is for 5 days and 4 nights, which will cover all the sites and will give you ample time for your own exploration. This Char Dham yatra by helicopter package will cost you approximately Rs 1,75,000 per person.
Book an affordable Chardham yatra package by helicopter from Lih.travel (Leisure India holiday). You will be very happy with their services after the journey. They take great care of their guests and have given them many memories. This is the best agency if you want your Chardham yatra by helicopter tour to be full of happy moments.
Map of Chardham yatra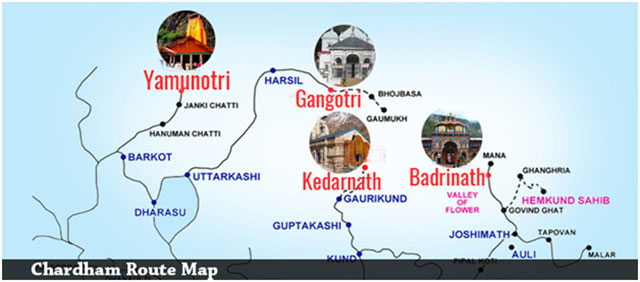 Main highlights
Breakfast, lunch, and dinner are included in the package.
Heavenly darshan of the temples.
A luxurious stay at every site.
Tourist guides will help you at every site.
Outstanding services by the agency.
Day Wise Itinerary of  Chardham Tour
The day of arrival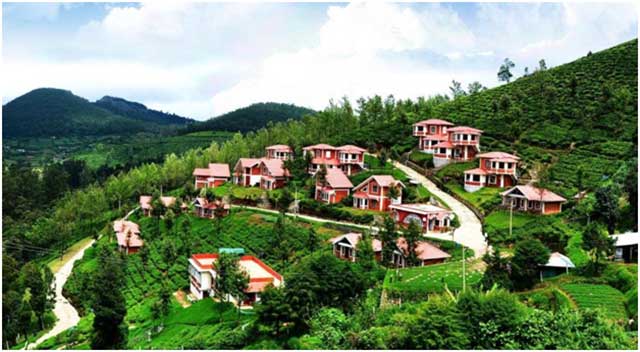 The journey starts from Dehradun so you will be welcomed by the travel agents in Dehradun. Check-In the hotel and rest for some time. Rest for some time and enjoy the beauty of Dehradun. Chardham yatra by helicopter will start from Yamunotri the very next day and you need to be energetic because it is going to be a tough journey.
Day 1: Enjoy Trekking of Yamunotri Dham
Get a helicopter from the Sahastradhara helipad at Dehradun and land in the city of goddess Yamuna at Kharsali helipad. And then From Kharsali, you will trek to Yamunotri. If you don't want to trek, then do not worry there is a facility of a pony or a palki ride.
Have a VIP darshan of Yamunotri temple which is situated near the origin of Yamuna.
Visit the ancient Shani temple and explore Yamunotri.
Day 2: Boost Your Energy Level at Gangotri Dham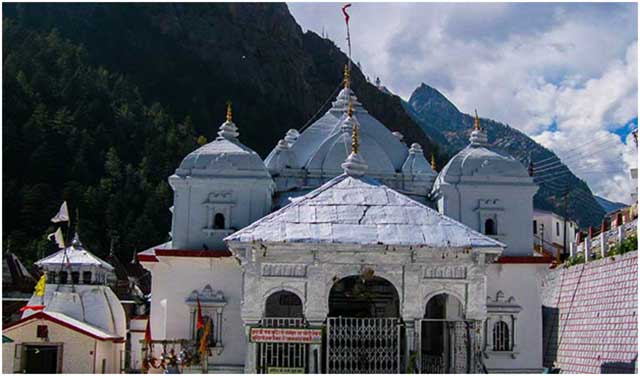 Day 2 will be spent in Gangotri. To reach Gangotri you need to take a helicopter from the Kharsali helipad and will land in the Harsil helipad. Have some food and check-in the hotel in Harsil.
 You will be amazed by the beauty of the temple and the devotion of the people will boost your energy level. You will feel relaxed and peaceful.
Day 3: Beauty of Mountain at Kedarnath Dham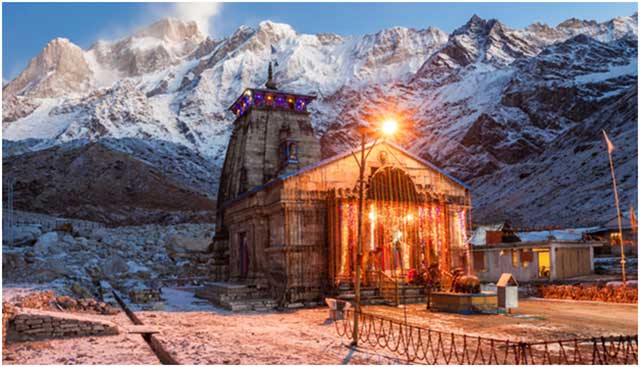 This day you are going to the temple of Lord Shiva. The guide will help you to get the helicopter from the Harsil helipad to reach the Guptkashi helipad. Kedarnath is near Guptkashi and it will take you less than 15 mins to be in Kedarnath.
 Kedarnath lies between the mountains which further enhances its beauty. This is a very sacred place and many devotees pay a visit to the Kedarnath every year. You will see an environment full of spirituality.
 There you will see the Jal Abhishek, then proceed to the temple. Return to the hotel after darshan to relax.
Day 4: Land at Badrinath Dham Helipad

The last Dham is Badrinath of Chardham yatra by helicopter. It is called the land of Narayana. Lord Vishnu is worshipped in Badrinath.
You will land at the Badrinath helipad and then will go to the temple after dropping your luggage at the hotel. Agents will take you to the temple for darshan.
Mana village and Vishnu Sahasranamam path are also some places which are worth visiting.
Day 5: Last Day Chardham Yatra by Helicopter
On the last day, you will return to Dehradun. The travel agents will drop you to the airport or railway station. The pilgrimage of Chardham yatra is completed. The memories you have created during the pilgrimage will always make you happy and peaceful whenever you think of them.
Package inclusions of Char Dham yatra by helicopter
Pick and drop facility
Awesome hospitality
Helpful tour guides
Sightseeing
Palki and pony for travelling
Package exclusions in Char Dham yatra by helicopter
Extra meals and personal tour
5% GST
Insurance of medical and travel
Personal items
Things not mentioned in the inclusion
Guidelines to follow during Char Dham yatra by helicopter
Only 5-6 people can sit in the chopper.
Do not carry trolly bags in the helicopter.
You can carry the only 5kg of luggage.
Have a medical kit with you.
Timings can change due to any reason.
Give real information.
Char Dham yatra by helicopter is a journey to 4 most sacred places on earth. It is a dream for many Hindus in the world to go on such a holy pilgrimage. Devotees who are able to complete the Chardham yatra feel blessed by the almighty.
This yatra is very challenging. It requires physical and mental strength. Travelling to mountains in the weather which can change any time is very difficult.  But you don't have to worry as Lih.travel(Leisure India Holiday) has a package that will help you to go on this pilgrimage without worrying about anything. It offers a great package of Chardham yatra by helicopter which is in the budget. The package is not only budget-friendly but also makes your journey more comfortable.