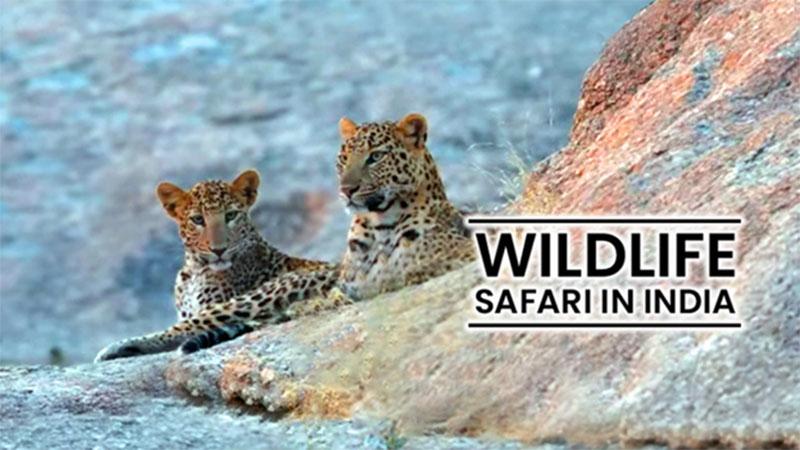 India is no less than a paradise for wildlife lovers. Indian forests mesmerize tourists with their beauty and diversity. India is a land of biodiversity that offers a glimpse into the life of creatures like the Bengal Tiger, one of the most majestic animals on earth. Book an India tour package now and embark on a wildlife safari through the national parks of India to see these incredible creatures in their natural habitat.
Top National Parks for Wildlife Safari in India
Although all the national parks in India are worth visiting, among them, we are including selected parks that will surprise you with their beauty and unique panoramic experience.
Jim Corbett National Park
Corbett Park is the oldest national park in India and is located in Uttarakhand. Apart from tigers, you can also spot leopards, elephants, and a variety of bird species. The panoramic view of the park will mesmerize you. The highest number of tigers in India is in this National Park.
Ranthambore National Park
Ranthambore National Park, home to the majestic tigers, is located in Rajasthan. A sizeable population of tigers can be seen in the park, along with you can also see deer, chital, and other birds. In Ranthambore, tigers have been kept in different zones so that they can be monitored and tourists can also be promoted.
Kaziranga National Park
Kaziranga National Park, famous for the one-horned rhinoceros, is located in Assam. This park is spread over 430 square kilometers, in which you can see more than 2200 one-horned rhinos. Elephants, wild buffalo, and swamp deer can also be seen in the park. Due to the beauty, flora, and biodiversity of the park, it has been declared a UNESCO World Heritage Site.
Bandipur National Park
Bandipur National Park with the second largest population of tigers is located in Gundulpet taluk of Chamarajanagar district. The park is also part of the Nilgiri Biosphere Reserve which makes it home to the largest population of wild elephants in South Asia. Apart from tigers and wild elephants, sloth bears, leopards, dholes, sambar, chital, and many other animals can also be seen in this park.
Kanha National Park
Kanha National Park, famous for its dense forests and tigers, is located in Madhya Pradesh. The park is also famous for its role in inspiring Rudyard Kipling's "The Jungle Book". This park is one of the best wildlife safaris in India. To make great memories in the park, head towards Bami Dadar, also known as Sunset Point. Apart from tigers, many species of Barasingha, birds, reptiles, and insects can be easily seen in the park.
Preparing for the Wildlife Safari in India
Before embarking on a wildlife safari in India, it's essential to plan and prepare for a safe and enjoyable experience. Wildlife in India is going to leave no stone unturned to attract you.
Best Time to Visit
The best time to visit these national parks varies depending on the region, but generally, the winter months from November to February are considered pleasant for safari tours.
Permits and Regulations
To see the wildlife and roam around in their habitat, you will have to pay for the ticket and also follow all the guidelines issued by the park.
Essential Packing List
Before going on a wildlife safari in India, some important things are required so that you can enjoy the safari to the fullest. Which includes comfortable clothes, binoculars, a camera, sturdy shoes, insect repellent, and sunglasses.
The Thrilling Wildlife Safari Experience
Wildlife safaris offer a variety of ways to explore the park's exciting sights and see animals up close.
Jeep Safari
Jeep safaris are the most popular and convenient way to explore the breathtaking panoramic views of the parks. As they provide the facility to cover a vast area of ​​the park and increase the chances of wildlife sightings.
Elephant Safari
For a unique and eco-friendly experience, elephant safaris are a good option for visitors taking a ride through the dense forests on the backs of these gentle giants.
Boat Safari
You must go for boat safaris in parks with water bodies that will give you a chance to see these wild animals from close quarters from the water's edge.
Encounters with Tigers and Other Wildlife
The highlight of a wildlife safari in India is undoubtedly the opportunity to spot the elusive Bengal tiger, One-horned Rhino, and wild elephants.
Tiger Spotting Tips
If you go for Tiger Safari in the morning then there are more chances of Tiger sighting. Taking along an experienced tourist guide who knows the ins and outs of the park can increase your chances of spotting a tiger to a great extent. You can also try to find their paw marks in the jungle yourself, but remember, do not get down from your jeep or canter during this time. Find a water hole in the park because most of the animals drink water daily so you can see them there.
Conclusion
Pack your bags now and set out to create exciting memories with the diverse wildlife of India. It will be an exciting journey for you which will give you goosebumps. It will also serve as a reminder of the importance of preserving these natural habitats for future generations. Jungle Hai to Zindagi Hai start your journey with a mission.
Frequently Asked Questions
Is a solo traveler safe going on a wildlife safari in India?
Yes, You just have to follow all the rules of the park.
Can I take young children on the Wildlife Safari?
Yes, you can take your kids but some parks have age restrictions for safari tours. Check the directions for the park you're visiting.
Are there luxury hotels and resort options available in national parks?
You can find these facilities around most of the national parks except for a few parks to make you relax and wonder.
Which is the best wildlife safari in India?
Although many national parks in India will thrill you, some special places where more tigers are found are Ranthambore, Bandhavgarh, Kanha, Jim Corbett, and Kaziranga National Park.