Ever since the early 1950s, Mykonos, Greece has become a very popular destination for travelers of all types. There is a little bit of everything that this town offers, and the friendly locals are known for their wonderful hospitality. If you're interested in seeing some beautiful landscapes, gorgeous clear water beaches and amazing Venetian housing, you absolutely must check out Mykonos, Greece! You haven't really experienced beauty until you've taken the time to check out this island. Many tourists who travel to Mykonos have such a hard time parting with the scenery that they end up purchasing property and staying!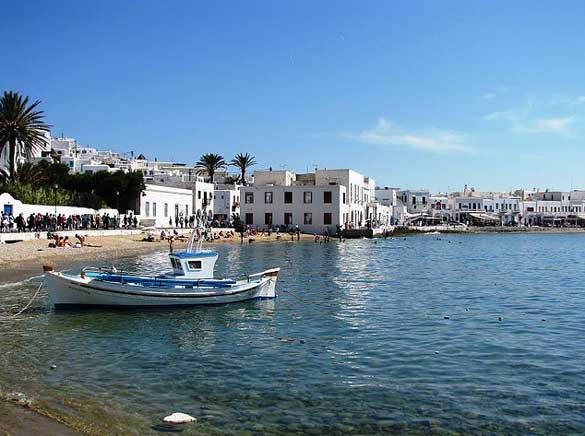 Photo Credit: Snuffy
Places to Visit
Mykonos is one of the most popular regions of the Greek islands and it's known for its beautiful blue sky and stunning beaches. A great way to experience everything this town has to offer is by renting a bicycle or taking a walking tour throughout the area. The beauty that you'll find within the town is unmatchable by any other place on the earth. You'll absolutely love the charming white-washed streets that are surrounded by masterfully crafted Venetian structures. There's much in the way of shopping to be had as well. If you've grown tired from walking through the town, you'll be excited to know that you'll have many options for fine Greek dining at your fingertips. Many of the restaurants offer traditional Greek cuisine that is made from fresh ingredients that are native to the island.
Ano Mera is another main village of Mykonos, and it's an absolute must see. Here you'll see traditional structures and 16th century homes that are still standing strong and majestic. Along the way you'll also come across many beautiful monasteries that have as much history as they do beauty. You will truly feel as though you've just stepped out of a time machine and into the 16th century. It's really a remarkable experience.
Mykonos Attractions
You also have a myriad of other attractions that are located right in the town of Mykonos. You can spend some time viewing the historic windmills or you can even check out the Folklore Museum that will provide you with hours of entertainment. If you're looking to have a fun night on the town, you're certainly in for a treat! Mykonos, Greece is considered to be one of the best places to visit for its extravagant nightlife. You can spend hours and hours going to different night clubs and still have many more to see. There are also plenty of luxury hotels in Mykonos, so after a night of excitement you can rest assured that you'll have a nice place to say.
Mykonos, Greece is an ideal destination for anyone who is interested in seeing beautiful landscapes and have fun at the same time. There's always something to do within this historic region and you're certain to be preoccupied your entire stay here. It's hard not to have a good time within the island, so I certainly recommend that you give it a go!
Author Byline:
Jonathan Crawford has worked for several luxury hotels in Mykonos and has a history of travel planning.