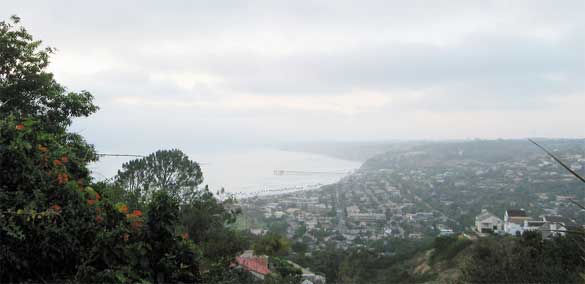 Photo Credit: krystle d
No matter where you stay among La Jolla (The Jewel), you can get to the Concerts by the Sea running every Sunday from mid-July to Labor Day Weekend. They have Blues, Zydeco, Big Bands and more rock with the sounds of the Pacific in the background. But, there's much, much more to do in La Jolla.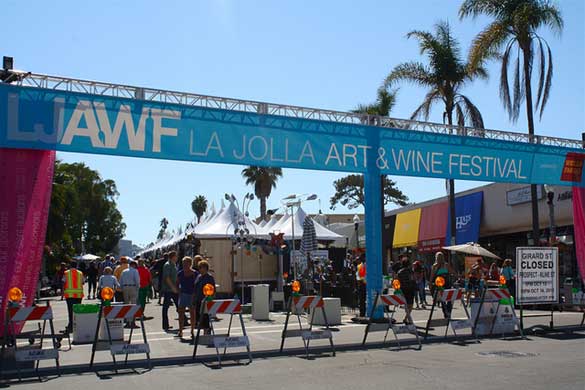 Annual La Jolla Art and Wine Festival – Photo Credit: Alyssa Zickenberg
Events:
La Jolla Art & Wine Festival (Oct.12 & 13) draws thousands to La Jolla Village. A juried art show with the work of 150+ artists, this fundraiser for underfunded programs in local schools is prestigious and free. But, you can spend money on a silent auction, gourmet foods, and a wine and beer garden.
La Jolla Secret Garden Tour (May 18) visits private gardens throughout this "Jewel" of the sea, a great way for visitors to get to know the area. There is special Platinum Tour brunches at the Estancia La Jolla. The gardens also host musicians, artists, and designers in support of The La Jolla Historical Society.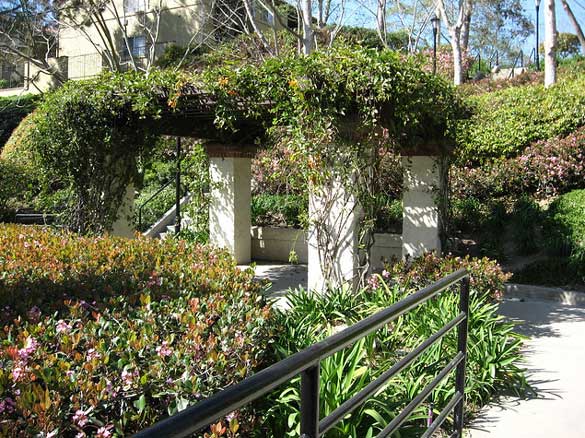 La Jolla Secret Garden – Photo Credit: Colleen and Sat Garcia
Dining:
Cody's La Jolla – Photo Credit: Abigail M. Schilling
There are bars, pizzerias, and sandwich shops around The Village Square, but most residents have made a handful of places must dos:
Cody's La Jolla puts breakfast very close to the sea. Try the Chilaquiles Con Huevos or Veggie Hash, but get there early, it fills up fast.
Hit The Cottage for late breakfast or lunch. This charming place is a Sunday tradition among La Jolla townies, so try it on a weekday for a Crab Melt sandwich or Granola Crusted Mahi Mahi.
The Mediterranean Room at the Valencia Hotel is an elegant room and patio overlooking the La Jolla Cove. The fireplace, wood textures, and soft linens invite tourists to come and stay for dinner of lamb or steaks or regional seafood such as Whole Roaster White Bass or Baja True Snapper.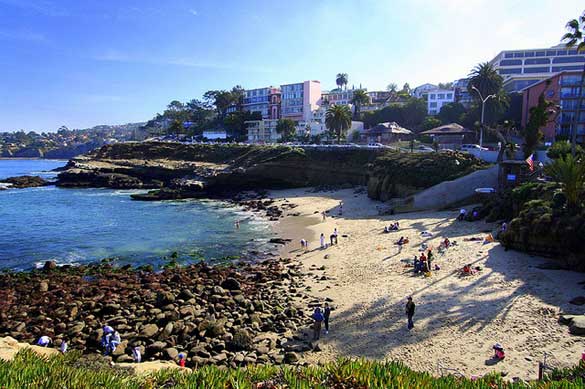 La Jolla Cove Beach – Photo Credit: Robert Miller
Outdoors:
La Jolla Cove Beach entertains surfing, tide pooling, scuba diving and snorkeling. There are restrooms, picnic tables – and seals, lots of seals.
La Jolla shores is a stretch of beach north of The Cove. It has swimming, wind surfing and kayaking. There are picnic tables, restrooms, and fire rings.
And, there is golf, golf, and more golf!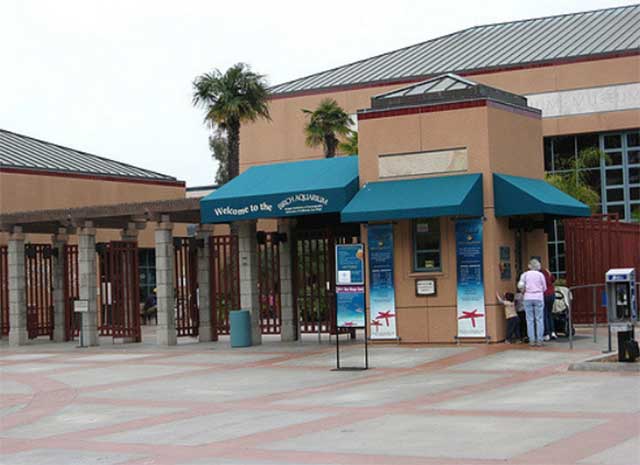 The Birch Aquarium – Photo Credit: Colleen and Sat Garcia
Attractions:
The Birch Aquarium (Scripps Institution of Oceanography) is a small special aquarium with a strong educational bent.
La Jolla Playhouse is the premier regional theater in the southwest. Many major plays and musicals have originated there, and you may witness a smash hit in the making.
Sunny Jim's Cave is 144 steps below Sunny Jim's store. But, you can also visit this cave and others from a kayak tour.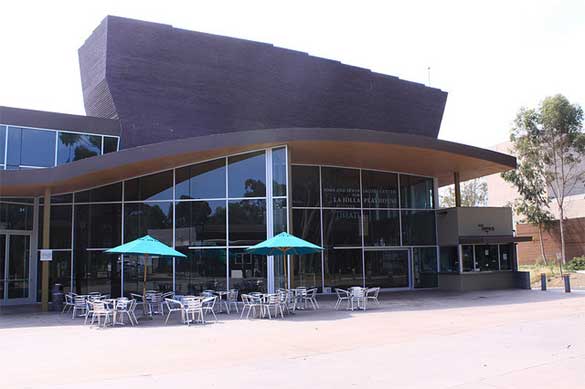 La Jolla Playhouse – Photo Credit: aadair4
San Diego is home to Mission Beach, Sea World, and San Diego Zoo. And, from La Jolla, it is a short trip up the coast to Del Mar Race Track and the poppy fields of Carlsbad. There is plenty for the guests at La Jolla vacation rentals to do.
Ashely love to read and write about traveling and vacations, follow her on Twitter @ashelymarie1985.