Dubai is one of the most desirable destinations in the world, along with Abu Dhabi and the other members of the United Arab Emirates. While people travel there in droves for their holidays, many do so forgetting that it is an Islamic city in an Islamic state and region, irrespective of the huge expatriate community. This is one of the reasons we see so many stories about Westerners falling foul of alcohol or indecency laws.
If you're going to travel to somewhere as desirable and glamorous as Dubai, then it pays to do your homework beforehand.
Gender Specific Places
Although Dubai is one of the most modern places on Earth, there are still some areas, including cafes and restaurants, that might be designated as 'Men Only' or 'Women Only.'
You're probably not going to be able to find out specifically where all of these places are prior to travel, however remember to be vigilant during your trip. Your penalty for mistakes isn't likely to be anything more than some ribbing and embarrassment, but it will still be seen as a big 'foot in mouth' moment from your perspective.
Shopping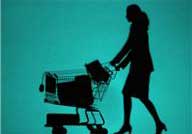 License: Royalty Free or iStock source:
Yes, Dubai is home to a wide variety of luxury boutiques and designer outlets, but it is also one of the hotspots for fake and counterfeit goods anywhere in the world. While, admittedly, the markets and bazaars are all a part of the experience of visiting this part of the world, you should see a visit there as just that.
If you're planning to buy branded goods, then stick to the boutiques where you know what you're paying for. Items such as foods and textiles are fine to buy from the market areas, but again, it might be worth finding out 'what good looks like' prior to traveling.
Your Personal Circumstances
If you're traveling with a partner and you're not married, it is best to pretend that you are, or even that you are brother and sister. Social customs tend to dictate that you should only be out and about with the opposite sex under these circumstances.
Even then, however, you should consider reducing public displays of affection to a minimum, as even something as apparently innocuous as holding hands can be interpreted as being offensive.
Dress Code
As an Islamic city in Islamic, modest clothing is the order of the day throughout Dubai. We're not suggesting you need to buy yourself a range of abayas to take with you on your trip, although if you did want to wear one, or something similar, such as a kaftan dress, you'd be ensuring you fit in with the dress expectations perfectly.
Otherwise, buying linen clothing to take with you, so that it keeps you covered as well as cool, is probably the best idea. Research where you are going; many beaches and hotels understand that tourism is the staple trade, so allow for wearing bikinis, men going topless, and more casual summer clothing, at least at times.
A trip to Dubai is one that you'll never forget. Don't spoil it by not doing your research before getting on the airplane!
Aisha is a fashion lover and passionate traveler who lists Dubai as one of her favorite destinations. As a Muslim woman, Aisha doesn't fall foul of Dubai's customs and traditions and often advises friends who are planning to travel to the Middle East on the best approach to take.