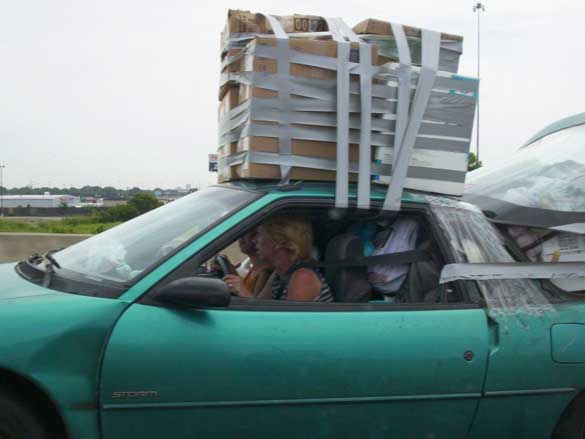 License: Creative Commons image source
Moving can be stressful even under the best of circumstances. As much as you plan for the big day, something always seems to pop up that is putting you behind schedule or has you feeling as though something is being forgotten. You can make sure you are getting the most bang for your buck when the big day comes, by being willing to do some prep work before the moving company even arrives and being efficient with your packing. Preparation is key and keeping some tips in mind will go a long way in reducing the stress associated with your move.
Tip 1: Shop Around
There are many different moving companies, which offer varying rates. Use multiple review sites, like yelp, to get feedback from other people who have used the moving services. Once you have narrowed it down to a few companies, call each one individually to get rates for your move.  Compare and contrast the prices and the features involved in the deals. Another way to save money during your move is to ask around for word of mouth referrals. The chances are that someone close to you either has moved, or know someone that has moved in the past 6 months.
Tip 2: Wrap It & Pack It
MSN suggests using items you already have on hand to wrap your fragile pieces such as bed linens, clothing and towels. These are items you have to pack anyways; why not put them to good use by protecting your breakables, plus by using items you were already packing you are increasing the efficiency of your packing immensely. No wasted space here. Cutting down on the wasted space will also cut down on the amount and cost of boxes while saving space in the moving truck. Perhaps the biggest bonus this is cutting down on the number of trips one needs to take from the truck to the home.
Tip 3: Preparation is Key
You need to start getting ready for the move long before the moving company arrives. If you really want to save money, do not leave everything for the movers to handle. As you pack, label everything. By labeling each box by room location, the moving process will move along faster and save you money, according to the Huffington Post. Also, while the movers will take apart furniture that needs to be disassembled, save that time by doing it yourself.
Moving can be a very stressful experience for everyone involved; from finding a new place to live, to reviewing and signing the paperwork, to finally packing and moving in. It is important to be prepared for your move and avoid trying to do everything that needs to be done on the actual move in day. Your move in day should consist of moving your already packed belongs into your new living space; not packing. The more you have ready before they get there and the more organized you are, the better things will go throughout the day and the more money will stay in your wallet.
Tony is a professional mover who likes to share some moving teips with readers in order to reduce the stress involved in moving.