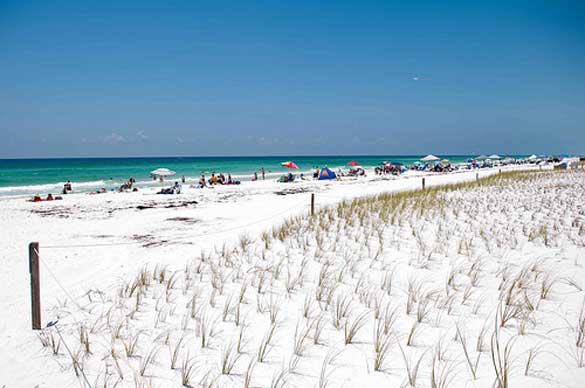 License: Creative Commons image source
The city of Destin has quickly grown from a small fishing village to a popular vacation destination spot over the last few decades. Located on the Emerald Coast of Florida, Destin has garnered a sterling reputation for its translucent emerald green waters and its gorgeous white beaches. As such, there are plenty of Destin vacation rentals for you to choose from when vacationing in this amazing beach town. However, before going to Destin without any knowledge of the area, you should make sure to plan out your vacation in order to make the absolute most of it. The following are a few of the attractions that you'll be able to enjoy while vacationing in Destin with your family.
The Destin Harbor Boardwalk  – Completed in June of 2012, the Destin Harbor Boardwalk is a fantastic way to enjoy the beaches and ocean. In addition to the view, there are plenty of charter boards located along the boardwalk as well as local restaurants to enjoy.
Fishing  – Seeing as how the city of Destin was once a fishing village, you can bet that the nearby waters remain amazing places to fish. There are a number of private and group charters that you can take onto the water. Many of these charters, such as the Deep Sea Fishing Charter, provide all the licensing, bait and tackle that you need.
Boating – You don't have to enjoy fishing to enjoy the open waters. Over at Destin Vacation Boat Rentals you'll be able to rent not only fishing boats, but also pontoon, power and sail boats. You'll be able to rent on a daily or weekly basis. Take the pontoon out to the nearby Crab Island or go water skiing, wakeboarding or tubing in the bay.
Snorkeling – In addition to enjoying the emerald green waters from the surface level, you'll be able to go down below with Destin Snorkel. Here they offer visitors a number of options, from snorkeling and scuba to shelling and dolphin tours. You can even go boating and kayaking here!
Buccaneer Pirate Cruise  – This family friendly pirate cruise provides an interactive tour that boasts sword fights, storytelling, singing, dancing, treasure hunts, water gun battles and much more.
Parasailing  – If you're looking for an adrenaline rush, then you should try out parasailing at Just Chute Me Parasail Co. They provide 12 and 15 passenger winch boats that allow for easy take offs and landings. You'll have a blast going for one of their 400, 600 or 800 feet rides.
Restaurants  – There are a number of excellent restaurants worth checking out around Destin. Want a view of the bay while you're eating? Visit the Marina Café, where they provide excellent seafood and sushi options. Be sure to take a look at their extensive selection of wine as well, as they offer more than 100 different wines. For a slightly more casual, family-friendly atmosphere, drop in at Dewey Destin's  Seafood.  They have locations both on the Destin Harbor as well as on Crab Island. Be sure to try out one of their "Catch of the Day" specials.
As you can see, there are plenty of things to do in Destin with the entire family, so book your Destin vacation rentals and enjoy what Destin has to offer!
Ashely loves to travel to new places and find something special about every town. To see more, check out her Twitter @ashelymarie1985.