Bursting with life, Belfast has every vacationer and tourist truly enchanted. So, why not consider traveling to this beautiful Irish city to be charmed yourself? Highly spirited, dynamic, vibrant and completely exciting, Belfast has attractions in abundance. However, its inhabitants project as the most exceptional attraction of the city. The instance that you arrive in the city, you are bound to feel a very friendly and warm welcome. The always evolving culture of the city is a mixture of the new and old, which is evident through Victorian festivities of entertainment and culture such as at the Ulster Hall and Grand Opera House, or also at the more modern Odyssey Arena and the Belfast Waterfront Hall.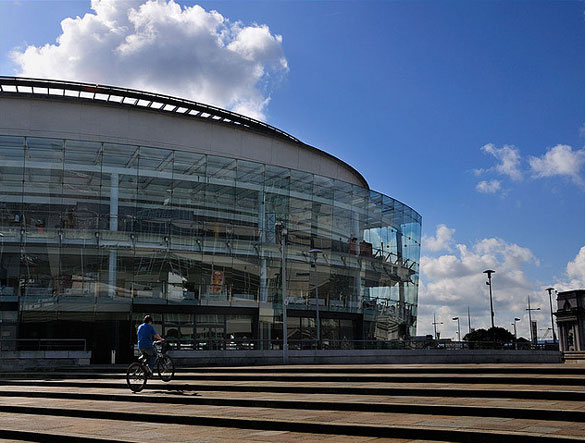 Belfast Waterfront Hall. Image source Flickr by Mark Allen
In the city, you can take pleasure at the excellent works of the best local as well as international artists, musicians, performers, entertainers and crafts people. Belfast's events calendar is overflowing with celebrations, festivals, concerts, musical and cultural events and many other remarkable diversity of entertainment and arts shows. If you happen to be a history and arts lover, you can enjoy trips to the many art galleries, museums, live shows and exhibitions littered in the city. The city has places of enjoyment for everybody, either you are vacationing alone or with your entire family.
Keeping the kids completely entertained is easy at Belfast. See them enjoy as they practice ice-skating, teach them how to make a strike at bowling, see their eyes widen at the many different animals in the zoo, or have lots of fun at the city's amusement park. If you want a quick peek at the intriguing history of the city, you should definitely visit historical sites like the Custom House, Queen's Square, High Street, Linen Hall Library, Belfast City Hall, Queen's University Belfast, La Mon Hotel and also Ten Square. Scenic attractions and panoramic views thrive in Belfast, with picturesque villages along the backdrop and the stunning sea that opens into it.
The breathtaking natural beauty of the city has many cameras of tourists a clicking. You can take a quick trip from Divis to Black Mountain, take a walk into the river valley pathways, and get mesmerized by the magnificent sights of the Isle of Man, Belfast Lough, Slieve Gullion, Castlereagh Hills and Ards Peninsula. More fun happens at Belfast at night. The city truly spoils vacationers with lots of cool and chic choices; stylish and smart nightclubs, live music spots, sports-themed restaurants and bars and a whole lot more. Whatever you are looking for, you can find it here in Belfast!