Three Splendid Spring Vacation Spots in Minnesota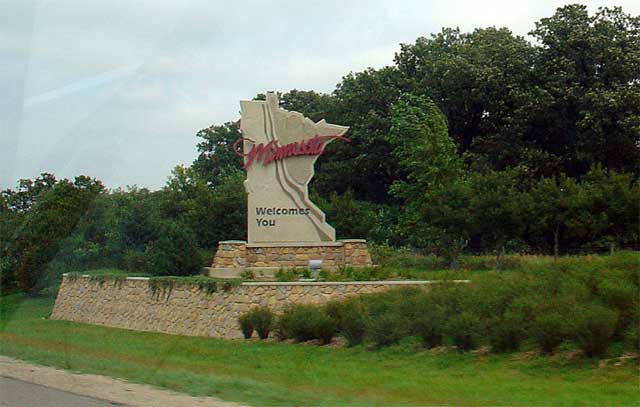 Photo Credit: JOHN ROEVER
The snow is melting, the frost is receding and the warm Spring air and sunshine is once again beckoning us all to go play outside. Spring is also a prime vacation time for many of us, so if you're planning a vacation but your destination is still up in the air, perhaps we can help nudge you in the right direction.
If you've never been to Minnesota, or to the Twin Cities of Minneapolis and St. Paul, there's no better time to go than Spring time. While Minnesota may not be the very first locale that pops into the minds of eager vacationers (where Florida and California seem to take precedence), but taking a trip to the land of 10,000 lakes is sure to make for some lasting memories and sight-seeing splendor.
We've highlighted a few of the prime destinations for a Twin Cities getaway below. There should be a little something for everyone, so just plan accordingly when you book your trip and you'll have a blast.
The Twin Cities: Minneapolis and St. Paul, Minnesota

An Aerial of Minneapolis – Photo Credit Andy Tucker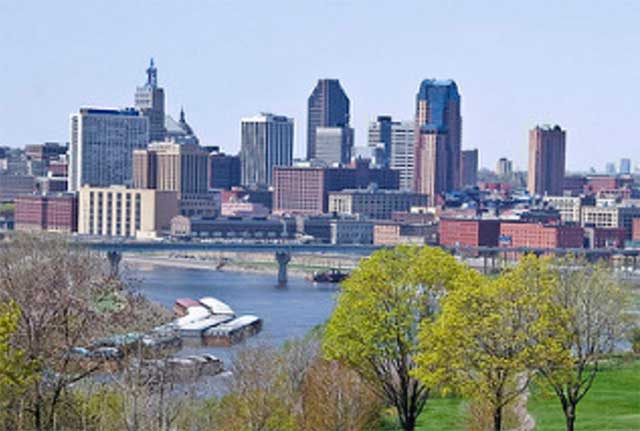 St Paul Minnesota – Photo Credit: John Magnus
The first clear choice on our list of Twin Cities vacation spots is, well, the Twin Cities themselves. There's so much to do in these two charming, yet bustling towns that most tourists prefer to 'set up camp' in the Twin Cities area for the duration of their stay in Minnesota.
Not only does this put some flagship attractions within reach of your local digs, but you're also in a hub that's literally surrounded by awesome adventures on the outskirts, only a day-trip away.
While you're in the Twin Cities, you could get your art fix at the Minneapolis Sculpture Garden, where iconic art pieces sprawl out across one of America's largest urban sculpture parks. On your way over to St. Paul, make sure to stop for a splashy, scenic spectacle at Minnehaha Falls Park.
Make sure to check out the Minnesota State Capitol in St. Paul and wrap things up in the evening with a stroll down Grand Avenue, where 30 blocks of charming vintage homes, shops, cafes and eateries invite travelers to round out the day with some light hearted leisure and tasty vittles.
Lake Minnetonka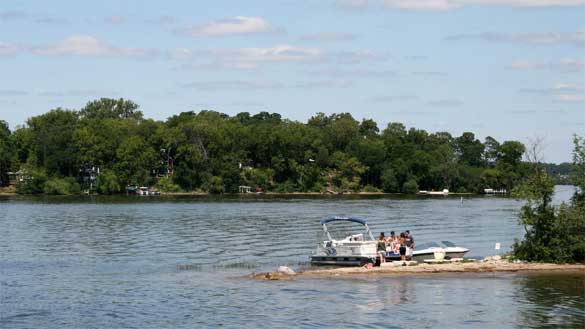 Photo Credit: yuan2003
Perhaps one of the most popular destinations in Minnesota – for tourists and locals alike – is the famous Lake Minnetonka. If you've never been here and you're asking local Twin Cities folks where to go, you're likely to hear this as a suggestion along the way. With about 125 miles of shoreline around nearly 15,000 acres of lake, there's plenty of room for fishing at Lake Minnetonka.
For the non-anglers in the group, there's plenty to do on and off the lake, from water skiing and boating to the innumerable small-town attractions along the beaches. Venture up to the stunning Noerenberg Gardens on the north shore and take in a sparkling sunset over Crystal Bay. Or stay the night at any one of the many campsites in surrounding parks.
Bloomington

Photo Credit: Larry Irvin
Just south of the Twin Cities, almost as though it were the final point of a 'tourism triangle', lies the town of Bloomington, MN. Perhaps best known as the home of the world famous Mall of America, Bloomington is a must for any vacation itinerary. After all, what's a spring getaway without shopping?
Bloomington's quiet, suburban charm is a welcome respite for visitors seeking some leisure time and for that culture-swap feeling of stepping into the shoes of a local for a bit. Enjoy a latte at one of the local small cafes and window shop at the lesser-traveled outlets around town. But we all know the big attraction here is the Mall of America.
The sprawling mall contains 520 stores and 50 restaurants across its roughly 96 acres of floor area. It is the second largest mall in the United States (second only to King of Prussia Mall in PA, and only by about 700 square feet ). However, the Mall of America is the most visited mall in the world and contains countless attractions you can't find anywhere else. A must see for anyone traveling in or through Minnesota.
About the Author:
Ross Herman is a real estate and investment expert of the Twin Cities region in Minnesota, and a community blogger for www.webuyuglyhousestwincities.com