The Twin Cities have a long and rather illustrious history when it comes to local architecture. Like any other large Midwestern city, Minneapolis and St. Paul have each seen their fair cycles of booms and busts as the area seen its way through tumultuous economic expansion and decay. The result is an eclectic mix of examples of the various styles of home building that the country as a whole experienced throughout the decades. Some, homes, of course, are more famous than others.
The Mary Tyler Moore House. Located at 2104 Kenwood Parkway in Southern Minneapolis, was long a prominent landmark for both the city and the show, and appeared each week during the opening credits of the iconic 70's sitcom. The house has recently returned to the market, with an asking price of $2.895 million dollars. Recently reconverted back into a single family unit, this Victorian unit still stands in all its turreted glory, boasting a 9,500 sq. ft. living area, with seven bedrooms and nine bathrooms.
The James J. Hill House. By far the largest single family residence in Minnesota, this home was built by railroad magnate James J. Hill in 1891. The house has over 35,000 sq. ft. of living space, and is now a registered member of the Us National Register of Historic Places, and is also a US National Historic Landmark. A prime example of Gilded Age excess, the house now runs daily tours that give visitors an insightful look into how both those at the very top and how those that served them at the very bottom once lived their day to day lives.
The Frank Lloyd Wright Houses.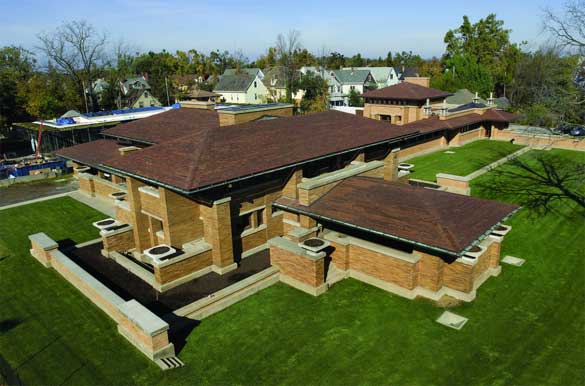 Photo Credit: Architectum
The Twin Cities are also home to two classic examples from Frank Lloyd Wright, one of the most influential architects of the 20th century. The home, known colloquially as the Malcolm Willey House, was designed and built in 1934 at the request of Malcolm Willey and his Wife, Nancy. They requested a modest degisn that could be built for $8,000, eventually ended up with a 1,200 sq. ft. home that ultimately cost about $10,000. The home is often considered a bridge between Wright's early Prairie School style and the later style he pioneered known as Usonian.
His other home, known as the Frieda and Henry J Neils House, is a more classic example of his Usonion Architecture, which was designed more with the goal of "affordable, beautiful housing for a democratic America." The only Wright home incorporating marble walls, the house also differed from his usual design by using aluminum frames instead of his more tradition use of wood. The home remains a private residence and is continued to be occupied by members of the Neils family.
Ross Herman is a blogger for We Buy Ugly Houses Twin Cities. If you have any real estate needs in Minneapolis & St. Paul contact us today!