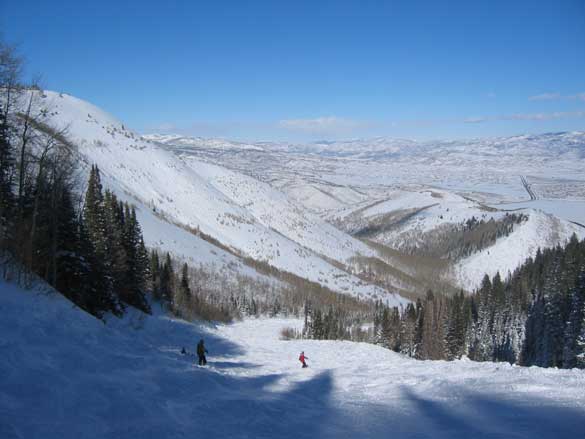 License: Creative Commons image source
Utah boasts some of the most idyllic landscapes and exceptional recreation in the nation— and Park City is no exception.  Nestled in the hills of the Wasatch Back, it's located a short distance from Salt Lake City.  Over the years, Park City has made itself a top traveler's destination, and offers plenty of things to do year round.  If you have a Park City vacation rental, or are just looking for your next trip destination, winter or summer, here are some of the activities you can look forward to.
WINTER
While many consider Park City a skiing and snowboarding hotspot, there is also a wide variety of ways to explore the area and take in the scenic views.  For those with a sense of high-flying adventure, why not try a hot air balloon ride?  Hovering above the city, you'll experience a unique bird's-eye view that will leave you exhilarated.  If you're celebrating a special occasion, try one of the tours with a champagne toast.
If you prefer to keep your feet closer to the ground, one of the city's historic tours or a sleigh ride might fit the bill.  For outdoor enthusiasts, try your hand at winter fly-fishing.  Expert guides will take you to one of the area's rivers and hopefully bring you back with the catch of the day.
If snow sports is in fact what brings you to Park City, then be prepared to hit the powder-filled slopes.  From beginners to experts, sledders to skiers— there is no shortage of great runs, freshly groomed snow, and excellent terrain in the area.
SUMMER
Summer in Park City brings a new set of activities to partake in.  Fans of the outdoors will find several ways to enjoy the fresh air and beautiful country.  If you wish to take things at a slower pace try one of the highly rated golf courses in Park City and the surrounding towns.
To enjoy the scenery with your feet off the ground, head to the beautifully maintained mountain biking trails, or go for a horseback ride.
Hikers won't be disappointed with the variety of trails and views, with several options for any experience level.  Whether you choose a meandering stroll or a scramble up steep hillsides— the state parks and other natural spots will leave you breathless.
Within Park City are opportunities for a great game of tennis, and if water sports are what you seek, try out the reservoirs, lakes, and rivers nearby.  Swimming, kayaking, canoeing, and river rafting are all available, and there are many outfitters who can lead the way.
If you haven't booked your Park City vacation rentals, now is a great time, no matter what season it is.
Heather B has been helping people plan their Utah adventures, most people only know Utah for the cold snow. But in the summer it transforms to an outdoor lover's paradise.