Often known for its wild nightlife, the Big Easy has a pretty raucous reputation. While Bourbon Street is commonly a main attraction for those celebrating Mardi Gras, or anyone looking for a nonstop party, there is more to the city than booze and beads. If you're planning on visiting this southern city, here are some attractions you shouldn't miss.
Jackson Square
Just a walk or trolley-ride away from Bourbon Street, this area of the French Quarter will transport you to an older time in New Orleans. Stroll down the cobblestone streets decorated with buildings dating back to the seventeenth century. While in this part of the French Quarter, take the time to visit Jackson Square, home to an impressive statue of the late president on horseback, along with views of the Saint Louis Cathedral. If you're lucky, you will be entertained while touring Jackson Square, as jazz groups and musicians often play their music right in the square. Also, just a few steps off of Jackson Square you can find tiny shops and old bookstores, some of which even sell copies of antique books in English and French.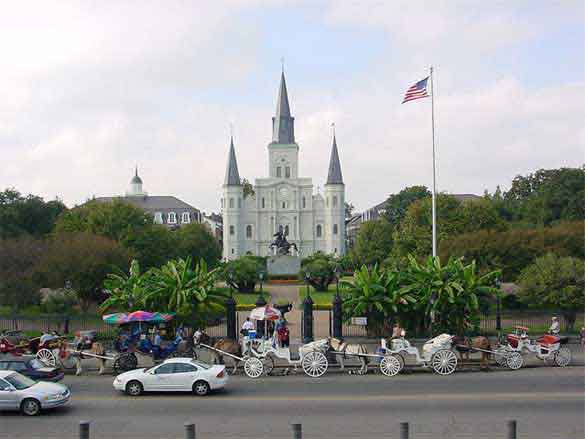 Photo Credit: Harry
The French Market
Also located in the French Quarter, the open-air market is a perfect place to buy souvenirs while taking in some culture. Leave plenty of time to visit this market, as it spans six blocks in length. Originally designed as a meat market in the late sixteenth century, this open air shopping mecca has since changed to include the sale of art, jewelry and all things New Orleans.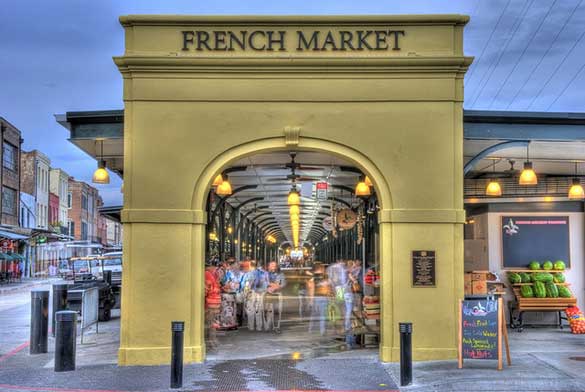 Photo Credit: Jim Nix
Algiers
If you want to take a break from the city, Algiers is the perfect way to do so. Just a short ferry ride across the Mississippi River from the city, visiting Algiers point will transport you to a calmer side of New Orleans. This island is home to amazing architecture, and the Tulane Museum of Natural History, as well great restaurants and a lively bar scene. If you're traveling to New Orleans in the summer, you may even stumble upon Algiers' weekly summer concert series. If you're lucky enough to be at the summer concert series, stop and take in some authentic southern jazz, heavy with brass and soul. Just make sure you don't forget your sunglasses; you'll want them as you sip a cold beer while listening to the music on a hot southern summer afternoon.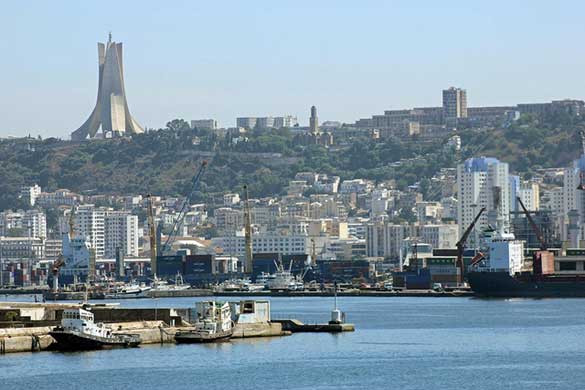 Photo Credit: Malcolm Bott
Louis Armstrong Park
Also located within the French Quarter, Louis Armstrong Park is a stunning public park dedicated to the jazz great Louis Armstrong. Inside the park you will find sculptures and statues dedicated to jazz music, the true heartbeat of this city. The park is also home to a small picturesque lake and lots of open space to have a picnic or simply relax in the sun. There's no doubt that while you're in the park you will be entertained, as musicians often spend time performing or simply practicing their art here. This park is also home to the Mahalia Jackson Theater for the Performing Arts, which has hosted countless amazing productions on its stage. These even include the Broadway shows The Lion King, West Side Story, Cats, Wicked, Mamma Mia and The Color Purple, among other productions. In the summertime the park is the host of several outdoor music festivals, including the Congo Square Rhythms Festival, along with charity 5k runs and even weddings.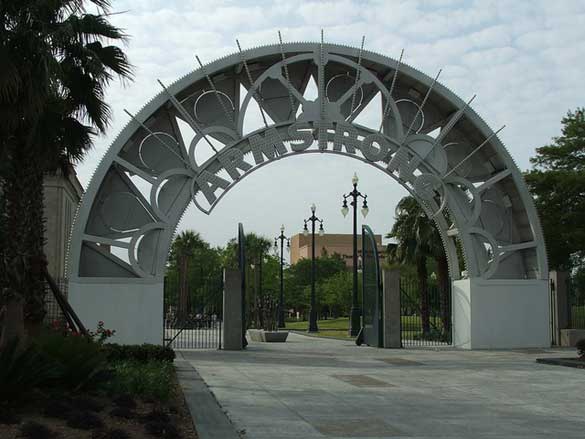 Photo Credit: cymry09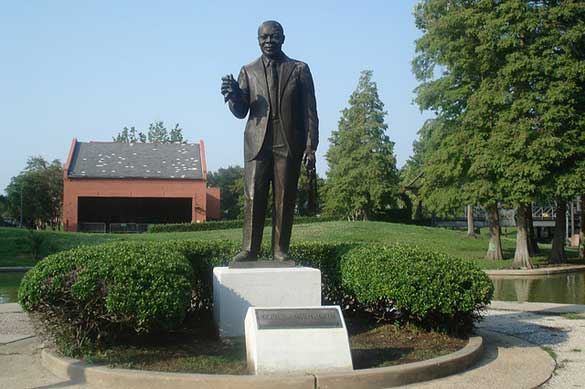 Photo Credit: Social_Stratification
For most tourists visiting New Orleans, it's all about the party. However, there is much more to this city than the drinks and nightlife. When visiting The Big Easy, don't just spend all of your time on Bourbon Street. On your trip be sure to take in all of the history, music, shopping and culture that this city has to offer.
Savannah Marie is a freelance writer and avid traveler. Connect with her on Twitter to learn all about her recent travels: @savfmarie