This multi-storied palace constructed by Maharaja Bir Singh Deo (the anglicized version is Bir Singh Ju Deo) in 1606 is an exquisite demonstration of the Mughal architectural style. It was meant to be a monumental gift to welcome Mughal Emperor Jahangir — the son and successor of Mughal Emperor Akbar (1542-1605). Jehangir's (1569-1627) mother was the Rajput princess Jodha Bai. That was the reason why a Rajput ruler constructed a palace for a contemporary Mughal ruler and named it the Jahangir Mahal.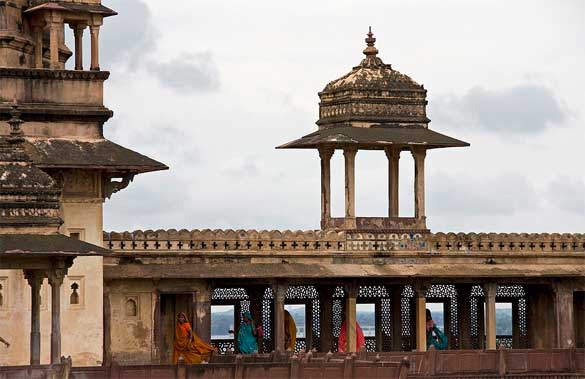 Image source FLickr by Carol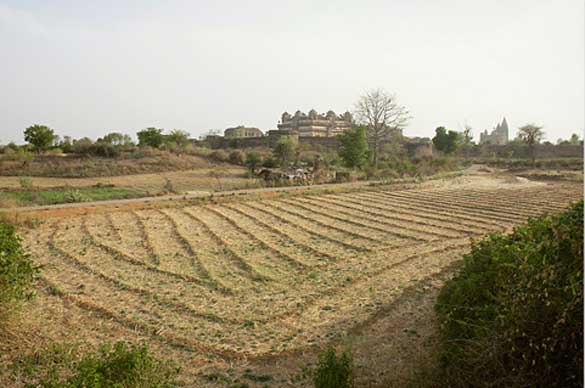 Image source Flickr by Nevil Zaveri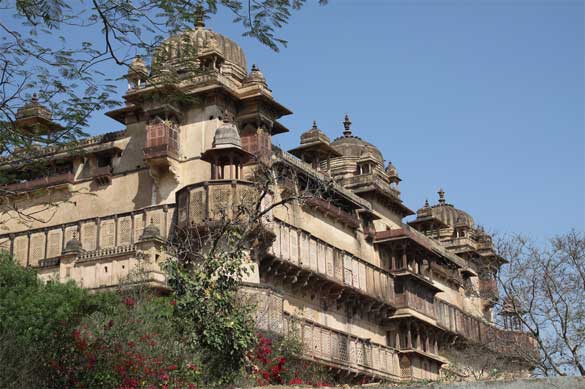 Image source Flickr by Terry Feuerborn
The base of this structure is rectangular in shape. The four corners are marked by circular towers capped by a prominent dome. Brackets support the middle floor balconies of the palace. Besides the attractive elaborately designed chhatris, the entrance is equally arresting what with the gate decorated elaborately. The portico facing eastwards has been designed with tiles of turquoise. On both sides of the stairway are two pachyderms with bells in their trunks. The bells are rung at the arrival of the monarch at the gates thus announcing the imperial presence across the palace precincts. An ornamental railing links the eight big flute-shaped domes on the roof top and the smaller domes between the eight larger fluted towers.