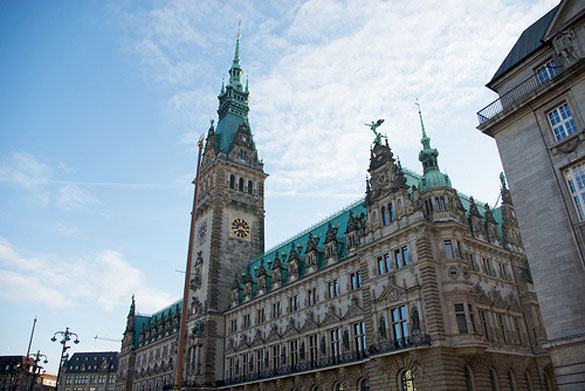 License: Creative Commons image source
Green Travelling: How To Eco Holiday in Hamburg
The second largest city in Germany may be home to more than 500 businesses, but from its lush green spaces and gorgeous lake view you'd never guess it. Hamburg is an ideal place to enjoy an exciting eco holiday.
A wonderful example of an urban setting that is dedicated to becoming green, Hamburg is the perfect place to visit if you like your holidays to be high on beauty and low on carbon footprints.
Green Hamburg
Back in 2011, Hamburg was voted European Green Capital thanks to its many environmentally friendly policies. These range from a return to old values – as seen in great events like the Hamburg Fish market, first established 300 years ago – and new innovations, like the stunning HafenCity.
This remarkable development will comprise of nearly 6,000 homes and 66 public parks when it's completed in 2025 and it's at the forefront of sustainable, city initiatives. Take an eco tour through the site on your holiday and get a good look at the future of greener urban spaces.
City fun and natural splendour
Hamburg is also a treasure trove of public parks, meaning you can spend plenty of time chilling out in green areas even when you're exploring the city centre. Lying on the Elbe River and boasting a range of beaches and wooded areas too, you'd certainly never guess that Hamburg is the second biggest city in Germany and an important hub of international commerce.
Ways to get around Hamburg
A lot of effort has been expended in making sure that it's easy to get around Hamburg without having a negative impact on the environment.
Enjoy the city's free bicycle rental scheme and sight see on the go
Explore on foot thanks to great public walkways
Look out for the 300 green taxis that patrol the streets
Speed into the city on the S-bahn airport train, entirely powered from renewable sources
Low impact eating
Despite the fact the German diet is traditionally quite heavy on meat and potatoes, it's entirely possible to do your bit for the planet while dining in Hamburg. You'll find loads of organic eateries and excellent restaurants who follow the farm-to-table ethos waiting for you to tuck in.
Eco friendly accommodation in Hamburg
Of course, the place you choose to stay will have one of the biggest impacts on how green your holiday ends up being. Make sure you choose accommodation that offers certified green credentials, such as the Radisson Blu Hamburg.
This Radisson Blu has been awarded with the international eco-label Green Key, which is based on ecological, social and technical criteria which surpass the official environmental laws within the country. It takes into account factors such as sustainable methods of operation and technology plus ecologically sound and responsible business practices; a useful accreditation to look out for when booking an eco-friendly hotel.
Ned Hughes loves to travel, especially when he can do so whilst being environmentally friendly. Eco tourism is an up and coming travel niche, so why not enjoy a holiday in Hamburg without it costing the earth.