Assam is a State of India which lies in the north eastern part of India (located in the South eastern range of Himalaya).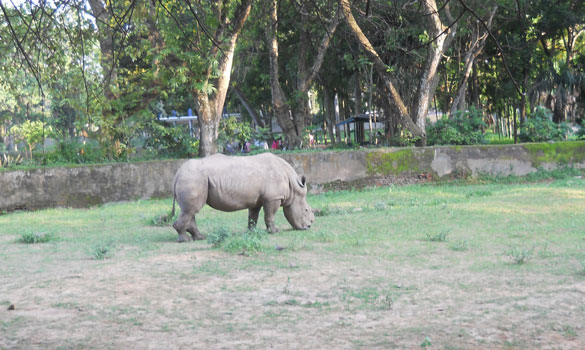 License image author owned
Capital: Dispur located on the outskirts of its largest city, Guwahati.
Area of Assam
Area of Assam is 30,285 square miles or in Kilometer (78,438 km²).
Neighboring States of Assam
There are six neighboring States of Assam namely Manipur, Arunachal Pradesh, Nagaland, Meghalaya, Tripura and Mizoram comprising they are called Seven Sister States. These States are connected via a narrow strip in West Bengal called the Siliguri Corridor or "Chicken's Neck" to the rest of India (See image below).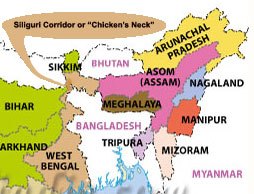 Place of Interest in Assam
Guwahati City Tour

» State Zoo-cum-Botanical Garden
» Assam State Museum
» Balaji Temple of Tirupati
» Srimanta Sankardeva Kalakshetra
» The Saraighat Bridge
» Dighalipukhuri
» Planetarium
» Lachit Barphukan Park
» Guwahati Oil Refinery
» Guwahati University)

Guwahati to Kaziranga National Park Tour
Chandubi Lake
Wildlife
National Park
Kaziranga National Park
Dibru-Saikhowa National Park
Manas national Park
Rajiv Gandhi Orang National Park
Nameri National Park
Wildlife Sanctuaries
Garampani Wildlife Sanctuary
Bornadi Wildlife Sanctuary
Borail Wildlife Sanctuary
Laokhowa Wildlife Sanctuary
Burachapori Wildlife Sanctuary
Amchang Wildlife Sanctuary
Hollongapar Gibbon Wildlife Sanctuary
Pani-Dihing Bird Sanctuary
Sonai Rupai Wildlife Sanctuary
Pobitora Wildlife Sanctuary
Chakrasila Wildlife Sanctuary
Bherjan-Borajan-Padumoni Wildlife Sanctuary
Marat Longri Wildlife Sanctuary
East Karbi Anglong Wildlife Sanctuary
Nambor Wildlife Sanctuary
Nambor –Doigrung Wildlife Sanctuary
Dehing Patkai Wildlife Santuary
Temples & Monuments in and around Guwahati
Kamakhya Temple
Umananda Temple
Nabagraha Temple
Mahabhairab Temple
Basisthashram
Satra
Madan Kamdev
Poa-Mecca
Temples & Monuments in and around Tezpur
Festivals Celebrated
In Assam people enjoy and celebrates various festivals from Holi to Eid, Durga puja to Christmas. But some of the local festivals of Assam that have been celebrated since ancestor are as follows:
Bihu Festival
Me-Dum-Me-Phi
Ambubachi Mela
Baishagu
Jonbeel Mela
Rajini Gabra & Harni Gabra
Bohaggiyo Bishu
Ali-Ai-Ligang
Rongker and Chomangkan
Baikho
Dosa Thoi! Long Nai
Dehing Patkai Festival
Tea Festival
Elephant Festival
Rongali Utsav festival
How to get here:
Transportation within Assam
These transports cover the entire cities of Assam covering the neighboring States
Assam State Transport Corporation
Private operator tourist bus services also offer luxury buses and cars for hire.
Indian Railways network to connect Guwahati and rest of India
Where can I stay in Guwahati
Aaditya Riverview Guest House Guwahati
2 Star Hotels
Royal Heritage
Monsoon
Amrit Regency
President
Atithi
Hotel Mahalaxmi
Hotel Aarian Aatithya
Hotel Lake View Inn
3 Star Hotels
Hotel Centre Point
Ginger Hotel Guwahati
Hotel Ambarish Grand Residency Guwahati
Hotel Nandan
Prag Continental
Hotel Kiranshree Portico
Hotel Brahmaputra Ashok
Hotel Lilawati Grand
Rains Inn
Vishwaratna Hotel
Hotel Ambarish
Hotel Rituraj
Agnee Deep Continental
Hotel Alpine Continental
Hotel Polo Towers
The Majestic Hotel
4 Star Hotels
Hotel Dynasty Guwahati
Landmark Hotel Guwahati
Rajmahal Hotel Guwahati