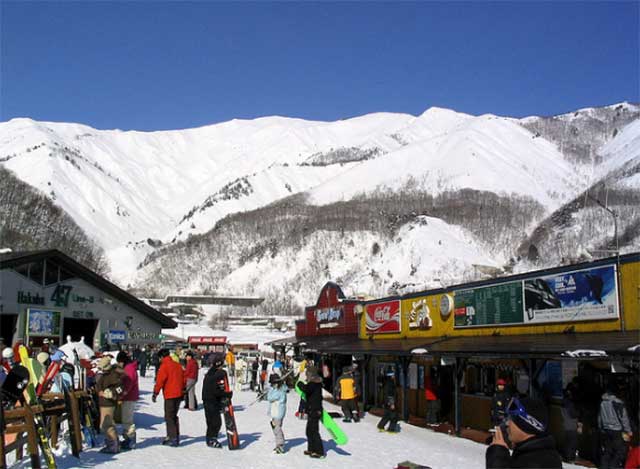 Hakuba 47 Ski Resort, Nagano, Japan – Photo © glazaro
Avid skiers looking for a memorable place to hit the slopes should consider booking a trip to a ski resort in Japan. The deep powder and great ski conditions alone are worth the trip; the great cultural experience is icing on the cake – or on the ski slope, as the case may be.
Geographically, Japan is ideally suited for fantastic ski slopes. Every winter the north and central highlands of Japan are blanketed with heavy snow, as cold northern winds pick up moisture from the ocean and then dump the resulting snow over the mountain ranges that are Japan's most notable geographic feature. The result is consistent, deep snow from December through March, over 14m of it! With over 90 different ski resorts ('ski-ji') to choose from, there is sure to be an open ski resort in Japan to suit your taste no matter when in the season you visit. Of course, you are always wise to book any ski trip well in advance, and Japanese resorts are no exception – New Years and holidays fill up fast, but even the busiest resorts will tend to have empty slopes mid-week.
Ski to Your Heart's Content
Skiing is skiing wherever you are, but your experience in a ski resort in Japan will be different from what you are used to in a few ways, some crucial, some curious, and some highly enjoyable. One important difference to keep in mind is that Japan is still very much a cash culture, and most ski resorts expect ski slips and other charges to be paid in yen. The closest ATM may be a bus-ride away, so it's a good idea to make sure to have a well-stocked wallet from the beginning. Another difference some might regret is the relative lack of an après-ski scene, compared to European or North American slopes. This is rapidly changing however in the tourist-friendly resorts of the Hokkaido region, particularly Niseko, which have played host to increasing numbers of Australian skiers over the last few years. However, you may prefer to embrace the cultural experience off-slope as well and enjoy instead the traditional Japanese onsen hot springs. Soaking in one of these natural hot springs, indoors or under the night sky, is the ideal way to end a day spent on the slopes of a Japanese ski resort.
So what does all of this cost? Once you factor in travel and fees, you are probably looking at a cost that is similar, or slightly cheaper, than comparable European or North American slopes. There are a lot of small expenses, from equipment rentals to shuttle bus fares. A lot depends on how proficient you are at budgeting in an unfamiliar currency while negotiating with people for whom English is not a first language. Fortunately, there are several companies that run ski tours for English speaking tourists, with package prices that are pleasantly affordable–and tour guides who speak proficient English. These tours take a lot of the work out of vacationing at a ski resort in Japan, leaving you to fully enjoy the powder snow and gorgeous slopes of Japan.
Bree Watts loves to travel and shares interesting stories about the places he visited. He writes great articles about ski resort in Japan and why it's a must to visit them.