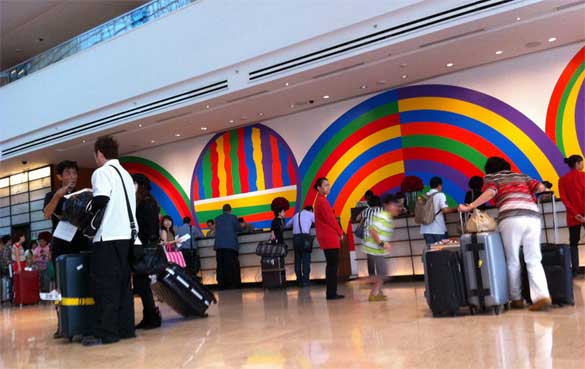 Photo by Benji Carter
Hotel booking can be one of the hardest parts of planning your spring break – and hotel costs can also represent a big chunk of your vacation budget. Whether for a family, a couple, or students, spring break is the perfect time to escape cold weather and the stress of work or the school year after enduring those short days and dark winter months. The downside, of course, is that everybody else is thinking the same way – meaning that it can often be hard to find a good hotel, resort or inn – and even harder to find one at a good price.
Don't despair, however. There are many ways to make Spring Break more economical and still have a great time:
The three street rule. Most spring break travelers are looking for a tropical destination, and usually that means beaches. However, you don't have to stay in a hotel directly on the beach to enjoy it. Obviously, resorts and hotels with beachfront property are going to charge far more for the privilege – but often your room will be facing the wrong way to even get a view. If you want to save big bucks, we recommend looking at hotels that are three blocks or streets removed from the beach; this is still an easy walk, but could save you hundreds.
Go where the competition is. If a resort is the only one near a small scenic village, guess what? They can charge you anything they want for drinks, massages and snorkel rentals – you're a captive audience. To save money, focus on locations that are in built up, competitive tourist destinations. In general this means that domestic US destinations have cheaper resorts than many overseas locations, but even major centers like Cancun are highly competitive.
Check for group rates. Sometimes bigger groups get bigger discounts. If you find a good group discount, partner up with a couple other families or some friends to take advantage of group rates on fights, hotels, car rentals, or special outings. Even tours and adventure trips sometimes offer a group discount. You don't have to spend night and day together, but you can book together and reap the savings.
Take advantage of last-minute deals. If you have some flexibility in terms of travel dates and destinations, it may be beneficial to check out last-minute deals. If you're not set on a certain destination and would be just as happy on a beach in Mexico as you would on a beach in the Caribbean, then shop around and see what's available. Many times hotels will offer discounts if they have vacancies, but they are usually last-minute specials.
Hotel booking is a science, and if you know what you're doing you can get jealousy-inspiringly low rates. What are your best tips for finding hotel deals?
Heather B loves to travel and save money while traveling. She also likes to share her travel wisdom with others.