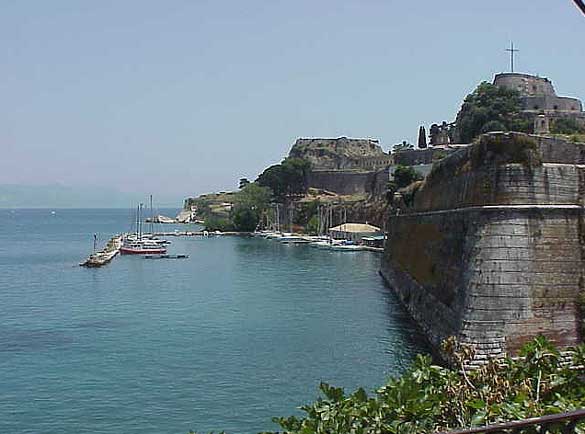 About Corfu: in Greek Corfu is called Kerkira, it is possibly the greenest and is definitely the prettiest island off the Greek coast. With its emerald mountains, ochre and pink buildings and shimmering silver olive leaves on every country road that you drive down, this island is beautiful. This northernmost island of the Ionian Islands has bought forth many artists, musicians, conquerors and royalty; it's crazy to think how an island so small can have a history as large. Corfu today has a vivid tapestry of cultures, where charm, history and natural beauty blend into one to create one of my favourite places in the world. I visited Corfu on one of my most recent Mediterranean cruise holidays.
Coming ashore: Coming ashore in Corfu is such a pleasant experience. In some docks and ports there are lots of noises and too much hassle to get ashore and it just throws you off your holiday, but Corfu was different. I docked in a purpose built cruise port that is away from all the big vessels, I was greeted with a whole variety of helpful things such as an information desk, a taxi stand and a small coffee shop. Taxis are around €15 to the main town, but if I was you I would just take the 30 minute walk to see as much of the island as you can, that's what I did!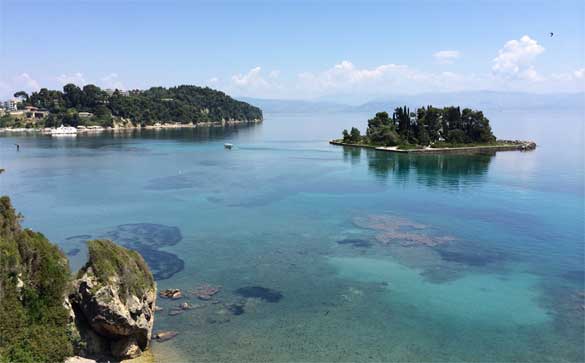 Pontikonisi Cafe, Corfu – Photo Credit: Harrogate
What to do in Corfu: it's quite surreal how much stuff there is to do on such a small island, I found it hard to fit everything I planned to do into my short stay. I'd say the most fun experience I had was going snorkelling off the akrotiri beach, I have my licence that allows me to go diving, but they do instructed dives as well, I saw rock fish, spiny lobsters and even a cheeky little moray eel! Of course if you are more into your culture then I would recommend visiting the palace of St Michael and St George, here you can admire the colonial palace as the sea shimmers outside of the windows, this elegant, colonnaded 19th century structure houses the museum of Asiatic art with a huge collection of Asian porcelain's and sino-japanese art, extremely interesting even if you are not a fan of art and culture.
The beaches in Corfu, what can I say? They are possibly the best in the world. Myrtiotissa was the beach I visited and what can I say, ultimate relaxation. Great snorkelling, golden sand and the way it is perched in between two sheer cliffs sets the scene perfectly, the only problem I could find was that you are allowed to be nude, which I didn't find out until I came out of the water! So be prepared!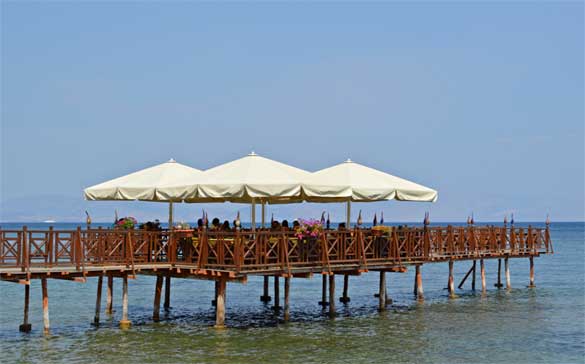 "Restaurant" on water – Ramona Răican
Where to eat: I am definitely a man that loves his food, especially when it is proper home hearted food. I managed to visit a restaurant by the name of Rex. This friendly corfoit restaurant is situated within a 19th century town house and has been a local favourite for over 100 years. I loved this restaurant as they offered classic, home cooked, traditional dishes such as rabbit stewed with fresh figs and chicken with kumquats. The place is ideal for people watching if you sit on an outside table watching onto Liston.
Corfu was one of the loveliest and most thrilling places that I have visited in quite a few years and I recommend going there to anyone, it's quite cheap to book a holiday there and everything you need is within walking distance from anywhere you stay or dock, trust me, you will love it!