Thanks to various films over the years (including the recent 'The Hobbit') New Zealand has become well known and popular for people wanting to enjoy the great mountain and other views on their vacation.
One of the activities that we enjoy here is to cycle around various locations, either broken up into small one day events or as part of a longer tour. And this has become more popular for vacationers as well.
You'll be able to find various tips all over the place on where to cycle but here are some from me who actually lives here, so I know some of the more unusual places.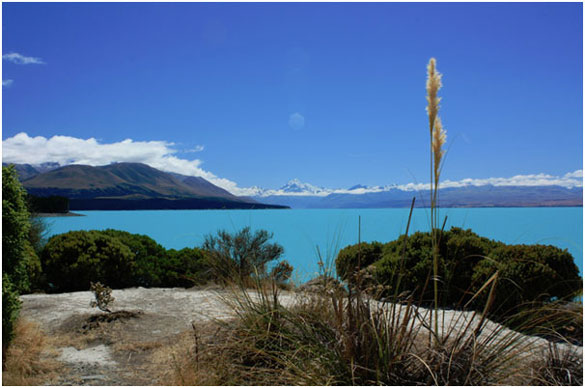 Photo by: Albert Freeman
Otaki Gorge
Otaki is a small town which I have very fond feelings for. Every time I visit the place, I have a lovely time. It has some small local shops with all sorts of unusual things to buy from their market to locally sourced wool and leather materials.
Not far from the town is the Otaki Gorge Road which heads inland. At first you'll be able to ride with a standard road cycle but you may need an off-road the further you get as it turns into quite a rough gravel road.
The views are great with lots of places to rest and enjoy the scenery.
The road is quite popular for cars though, so as you should always do, wear some very visible and bright clothing when cycling.
While you're in the area, try riding to Lavender Farm which is one Settlement Road, just south of Otaki. It's a lovely family run B&B surrounded by lavender which they use to make various products.
Queen Elizabeth Park
This grandly named park is situated on the coast, just south of Paraparaumu and is a lovely place for a general day out on your vacation. But I'm including it here because it is also home to some great cycling tracks.
They are dirt and gravel tracks but most of them were quite easy, something I think most families could handle.
In between riding along these tracks, there are also some lovely picnic areas, plus other activities are available such as horse riding.
Northland
This is the region north of Auckland and something that I didn't bother exploring for ages but it really is a great area full of cycling tracks. I'm not going to point out one particular track in this region but you can read this page for a great site I use to find tracks that shows you more information on this area.
While some people think cycling here isn't really classed as an 'unusual' place, I've included it because it is so out of the way and I believe many people will usually skip this place, well I did anyway.
You should find the weather is great with it being one of the warmest places in New Zealand.
Lake Tekapo
This is a very popular place to go on your vacation and I highly recommend it for the lake and mountain views alone.
Maybe it was just while I was there but I didn't see anyone cycling around the lake or up various mountain roads in the area. I believe it's an ideal place for cycling tour or even just a single day out.
By Jack Harris who has the thrill of writing about his travel experiences and recommends Pedaltours which is a company that offers guided cycling vacations in New Zealand and around the world.