The debit and credit cards have made it convenient for you to vacation without carrying cash in your wallet. You may be holidaying in your own country or abroad; the credit cards can be used to make all types of payments. Based on the nature and duration of your trip, you may stay at a hotel, resort or vacation rental. But you must keep in mind certain measures to keep the plastic money safe and secure. You can simply implement a number of simple safety tips to use the credit cards safely till you return home.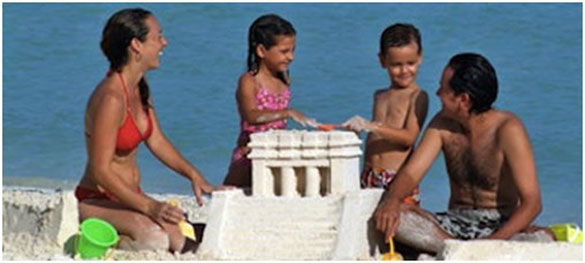 Avoid Taking All Your Credit Cards: Many people love to travel with wallet full of credit cards. But you must remember that you can always minimize the chances of credit card thefts and misuse by travelling with one or two selected cards. As Visas and MasterCards are accepted in most countries, you can consider taking one card issued by the each company. However, you must check the available credit on the selected cards, and ensure that enough credit is available to cover all your expenses and payments.
Record Credit Card Information: It is also important to record your credit card information properly and store the data in a secure location. Also, you must avoid storing the information inside your wallet. Because you will lose the information along with your credit card if your wallet is lost or stolen. Along with the credit card number and card type, you must remember to note down the toll-free customer service number of the credit card number. The number will be of great use in reporting the credit card theft or loss, and block the card immediately to prevent its unauthorized use.
Retain Transaction Receipts: When you are using credit card in a foreign country, there are always chances that the service provider may the card for an inflated amount. So you must retain the transaction receipts issued by hotels, restaurants, stores, car rental companies and other service providers. After returning home, you can login to your online account and compare the receipts with your credit card statement. The comparison will provide you with a high level of accuracy and peace of mind.
Keep a Cash Reserve: Sometimes you may not be able to use the credit card on a permanent or temporary basis. So you must bring a cash reserve to avoid the unexpected credit card glitches. You can further use the cash to make payments in case your credit card is lost or stolen. However, you must store the cash in a secure location and separate from the credit cards. Similar to the credit cards, you also need to consider certain options to keep the cash reserve safe.
Store the Cards in a Secure Location: In comparison to hotels and resorts, holiday rentals can offer you a higher amount of privacy and security. For instance, you can consider booking one of the San Felipe beach front rentals during your Mexican vacation to keep your belongings safe. However, you must leave the credit cards and cash in a safe location before leaving your accommodation. If you are staying in a hotel, the credit cards and other belongings can be store securely inside locked hotel safe.
When you use the credit cards in a foreign country, it becomes essential to choose the cards with the lowest currency exchange fee. It is also a good idea to contact your card company and inquire about such fees and charges. Contented by Sanfeliperentals.mx