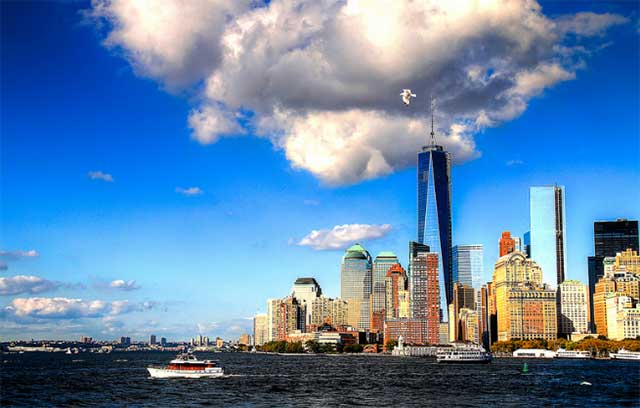 Photo Credit Jack Seikaly
Construction crews are preparing to place a 125m spire on top of the One World Trade Center; an act that will make the 104 floor skyscraper the tallest building in the Western Hemisphere.
The One World Trade Centre
The new skyscraper isn't complete as yet, but at 387 meters (1,271 ft) above sea level, it is already almost seven meters taller than the Empire State Building.  Plans were in place to crown the tower with its 125 meter (408 ft) spire on Monday but these had to be postponed due to bad weather.
It's About More than Height
The steel tower weighs around 800 tonnes and is made up of 18 separate parts which were shipped from Canada and New Jersey respectively.  The project is the result of the collaboration between the ADF Group Inc. based in Quebec and the local DCM Erectors Inc. and will serve as a world class broadcast antenna.
Weather permitting the tower will be erected this week; officially making the building 541 meters or 1,776 feet tall. The height bares special significance as the original architect, Daniel Libeskind, intended it to; 1776 was the year America got its independence.
The project has since been taken over by SOM who have chosen to retain the height specification.  Seeing as the goal behind the project seems to be a intended as a sign that America will not bow to terrorism, it seems fitting that the tower's current architects would retain the symbolism intended by Libeskind.
The skyscraper is scheduled to open its doors in 2014 and will certainly be flooded with tourists wanting to take a glimpse of its awesome views.
It Will Be the Tallest, Won't It?
There is, however, a bit of controversy around the height of the tower; if the completed spire is deemed to be just that then the building will become the tallest, if however it is deemed to be a mere antenna the distinction will not apply.
According to the Council on Tall Buildings and Urban Habitat (the body which decides whether a building is tall, supertall or megatall); it only includes spires, and not antennas, in its criteria. Should the Council discount the antenna the Trade Center will only be the third tallest building in America, trumped by the Willis and Trump International Hotel and Tower, both in Chicago.
It's a World Full of Tall Buildings
Whilst the One WTC is vying for the designation of the tallest tower in the Western Hemisphere there are plenty of tall skyscrapers in the world:  officially the tallest building in the world is the 828m  Burji Khalifa in Dubai, followed by the Makkah Royal Clock Tower Hotel in Mecca.
Pippa Green is a London-based blogger with a bucket list a mile long. She's getting some sturdy boots from Dickies and preparing to travel the world; seeing each dream spot as she goes along.