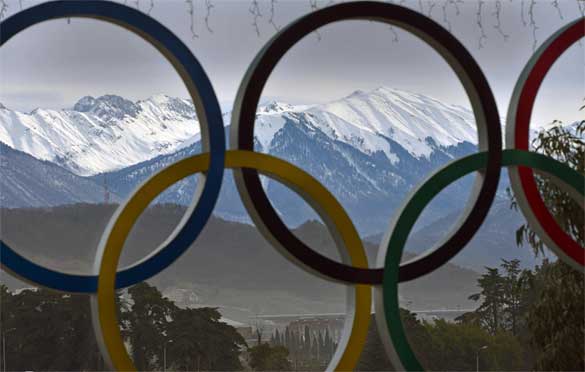 Photo Credit: Jeff in Camden posted in flickr
After a hugely successful London 2012, the world's gaze will be firmly fixed on Sochi, Russia next year as it hosts the 2014 Winter Olympic and Paralympic Games.
So what's there to see and do in Sochi for sports fans, and how is Sochi gearing up for next year?
Russian speed skater and Olympic champion Svetlana Zhurova expects Sochi to put on the greatest winter Olympics in history, so now's the time to visit before everyone cottons on to the fact that they've been missing out on some world class skiing.
To make sure that the Sochi Winter Olympics is a white one, the organisers have spared no expense. In fact, they've started stockpiling snow, just in case they don't get any next winter.
Security is of course a priority, and organisers are planning to beef up preventative measures here to make sure the event goes off without a hitch. But Sochi is generally a very safe and tourist-friendly place to visit.
The purpose-built Sochi Olympic Park will host events like curling, ice skating and hockey while the skiing events will take place in the mountainous area in Krasnaya Polyana.

Olympic Stadium in Sochi – Photo Credit: IOC
Where to ski
Sochi is set amidst the Causcaus Mountians but also contains stretches of gorgeous Black Sea coastline, so you could conceivably hit the slopes in the morning and sun yourself on the beach in the afternoon.
You'll find Sochi's resorts and hotels in Krasnaya Polyana, where you can hit the slopes and try some skiing or snowboarding while soaking up the unspoiled landscape.
One of the best resorts is the Rosa Khutor Alpine Resort near Krasnaya Polyana. This brand spanking new resort has been chosen to host events for the games, so if it's good enough for the Olympians you should be very happy here.
A huge amount of money and time has been ploughed into Sochi in recent years to make it welcoming for tourists, and there are now chair lifts aplenty at the resort to help more ambitious skiers reach some of the higher parts of the mountains.
Getting to Sochi
Sochi has been able to fly under the radar for a while, and it's only really been knowledgeable Russians who have travelled here for their skiing holidays. Until now, that is. Sochi is expected to become even more popular after the Olympics, especially since it will be so much easier to reach and get around the city with the Sochi Light Metro.
Where to stay
Sochi has blossomed into a stylish, upscale holiday destination for Russian celebrities, politicians (Russia's outdoorsy President Vladimir Putin loves to holiday here) and socialites. So it's not surprising that a slew of seriously lavish hotels have sprung up in the area to cater for their tastes.
Still, you don't have to spend a fortune to enjoy the finer things in Sochi. The Park Inn hotel at Rosa Khutor  lets you stay about as close to the slopes as you can get, and it even has its own German style brewery restaurant.
Eating and drinking
Nothing works up an appetite like a day on the slopes spent breathing in fresh mountain air. Thankfully, the food in Sochi is very, very good. And since there are so many different nationalities calling Sochi their home, it's also very diverse.
You're often asked whether you want to eat from the land or the sea here. If you're in the mood for seafood, you can sample super-fresh sushi at SOKhO or pick your own trout out at Patskha before the chef cooks it for you. If you'd rather eat from the land, try the kharcho at Ne Goryuy.
For some traditional Georgian cuisine, Natasha's is famous for dishes like khachapuri po-adzharski – a hand-kneaded pastry which is naughtily filled with cheese, butter and eggs. You'll need to do a lot of skiing to burn your meal off, but it's worth it.
Are you looking forward to the Winter Olympics next year?
Elias Grendelweis is freelance writer, winter sports enthusiast and father of three.