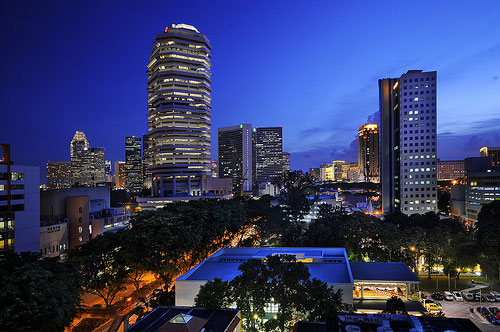 License: Creative Commons image source
A hub of diverse multiculturalism, Singapore is a popular destination for parents looking to introduce their families to Asian cultures. Its respect for law and order make Singapore safe and clean and the "Speak Good English" government campaign ensures that you will feel secure navigating around the area and interacting with the locals, giving you the ultimate freedom when it comes to choosing which part of the island to base yourself.
Festive Hotel
Located on an island off the southern coast of Singapore, Festive Hotel is part of Resorts World Sentosa. Its fun and funky decor was designed with children in mind, with exciting loft-style beds and bright colours separating their sleeping space from the adults'. FestiveWalk offers a free fire, water and light display each night and the hotel is a short walk from extensive shopping and dining options. Rooms are able to accommodate up to five guests and the Resort's Kids Club is a short walk away in the Hard Rock Hotel.
Hard Rock Hotel
Popular with teenagers and part of an international chain synonymous with enthusiasm and energy, the Hard Rock brand brings it cool, MTV vibe to these spacious and luxurious rooms. There's even a Rock Star suite for the ultimate in A List experience, the perfect way to celebrate a teen's birthday or special occasion. The Kids Club based here seeks to entertain and delight children with activities such as puppetry and painting and accepts children aged 3 upwards.
Shangri-La's Rasa Sentosa Resort and Spa
For pre-teens, the Shangri-La's Rasa Sentosa is a haven. The Kids Club welcomes children aged between 5 and 12 and features complimentary lunches, arts and crafts, arcade games and a two-storey slide into a ball pool. This waterfront resort offers organised beach games and walking tours every day, as well as access to a climbing wall and flying trapeze! Each of the Sentosa resorts is within easy travelling distance of some of Singapore's most exciting tourist attractions, including Universal Studios, S.E.A. Aquarium, Adventure Cove, Underwater World and the Maritime Experiential Museum.
Wanderlust Hotel
Cheerful, pop art design makes this hotel a bright and unusual choice for families but the hotel's real strength lies in the loft-style "Whimsical" rooms on level four, each with a theme: Bling; ASCII; Space; Tree; and Typewriter. The Space theme, for instance, features a ceiling-high rocket and ASCII boasts a large alphabet installation. Situated in Little India, Wanderlust Hotel is a short distance from Mount Emily Park and Singapore's best museums, including the Museum of Toys which is enjoyable for adults and children alike.
Riders Lodge
If you've got a family of horse-mad children who need bribing away from the stables, Riders Lodge is a fantastic choice. This quiet hotel offers lessons in horse riding and care in addition to complimentary breakfast and is centrally located, making it easy to venture to some of mainland Singapore's greatest attractions, including the Zoo, Jurong Bird Park and Singapore Botanic Gardens. Riders Lodge also provides childcare for parents who wish to take a break (for example to visit the nearby Green Fairways Golf Club or extensive Singapore Island Country Club).
Marina Bay Sands
The iconic Marina Bay Sands Hotel, one of Singapore's most impressive buildings, is a treat for the whole family. Children can enjoy the indoor playground "Jumperzillas" or explore the ArtScience Museum. Sands Skypark features a swimming pool 57 storeys up, giving an unrivalled view of the marina below. There are also theatres and an exhibition centre showcasing top-quality, family-friendly entertainment such as "Starlight Express" and "Barbie LIVE" (check the performance calendar when making a reservation).
These hotels are all commended for their family-minded approach. Don't forget to let them know if you are travelling with very young children for whom loft-style beds are inappropriate, or if you have any other special requirements. We are sure that these outstanding resorts will do all they can to help. With a range of airlines offering cheap flights to Singapore, it's a great place to take the family for a holiday they'll never forget!
Jon Burrows is a freelance writer and father who loves to travel.